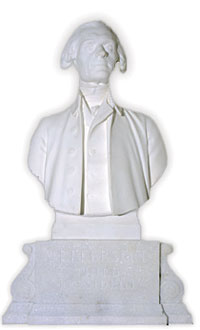 The Capitol in the city of Richmond in Virginia is on the model of the temple of Erectheus at Athens, … of Balbec, and of the Maison quarée of Nismes. All of which are nearly of the same form and proportions and are considered as the most perfect examples of…cubic architecture.
–Thomas Jefferson

---
More than any other American, Thomas Jefferson was the founder of monumental civic architecture in the United States. Jefferson & The Capitol of Virginia examines how Jefferson's achievement in civic design began with the Virginia State Capitol in which he united the lofty principles and grand scale of the Classical tradition with established Virginia customs.
In Paris as minister to France, Jefferson designed the new Capitol in 1785 with the help of the celebrated draftsman Charles-Louis Clérisseau. Hoping to safeguard the conception from changes in Richmond, Jefferson commissioned a scale model of the exterior from the model-maker Jean-Pierre Fouquet. Recent conservation of the model, displayed for many years in the Capitol, offers fascinating insights into Jefferson's aspirations for the Capitol and how this model reflected changes made to the Capitol throughout its history.
Related Resources
Governor's Letters Received, July 1776 to November 1784
About the Governor's Letters Received Database
Sources on Patrick Henry at The Library of Virginia
Virginia Architecture: Selected Readings and a Guide to Collections at the Library of Virginia
An Exhibition at the Library of Virginia
January 7 - June 15, 2002
Monday-Saturday
9:00 A.M.-5:00 P.M.
800 East Broad Street
Richmond, Virginia 23219