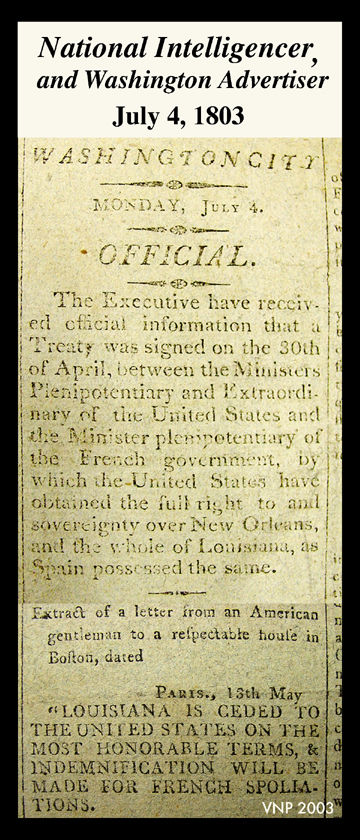 July 4, 1803, the twenty-seventh birthday of the American republic, brought official announcement of the acquisition of the Louisiana Territory. Although notice of the purchase had appeared earlier in the Boston newspapers, the capital city's National Intelligencer and Washington Advertiser reported receipt of the confirming document by President Thomas Jefferson.
This national anniversary became an important milestone toward the president's long-anticipated goal of exploring the country between the Mississippi River and the Pacific Ocean.
In early 1801 President-elect Jefferson had selected a Virginia neighbor, Meriwether Lewis, an army captain with knowledge of the Appalachian region, as his secretary/aide-de-camp. By mid-1802 Jefferson had chosen Lewis to lead a western expedition, and planning was under way in the President's House.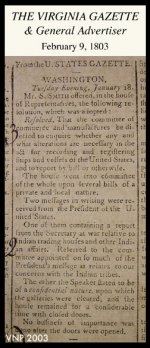 On February 9, 1803 Richmond's Virginia Gazette and General Advertiser relayed reports of a confidential message sent to Congress on 18 January.

The communication requested, and resulted in, congressional approval of funds for a small party to carry out a voyage of geographic, commercial, and scientific discovery along the Missouri River and its tributaries, possibly to the Western Ocean.
A period of intensive planning and preparation for the expedition began - studies for Lewis in geography, navigation, medicine, and the natural sciences; acquisition of the necessary boats, supplies, arms, scientific instruments, and gifts for the Indians; and the selection of the members of the Corps of Discovery. For his co-commander Lewis chose William Clark, younger brother of Revolutionary War hero George Rogers Clark, who brought along his slave and long-time companion, a towering black man named York. Others were recruited from the army, the Ohio Valley frontier, and the French population of Illinois and Missouri. Lewis's dog Seaman completed the roster of the Corps of Discovery.
Related Resources:
---
Index | Page 2 | Page 3 | Page 4 | Page 5 | Page 6 | Page 7 | Page 8

---