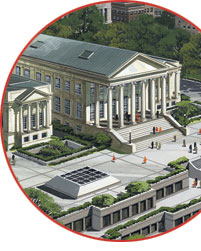 From Thomas Jefferson's efforts to set the national tone with his design of the Virginia State Capitol to Northern Virginia's soaring postmodern structures of glass and steel, the commonwealth's architectural triumphs are well documented. But what of those that never made it beyond the drafting table? We can appreciate existing buildings and comment on their merits, and we can wistfully reminisce about buildings now gone. With a building that never was, however, we have only the architect's concept—a daydream.
Never Built Virginia offers examples of structures that never were and poses the question, "What if?" In the age of recycling, redevelopment, and reuse, it is appropriate to revisit these frustrated ventures, lost competitions, and unrealized commissions. As with any creative work, architectural designs don't always appeal to the clients and critics of their time. Those same designs, however, may attract a later generation and be recycled or fulfilled. That these drawings and models survive is a wonder. Architects often systematically destroy materials for old or unexecuted projects to save space, resulting in the loss of much of our never-built architectural heritage.
These creations played a role in the discussions and debates that gave rise to our built environment. Perhaps the architect's concept was too advanced for its time, or maybe the funding for a project collapsed. What do we think of these designs today? Are we relieved that a particular structure was never built? Or do we feel disappointment that the design never made it to construction? Never Built Virginia seeks not only to entertain the eye but also to enliven the mind as to what is possible and how the built environment that surrounds us is an extension of ourselves and our place in history. Never Built Virginia challenges the viewer to consider what is possible—to think of the built environment that surrounds us as an extension of ourselves and our place in history.
Government has always played a significant role in shaping architecture in the United States. From the nation's founding, governmental architectural commissions have sought to convey the country's strength and durability, as well as the authority and sovereignty of its institutions. Government patronage has generated many unrealized architectural projects. Changes in administration, lack of funding, the input of competition review boards, and public comment are just some of the factors that might prohibit a project from moving beyond the drawing board.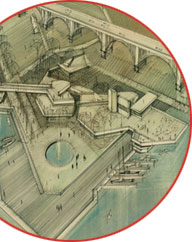 Thomas Jefferson sought to set the standard for monumental civic architecture in the United States through his plans for the Virginia State Capitol. Jefferson designed public buildings as models to reform the taste of the colonies and the new nation. Borrowing heavily from antiquity, Jefferson's State Capitol building evoked ideas of democracy and order by combining the lofty principles and grand scale of the Classical tradition with established Virginia building customs. The first use of the ancient temple form in American civic architecture, the State Capitol symbolized the country's republican ideals and heavily influenced later state and local governmental complexes.
Deeply conservative architecturally, Richmond has flirted with modernist architecture on occasion in the past fifty years. Architectural records offer insight into the dynamic between architect and client, a crucial factor in the progression of a building from idea to edifice. Individuals contract with major architects to diversify the architectural landscape, as seen in former ambassador Walter Rice's residence created by architect Richard Neutra, for example. Corporations such as Best Products sought buildings that were distinctive and that suggested the owner's place in the modern economy. Virginia's deep-rooted traditionalism doomed many schemes, especially public projects, that were deemed too radical—whether aesthetically, technically, or socially. Those who speak out in protest or support of a project through public meetings, letters to newspaper editors, or control of funds reveal something about the collective principles—communal values—of their communities.
Documentation for unrealized projects often finds its way to the dustbin, not the metaphorical dustbin of history, but the actual dustbin in the architect's office. This is most often true with models of unexecuted architectural designs. Few architects invest in the preservation of unrealized project concepts. Architectural historian George R. Collins contends in Unbuilt America, however, that "the complete history of architecture is … the history of the built and the unbuilt…" Nevertheless, surviving drawings of proposed, but unbuilt, structures speak to architectural trends, personal tastes, and the role of corporate architecture in economic expansion.