Click any excerpt below to read the full article.

Governor Reappoints Three to Library Board
John DiYorio of Wythe County, Valerie Jean Mayo of Westmoreland County, and Mark D. Romer of Richmond have been reappointed to a second five-year term on the Library Board by Governor Tim Kaine...


Library Prepares for Cuts
The Library of Virginia is bracing for another round of budget cuts because of Virginia's declining revenue forecast. Governor Tim Kaine has directed state agencies to prepare plans to reduce their budgets. Each agency, including the Library of Virginia, was asked to submit by September 26 proposed strategies to reduce its budget by 5 percent, 10 percent, and 15 percent for each year of the biennium. The current budget year began July 1 and will end on June 30, 2009. Governor Kaine will review agency budget plans and make his targeted cuts in the next few weeks.

Collections of sales taxes and individual income taxes are running well below the forecasts used in formulating the current biennial state budget. The gloomy budget scenario comes as the national economy struggles, gas and transportation costs soar, and home sales stagnate.


Attend and Win!
The Library of Virginia is holding a drawing for a free copy of the featured author's work at each of its book talks. Registration takes place before each event and you must be present to win.

You can win a book from one of Virginia's outstanding new writers or by an established author and get it autographed. Check our calendar of events for talks beyond this month.


Virginia Press Women Donate Books to LVA
Recently the Board of the Virginia Press Women asked each member to donate two copies of their books to the Library of Virginia.

The Virginia Press Women was founded in 1958 and incorporated in 1973. It is affiliated with the National Federation of Press Women. Both organizations promote the highest ...

Roller-Bottimore Foundation Supports Purchase of Online Civil War, Washington, and Freedmen's Bureau Resources
Visitors to the Library of Virginia now have access to three valuable new resources in our reading rooms thanks to the generosity of the Roller-Bottimore Foundation. ProQuest Civil War Era, The Papers of George Washington, The Freedmen's Bureau...


Richmond Region Cultural Census Seeks Broad Community Participation
Where do you go for arts and cultural activities in the Richmond region? What's important to you? Help shape the future of arts and culture in Greater Richmond by taking the Cultural Census Survey at...

Pamela Duncan Edwards Wins Second Cardozo Award for Children's Literature
Virginia author Pamela Duncan Edwards' The Old House has been selected by the public as the winner of the second annual Whitney and Scott Cardozo Award for Children's Literature. The book is about a lonely old house that is looking for a new family to move in. Its appearance droopy discourages all buyers until one very special family notices its potential...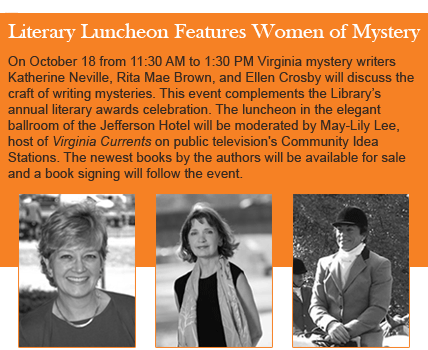 Katherine Neville's books The Eight: A Calculated Risk and The Magic Circle are best sellers in more than 30 languages. Rita Mae Brown is the author of two best-selling mystery series—the Sister Jane foxhunting mysteries and the Sneaky Pie Brown mysteries—as well as the critically acclaimed Rubyfruit Jungle. Ellen Crosby's mysteries, The Chardonnay Charade, The Merlot Murders, and The Bordeaux Betrayal, are set in the Virginia wine country Tickets are $50 per person and reservations are required. Seating is limited.


Most events are free, take place at noon in the conference rooms at the Library of Virginia, and are open to the public. For details on the events listed below please visit our calendar of events.


Wednesday, October 1–31, 2008
Preserving the Past, Shaping the Future: The Archival Footprint on Society
In celebration of Archives Month, the Library of Virginia presents a special exhibition featuring records documenting two major social movements...

Saturday, October 4, 2008
From Compass to GPS: The History and Future
of Mapping in Virginia
This exciting free program for young people offers opportunities to learn about the history of surveying, as well as contemporary tools, techniques, and applications for current mapping technology...

Wednesday, October 8, 2008
Book Talk–Join us for poetry readings by Ted Genoways (Anna, Washing: Poems) and Kevin McFadden (Hardscrabble).

Thursday, October 9, 2008
The Archives of the New Dominion and Uncovering Richmond's Gay and Lesbian Past
Alex Lorch, interim head, Special Collections and Archives, Virginia Commonwealth University Libraries, will speak about the Archives...

Wednesday, October 15
Unraveling the Stories of the Past: Women as Archivists in "Virginia's Historical Laboratory"
Library of Virginia archivist Jennifer Davis McDaid will talk about the experiences of women students from Westhampton College...

Saturday, October 18, 2008
Book Talk–Library of Virginia Literary Luncheon: Virginia Women of Mystery
Virginia mystery writers Katherine Neville, Rita Mae Brown, and Ellen Crosby will discuss the craft of writing mysteries...

Saturday, October 18, 2008
11th Annual Library of Virginia Literary Awards
Best-selling author Adriana Trigiani will host this year's fabulous literary event featuring the best writing about Virginia or by Virginia authors...

Wednesday, October 22, 2008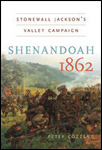 Book Talk–Shenandoah 1862: Stonewall Jackson's Valley Campaign
Peter Cozzens, one of the nation's leading military historians, will discuss and sign Shenandoah 1862, his groundbreaking work on the storied Valley Campaign that elevated Stonewall Jackson to near-mythic heights...

Saturday, October 25, 2008
2008 Slatten Lecture
The Friends of the Virginia State Archives will present a series of talks by Patricia Law Hatcher, FASG, a noted speaker and genealogist who specializes in problem solving.

Wednesday, October 29
Book Talk–The Lobotomist: A Maverick Medical Genius and His Tragic Quest to Rid the World of Mental Illness
Author Jack El-Hai will discuss his groundbreaking new biography of neurologist and psychiatrist Walter Freeman whose work takes readers into one of the darkest chapters of American medicine...

Thursday, October 30, 2008
Book Talk–Catholic and Feminist: The Surprising History of the American Catholic Feminist Movement
Mary J. Henold, assistant professor of history at Roanoke College, will explore and sign Catholic and Feminist, the first history of American Catholic feminism...