Most events are free and are open to the public. For specific locations, times, and details on the events listed below please visit our calendar of events.

Monday, May 3, 2010
Where History Begins-A Workshop for Virginia's Local Historical Societies at the Library of Virginia
The Where History Begins workshop will provide an opportunity for networking and cooperation among societies across the commonwealth. Society members, staff, and volunteers are encouraged to register for this exciting day of presentations, discussion, and behind-the-scenes tours of the Library of Virginia. For more information, please call 804-692-3648.

May 7—mid-October 2010
The Art of Liberty
This year marks the 65th anniversary of both V-E Day (Victory in Europe, May 8) and V-J Day (Victory over Japan, August 15). To commemorate the occasions and to honor those who fought oversees and on the home front, The Art of Liberty exhibition highlights a few of the World War II posters sent to the Library of Virginia as part of the Federal Depository Library program.

Friday, May 7, 2010
First Fridays East
Richmond's popular arts and cultural program First Fridays Art Walk makes a special expansion east this spring to connect with the Library of Virginia, Richmond CenterStage, St. Paul's Episcopal Church, and University of Richmond Downtown. In celebration of the Library of Virginia's exhibition The Land We Live In, the Land We Left: Virginia's People, Mary Smith and Gregg Kimball will take you on a musical journey through America's traditional music landscape, from ballads to blues. Enjoy demonstrations by local area artists in the main lobby.

Friday, May 11, 2010
The Horse in Virginia
Julia Campbell, associate director of communications and public affairs at Washington & Lee University, will discus and sign her beautifully illustrated new book covering the complete history of the horse in the Old Dominion. The Horse in Virginia celebrates the unique and enduring equine tradition in the commonwealth.

May 17—June 30, 2010
Voting for the People's Choice Awards
Visit the Library of Virginia's Web site http://www.lva.virginia.gov/vote to vote for your choice for the People's Choice Awards for fiction and nonfiction. Winners will be announced at the Library of Virginia Literary Awards Celebration on October 16, 2010. Dominion is the sponsor of the 2010 Literary Awards.

Thursday, May 20, 2010
"Books on Broad" Book Club Meeting Featuring Michele Young-Stone
Join us for an informal gathering where Michele Young-Stone will speak about and read from her debut novel, The Handbook for Lightning Strike Survivors.

Friday, May 21, 2010
Ireland Meets Appalachia: A Conversation in Music
Please join us when three musicians—Mary Dailey and Jimmy Costa from Appalachia and Patrick O'Flaherty, a native Gaelic speaker from the west coast of Ireland—discuss and demonstrate through songs and tunes the common threads that run through the vocal and instrumental music of Ireland and Appalachia. The speakers will explore how the traditions evolved and the similarities and differences they found when they began performing together. O'Flaherty will also discuss his immigration experience and involvement with Appalachian musical culture. This free panel discussion and music program complements the Library's exhibition The Land We Live In, the Land We Left: Virginia's People.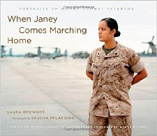 Wednesday, June 2, 2010
When Janey Comes Marching Home
Laura Browder, author of Her Best Shot: Women and Guns in America and an English professor at Virginia Commonwealth University, will speak about her book When Janey Comes Marching Home. The book, which grew out of an exhibition created by Browder that combined interviews and photographs to tell the story of women in modern combat, explores the myths and cultural ideas surrounding the military, motherhood, and femininity. Photographer Sascha Pflaeging also will be present to answer questions and sign books.