Click any excerpt below to read the full article.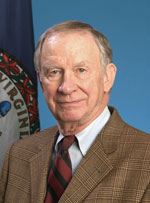 Woodrum to Lead State Library Board

Clifton A. "Chip" Woodrum III, of Roanoke, Virginia, has been elected chair of the Library Board. He was appointed to the Library Board in 2004 by Governor Mark Warner and reappointed in 2009 by Governor Tim Kaine. He served as vice chair of the Library from July 1, 2010, through June 30, 2011. Woodrum represented Roanoke and part of Roanoke County in the House of Delegates from 1980 until 2003. He earned his undergraduate degree at the University of North Carolina and his law degree from the University of Virginia. He is an attorney in private practice in Roanoke...
Children's Book Bank of Virginia and Library to offer Autism Workshop on September 27

The Library of Virginia and the Children's Book Bank of Virginia (formerly Read Aloud Virginia) are cosponsoring an autism workshop on September 27 featuring a presentation and book signing by Kathryn Erskine, winner of the 2010 National Book Award for Young People's Fiction for Mockingbird. The book explores the world of a young girl with Asperger's syndrome as she tries to cope with the killing of her older brother...
Hancock and Miller Selected as 2011 Anne and Ryland Brown Teacher Research Fellows

The Library of Virginia is pleased to announce the third annual Anne and Ryland Brown Teacher Research Fellows for 2011...


Finalists for Cardozo Children's Literature Award Announced

The Library of Virginia is pleased to announce the finalists for the 2011 Whitney and Scott Cardozo Award for Children's Literature. A juried panel reviewed 32 titles from authors whose works focused on literature for children ages three through ten, with a publication date of 2010. Nominated titles were accepted from the greater mid-Atlantic region...
Prints on Sale in July

July's "30 for 30" sale at the Virginia Shop features 30 percent off all Print-On-Demand image orders through our online store at www.thevirginiashop.org...
Charles City Library Campaign Receives Challenge Grant

The Mary Morton Parsons Foundation has awarded a 2-to-1, $250,000 Challenge Grant to the Charles City County Library Campaign. The campaign has until May 2012 to raise $500,000 in new or increased gifts or pledges to secure the Parsons Foundation's grant. James A. J. Tyler, Jr, campaign chair, stated: "The campaign leadership was ecstatic to learn of the Parsons Foundation's extraordinary generosity and we are very grateful for this endorsement of the library project. This challenge grant is a timely catalyst for taking the campaign to a broader base of prospective donors in the year ahead"...
Commonwealth of Virginia Releases Interactive Broadband Availability Map

Virginia Secretary of Technology Jim Duffey has announced the release of the new broadband availability map for Virginia. The most comprehensive and interactive map of Virginia to date, it is available for use by policy makers, government leaders, broadband providers, and citizens to identify where broadband services are available as well as to identify unserved or underserved areas in the state...
LVA Cardholders Gain More Access

Remote access to the ReferenceUSA database http://www.referenceusa.com/Home/Home is now available for Library of Virginia library card holders (both Virginia and out-of-state cards). The link is on the Library's Web site under Using the Collections, Research Databases and eBooks, Business and Economics...
Four Virginia Libraries Receive Grants from ALA and NEH for American Civil War Reading and Discussion Program

Four Virginia libraries—Central Rappahannock Regional Library in Fredericksburg, Russell County Public Library in Lebanon, Loudoun County Public Library in Leesburg, and Washington County Public Library in Abingdon­—are among 65 public, academic, and community college libraries that will receive Let's Talk About It: Making Sense of the American Civil War reading and discussion program grants from the American Library Association Public Programs Office and the National Endowment for the Humanities...
"Friends of the Library" Workshops Offer Ideas on Strengthening Support for Libraries

Public library consultant Kim Armentrout from the Library Development and Networking Division at the Library of Virginia offered a series of free workshops for Friends of Libraries members, library trustees, and library staff in May and June at Abingdon, Amelia, Danville, and Fishersville. The workshops covered the following topics...
U.S. Navy and OpSail to Commemorate Bicentennial of War of 1812 and Star-Spangled Banner

U.S. Secretary of the Navy Ray Mabus and the chairman of Operation Sail, Inc., Jose Fuentes, have announced a seven-port public/private partnership for the bicentennial commemoration of the War of 1812 and the writing of "The Star-Spangled Banner." Norfolk, Virginia, is one of several cities to host OpSail 2012—bringing tall ships for the public to watch and tour during next year's Harborfest...


All events are free and take place from noon until 1 PM in the conference rooms at the Library of Virginia unless otherwise noted.

Thursday, July 14, 2011
Time: 6:00-7:00 PM
Place: Lecture Hall
A World on Fire: Britain's Crucial Role in the American Civil War
Amanda Foreman, author of the international best seller Georgiana, Duchess of Devonshire, which won the Whitbread Prize for Best Biography, will discuss and sign A World on Fire: Britain's Crucial Role in the American Civil War. The book tells one of the least-known great stories of British and American history, uncovering the pivotal and major role played by Britain and its citizens during the war. Foreman provides fresh accounts of Civil War battles and shows how the war spread to Britain and was fought just as continuously there as it was in America. For all their well-meaning efforts, and sometimes as a result of them, America and Britain came within a whisker of declaring war on each other twice in four years. In the drawing rooms of London and the offices of Washington, on muddy fields and aboard packed ships, Foreman reveals the decisions made, the beliefs held and contested, and the personal triumphs and sacrifices that ultimately led to the reunification of America.

Thursday, July 21, 2011
Time: 5:30-7:30 PM
Place: Virginia Shop, 804-692-3524
"Books on Broad" Featuring Charles Shields: Harper Lee and Kurt Vonnegut
Virginia author Charles Shields will join us to discuss his research and biographical writings about two of the 20th century's most beloved authors, Harper Lee and Kurt Vonnegut. Light refreshments (wine and cheese) will be served (5:30-6:15 PM), followed by author talk (6:15-7:15 PM), and book signing (7:15-7:30 PM).

Thursday, July 28, 2011
The Virginia Plan: William B. Thalhimer and a Rescue from Nazi Germany
At noon Robert H. Gillette will discuss and sign his new book recounting an untold saga of sacrifice, survival, and hope on two continents. Among the Jews attempting to flee Nazi Germany before World War II were the students of Gross Breesen Institute who hoped to secure visas and refuge in America. The Jewish community in Richmond viewed the Third Reich with increasing unease, and, in a bold plan, department store owner William B. Thalhimer created a safe haven for the students on a Burkeville farm. This is the remarkable history of Thalhimer's heroic rescue mission and the struggle of the refugees to make a new home in rural America.

Wednesday, August 24, 2011
Time: 5:30-7:30 PM
Place: The Virginia Shop, 804-692-3524
"Books on Broad" Featuring Ellen Crosby: The Sauvignon Secret
Virginia author Ellen Crosby will join us for the release of her newest wine country mystery, The Sauvignon Secret, featuring vintner sleuth Lucie Montgomery. The evening will include samplings of Virginia wines. Light refreshments (wine and cheese) will be served followed by author talk and book signing.

Through Saturday, October 29, 2011
Time: Monday–Saturday, 9:00 AM–5:00 PM
Place: Exhibition Gallery and Lobby Cases
Union or Secession: Virginians Decide
Virginia was central to American identity for its role in the founding of the United States and its political principles. Both the Confederacy and the Union wanted to claim Virginia's historical legacy. Union or Secession explores what Virginians thought and debated as the crisis unfolded.

Through letters, journals, newspapers, official documents and correspondence, and maps and broadsides, Union or Secession offers insight into the complex and conflicting geographic, cultural, economic, and political factors that faced Virginians in 1860 and early 1861. The exhibition shows that Virginians' choice on the question of secession was far from certain as dramatic moves were being made outside the state.

Through Saturday, October 29, 2011
Time: Monday–Saturday, 8:00 AM–5:00 PM and Sundays, 1:00–5:00 PM
Place: Virginia State Capitol Visitor Center
The Struggle to Decide: Virginia's Secession Crisis
An exhibition presented by the Library of Virginia

In the aftermath of the election of Abraham Lincoln as U.S. president in 1860, and the beginning of the secession crisis in December 1860, Virginia had a fateful choice to make: Would it remain in, or secede from, the United States of America? In Virginia, the General Assembly called for a state convention to act for Virginia during the crisis. Meeting in February 1861, the 152 men elected to the convention faced the terrible task of deciding the fate of Virginia, and perhaps the nation.

The Struggle to Decide exhibition examines the actions taken by convention delegates and the governor that had a profound effect on Richmond and the Virginia State Capitol.