Click any excerpt below to read the full article.
Thomas Jefferson Gubernatorial Papers Named One of Virginia's Top 10 Endangered Artifacts

The Executive Papers and Letterbooks of Governor Thomas Jefferson (1779–1781), currently under conservation by the Library of Virginia, have been named one of Virginia's top 10 endangered artifacts by the Virginia Collections Initiativeand theVirginia Association of Museums...
Camden and Crawford Win Inaugural Spirit of Philanthropy Award

Tom Camden, director of Special Collections, and Greg Crawford, Local Records Services manager, received the newly instituted Spirit of Philanthropy Award from the Library of Virginia Foundation Board on November 17. This award will be given to a Library of Virginia staff member on a quarterly basis. Recipients will be recognized at...

Receive 30% Off Orders on Holiday Items through December 30

"But I am sure that I have always thought of Christmas time, when it has come round... as a good time; a kind, forgiving, charitable, pleasant time; the only time I know of, in the long calendar of the year, when men and women seem by one consent to open their shut-up hearts freely."

American Letterpress Preview Attracts Over 250 Guests

On Friday, December 2, more than 250 people came to the Library for the preview of American Letterpress: The Art of the Hatch Show Print. The Library offered special docent-led tours of the exhibition. Jim Sherraden, exhibition curator, gave an engaging talk on the history of Hatch Show Print and autographed copies of...
Please Remember the Semper Virginia Society in Your End-of-Year Giving

The Semper Virginia Society exists to provide vital private support for Library programs, including acquisition of new materials, conservation of our treasured collections, the continued digitization of our archive, and funding for the exhibitions and educational programs...
Visit Shutterfly to See Photographs from This Year's Literary Awards

If you attended the 14th Annual Library of Virginia Awards Celebration, you know what a marvelous event it was. Great company, wonderful writers, a special appearance by Richard Thomas (John-Boy Walton), the incomparable Adriana Trigiani as host, the self-effacing Earl Hamner, and heartfelt remarks from this year's winners made the night...
Check Out Multiple Exposure

The Prints and Photographs Collection at the Library of Virginia provides an astonishing visual account of the commonwealth—from its beginnings to the present—through single items, such as one-of-a-kind daguerreotypes, to sprawling collections with many thousands of...
Lost and Found Exhibition to Open February 27

The fabric of our world is constantly changing. Things disappear from our cultural landscape, sometimes almost without notice—signs, buildings, even towns—and others go into attics, basements, and landfills. Some are saved and carefully stored and preserved; others...
Library Visits Top 1.6 Billion

The ways in which Americans use libraries changed significantly in the decade ending in 2009 as libraries adapted to meet the evolving needs of their users. These changes are keeping libraries relevant, vibrant places as evidenced by a...
Poetry Prize Winner Dies at 96

Acclaimed poet Ruth Stone, who won the Library of Virginia Literary Award in poetry for In the Dark in 2005, has died at age 96 of natural causes at her home in Vermont. Her winning volume alluded to her failing eyesight and examined the issues of memory, aging, and loss...


All events are free and take place from noon until 1 PM in the conference rooms at the Library of Virginia unless otherwise noted.

Friday, December 23, 2011—Monday, December 26, 2011
Closed
The Library will be closed for Christmas Holiday.

Saturday, December 31, 2011—Monday, January 2, 2012
Closed
The Library will be closed for New Year's Holiday weekend.

Saturday, January 7, 2012
Family Day: Create Your 2012 Calendar
Time: 9:30–11:30 AM
Place: Lobby
Create your own 2012 calendar using a "family-friendly" letterpress method, then check out the American Letterpress: The Art of Hatch Show Print exhibition while the paint dries. Recommended for children ages four and up.

Thursday, January 12, 2012
The Reservoir
Author John Milliken Thompson's first novel is a story of lust, betrayal, justice, and revenge based on a true story. On an early spring morning in Richmond, Virginia, in the year 1885, a young pregnant woman is found floating in the city reservoir. It appears that she has committed suicide, but there are curious clues at the scene that suggest foul play. A book signing follows the talk.

Saturday, January 14, 2012
Closed
The Library will be closed Saturday, January 14, so that our reading rooms can be open on the Lee-Jackson (Friday, January 13) and Martin Luther King (Monday, January 16) holidays. Administrative offices will be closed on both the Lee-Jackson and Martin Luther King holidays.

Wednesday, January 25, 2012
"Books on Broad" Featuring Ava Farmer: Second Impressions
Time: 5:30–7:30 PM
Place: The Virginia Shop
If Jane Austen had lived longer than her all-too-brief one-and-forty years, this might have been the sequel to Pride and Prejudice. Written in the idiom of Austen's time, Second Impressions is a story of the Darcy family, their friends, and relations. It has been ten years' time since that happiest of days when Mrs. Bennet got rid of her two most deserving daughters. What does Elizabeth do all day at Pemberley? What has happened to Mr. and Mrs. Bingley? Has Lady Catherine been allowed to visit? Have Mr. and Mrs. Wickham become, as Jane predicted, steady, and rational? What about England's most eligible daughter, Georgiana Darcy? Light refreshments (wine and cheese) will be served (5:30–6:15 PM), followed by author talk (6:15–7:15 PM), and book signing (7:15–7:30 PM).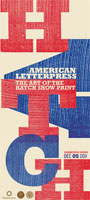 Through Saturday, February 4, 2012
American Letterpress: The Art of Hatch Show Print Exhibition
Time: 9:00 AM–5:00 PM
Place: Exhibition Hall
American Letterpress: The Art of Hatch Show Print celebrates a time-honored graphic art tradition through the work of Nashville's Hatch Show Print, one of the nation's oldest continuously printing shops. While Hatch's name is synonymous with the music business, its posters promoting football games, vaudeville shows, state fairs, stock car races, and picture shows reflect the breadth of American popular culture. Organized by Smithsonian Institution Traveling Exhibitions Service (SITES), the exhibition includes 62 original posters (including authorized restrikes from vintage blocks and contemporary restrikes), 15 hand-carved wooden printing blocks, text panels, and labels.