Click any excerpt below to read the full article.
Changing History Is a Must-Have

Published by the Library of Virginia, Changing History: Virginia Women through Four Centuries tells the important and compelling stories of women—both famous and lesser-known—who have influenced the course of history in the Old Dominion. Authors Cynthia A. Kierner, Jennifer R. Loux, and Megan Taylor Shockley cover the rich panoply of Virginia's history from the region's Native American peoples before the founding of Jamestown to a 21st century profoundly changed by a second wave of feminism. Containing more than 80 illustrations and a comprehensive list of suggested reading and digital resources, Changing History is available for $24.95 from the Virginia Shop...
2013 Virginia Women in History Program Honors Eight Outstanding Women

The first woman elected to the Virginia Senate, an award-winning journalist, a champion for the plight of orphaned girls, one of the first licensed pilots in Virginia, a respected teacher and principal, and the first African American woman to serve on the Virginia Supreme Court are among eight Virginia women recognized by the Library of Virginia as part of its Virginia Women in History program. This annual program includes materials and related learning activities tied to the Virginia Standards of Learning and a traveling exhibition....

Emblidge Elected Chair of Library Board

Dr. Mark E. Emblidge, of Richmond, professor of practice in EDLF at the Curry School of Education at the University of Virginia, was elected chair of the state Library Board at its January meeting. Emblidge previously had served as vice chair of the board. He replaces Meyera Oberndorf, of Virginia Beach, who resigned as chair in December.Appointed to the Library Board in December 2009 by Governor Timothy M. Kaine, Emblidge has devoted his career to education and literacy. He is the founding director of Communities in Schools of Virginia and founding executive director of the Virginia Literacy Foundation, which provides grants and...
Database Spotlight: Biography and Genealogy Master Index

The Biography and Genealogy Master Index has been a tried-and-true resource for several decades, and remains a key research tool for anyone seeking biographical reference sources. Its primary focus is the late 19th and early 20th centuries, but it includes entries for individuals from all time periods, geographic locations, and fields of endeavor. The sources used to create the index include biographical dictionaries, who's who volumes, subject encyclopedias, literary criticisms, and other indexes. The database includes more than 17 million biographical entries from approximately 2,000 current and retrospective sources, with over half a million new entries being added each year. It provides coverage of nearly 5 million contemporary and historical figures—from authors to scientists, athletes to politicians, Plato to Mick Jagger! Entries provide birth and death dates, bibliographic references to books with content about the individual, and an indication of which sources include portraits.
"Straight to the Source" Conference Set for March 22

Four Library of Virginia staff members will speak on specialized research topics at the Friends of the Virginia State Archives Straight to the Source Conference to be held at the Library on March 22. Pre-registration is required; attendance is limited to 75 people. Registration closes on March 15, 2013. The conference begins at 9:15 AM and ends at 3:00 PM.

Dale Neighbors will discuss theidentification and care of family photographs. Jessie Robinson Graham will share insights into the Library's records from mental health institutions. Ginny Dunn will demonstrate the many databases accessible through your Library of Virginia card. Sarah Nerney will reveal the revelations to be found in chancery records.

The cost is $35 for Friends members, $50 for non-members, and includes a box lunch. Please make checks payable to: Friends of the Virginia State Archives. Please include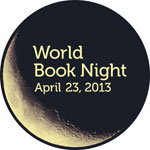 Celebrate World Book Night on April 23

Bookstores and libraries across Virginia are participating in World Book Night U.S, a celebration of books and reading held on April 23. On that date 25,000 volunteers across America will give out a total of half a million books to those within their communities who don't regularly read. The program is aimed at adults. The honorary chairpersons of World Book Night 2013 are best-selling novelists Ann Patchett and James Patterson.

The 30 books selected by an independent panel of librarians and booksellers for 2013 can be found at www.us.worldbooknight.org/books/2013 and include Playing for Pizza by Virginia author John Grisham. The authors of the books waive their royalties and the publishers agree to pay the costs of producing the specially printed World Book Night U.S. paperback editions. Bookstores and libraries sign up to be community host locations for the volunteer book givers.

Members of the public had to apply by January 23, 2013, on World Book Night's website to be selected to hand out 20 copies of a particular title in their community. World Book Night U.S. will vet the applications and choose givers based on their ability to reach light readers and non-readers. The selected givers choose a local participating bookstore or library from which to pick up the 20 not-for-resale copies of their assigned WBN book, and World Book Night U.S. delivers the books to the host locations.

Among the Virginia public libraries taking part in World Book Night are Buchanan Public Library, Central Rappahannock Public Library, Chesterfield Public Library, Hampton Public Library, Lynchburg Public Library, Masanutten Regional Library, Pulaski Public Library, and...
American Library Association Announces 2013 Youth Award Winners

The American Library Association recently announced the top books, videos, and audiobooks for children and young adults—including the Caldecott, Coretta Scott King, and Newbery awards—at its midwinter meeting in Seattle.

Demetria Tucker, family and youth services librarian with the Newport News Public Library, is the recipient of the 2013 Coretta Scott King-Virginia Hamilton Award for Lifetime Achievement. Tucker has served as youth services coordinator with the Roanoke Public Library System and library media specialist at Forest Park Elementary School, where...

All events are
free and take place from
noon until 1 PM in the
conference rooms at the Library of Virginia unless otherwise noted.
Saturday, February 16, 2013
Closed
The Library will be closed so that our reading rooms can be open on the George Washington Day. LOBBY AND READING ROOMS WILL BE OPEN ON MONDAY, FEBRUARY 18.
Wednesday, February 20, 2013

The Loving Story: A Documentary Film by Nancy Buirski
Time: 5:30-7:30 PM
Place: Lecture Hall
The Loving Story, winner of the prestigious John E. O'Connor Film Prize from the American Historical Association, tells the dramatic story of Mildred and Richard Loving, an interracial couple who were denied the right to live together in Virginia in the 1950s. The film not only explores their landmark Supreme Court case but also the current state of interracial marriage and tolerance in the United States. It is the definitive account of Loving v. Virginia—the landmark 1967 Supreme Court decision that legalized interracial marriage. The Loving Story was co-produced by HBO Documentary Films and directed by Nancy Buirski.This program complements the Library's latest exhibition, You Have No Right: Law and Justice in Virginia. Style Weekly is the media sponsor for programming for You Have No Right: Law and Justice in Virginia.
Thursday, February 21, 2013
"Books on Broad" featuring Jabeen Akhtar
Time: 5:30–7:30 PM
Place: The Virginia Shop
Jabeen Akhtar will discuss and sign Welcome to Americastan, her quirky, refreshingly candid debut novel. With effervescent humor and wit she turns every stereotype of Muslim Americans on its head. Light refreshments (wine and cheese) will be served (5:30–6:00 PM), followed by author talk (6:00–6:45 PM), and book signing (6:45–7:30 PM).

Saturday, February 23, 2013
The 2013 Symposium – Person of the Year: 1863
Time: 9:30 AM–4:00 PM
Place: Lecture Hall, Fee, $35 for Museum of the Confederacy members and Library donors, $50 for nonmembers (includes boxed lunch).
What person or group most influenced events in 1863? This question will be the charge given to the speakers—and to the audience—at the 2013 symposium. Edward L. Ayers, Kent Masterson Brown, Joseph T. Glatthaar, Thomas Sebrell, and Jennifer Weber will nominate candidates for "Person of the Year: 1863" in their lectures and the audience will get to vote on the winner at the all-day event. To register online, go to www.moc.org.

Wednesday, March 13, 2013
"Pinning" Gabriel's Rebellion
Place: Lecture Hall
Using the (relatively) new website HistoryPin (www.historypin.com), historians Gregg Kimball, Michael Nicholls, and Phil Schwarz trace the activities and events leading up to the best-planned—and potentially most damaging—slave insurrection in Virginia. The region's geography and the Library's documents are merged on the website to graphically depict the actions and aftermath of the Henrico bondsman. This program is presented in partnership with the Virginia Commonwealth University Library System.
Wednesday, March 13, 2013

"Books on Broad" featuring Historic Richmond Foundation and Richmond Landmarks
Time: 5:30 PM–7:30 PM
This Books on Broad will be presented in partnership with Historic Richmond Foundation and will feature two local history books that celebrate the notable cultural and historic sites of Richmond, Virginia. The Official Guide to Historic Richmond is an updated publication featuring images and information about architecturally and historically significant sites in Richmond. Richmond Landmarks includes over 200 images from the Library of Virginia's historic photographs collection with an historic overview of the city. Our usual wine and cheese reception will be followed by slideshow presentations focused on the historic sites of Richmond and ongoing historic preservation efforts by Historic Richmond Foundation.
Tuesday, March 19, 2013

Changing History: Virginia Women through Four Centuries
Published by the Library of Virginia, Changing History tells the important and inspiring stories of women—both famous and lesser-known—who have influenced the course of history in the Old Dominion. Authors Cynthia A. Kierner and Megan Taylor Shockley will speak about the book in a roundtable discussion moderated by Librarian of Virginia Sandra G. Treadway. A book signing will follow.
Through Saturday, May 18, 2013

You Have No Right: Law & Justice
Time:9:00 AM–5:00 PM
Place: Exhibition Hall
Using Virginia cases—and the stories of the people behind them—You Have No Right: Law and Justice demonstrates how the law affects individuals directly and how people have used the law to achieve political and social goals. Using original records and electronic resources to convey the themes of human rights, citizenship, and the rule of law in a lively and engaging presentation, the exhibition explores questions about citizenship, marriage rights, eminent domain, and why prosecutors have to prove guilt and defense lawyers don't have to prove innocence.