Click any excerpt below to read the full article.

Apply Now for the 2013 Anne and Ryland Brown Teacher Research Fellowship

Second grade through high school teachers are encouraged to apply for the 2013 Anne and Ryland Brown Teacher Research Fellowship. Two positions are open for teachers interested in collaborating with Library of Virginia staff to develop classroom activities that will also enhance upcoming programs provided at the Library. The Library of Virginia is particularly interested in candidates who are willing to research documents related to their specific county and/or to support our upcoming exhibition Flora in Virginia. Selected teachers will receive a stipend of $2,000 after project completion. Deadline for applications is May 10. For more information or to apply, please visit our Educator's page on the Library of Virginia website

The goal of the Brown Teacher Research Fellowship is to enhance knowledge and...
First-in-the-Nation Monument to the Achievements of the Women of Virginia to Be Installed on Virginia's Capitol Square

The winning design for a Women's Monument to be placed on the grounds of Virginia's Capitol Square in Richmond was announced by Secretary of Administration Lisa Hicks-Thomas on March 28 at the Library of Virginia's annual Virginia Women in History awards celebration. Thought to be the first of its kind in the nation, the monument will commemorate the collective contributions of the women of Virginia throughout the past 400 years of its storied history. Prominently placed and respectfully integrated into the historic Capitol landscape, the monument's oval-garden design includes elements of sculpture and landscaping that will provide visitors an interactive and educational experience.

Out of 34 designs submitted from around the world, the Women of Virginia Commemorative Commission unanimously selected the design by StudioEIS, of Brooklyn, New York, and the 1717 Design Group, Inc., of Richmond, as the winner. "This monument will provide a lasting reminder to those walking through our Capitol Square of the vital role women played in shaping Virginia's history," said Governor Bob McDonnell, chairman of the commission. "There are so many incredible stories of women who have led and inspired in the public and private sector in Virginia. This monument will honor the contributions of those great
...
Early Norfolk Map Donated to Library

Although important and expensive historic documents frequently come up for auction, institutions like ours are often unable to muster the necessary funds to purchase them—or to find "angels" with the financial capability to act on our behalf. Recently, the Library of Virginia was on the receiving end of such kindness. Working with the Special Collections librarians at the College of William and Mary, Helen Elizabeth "Bee" McLeod and her husband John Goodenow "Goody" Tyler helped the Library purchase an incredibly significant colonial Virginia map at auction last summer to ensure that it remained in Virginia and accessible to the public. The original hand-drawn map of Norfolk, executed by Samuel Boush in 1762, may be the earliest plan of this Virginia port city. The Boushes owned large amounts of land in Norfolk, and Colonel Samuel Boush was the first mayor there in 1736. The Boush family was instrumental in planning the development of the borough of Norfolk, specifically in the areas where Boush Street, Church Street, and Charles Street were established. The...
Database Spotlight: HarpWeek (1857–1912)

Harper's Weekly was the newspaper of record for the latter part of the 19th and early 20th centuries, with an estimated readership of at least half a million people. It had more foreign correspondents and illustrated stories than any of its contemporaries. The HarpWeek database contains the pages of Harper's Weekly from 1857 to 1912 as scanned images, together with a series of indexes. It provides domestic and foreign news, editorials, and literary essays enabling users to track the major political, social, and military stories of the day.

The indexing is a particularly strong feature of the electronic version. The publication includes 75,000 illustrations, cartoons, maps, and portraits. Illustrations are indexed to facilitate retrieval by topic, place, or portrait. Cartoons can be searched by subject or by character name, and there are more than 100,000 advertisements that can be located by topic (e.g., transportation, health, alcohol, etc.) as well as by retailer or manufacturer. Clothing ads are indexed by clothing type, gender, and fabric type. Literature is organized by genre, allowing users to retrieve content that falls under specific categories such as "humorous essay" or "patriotic...
DAR Supports Conservation at the Library of Virginia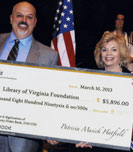 In March, Richmond was host to the 117th Annual Virginia State Daughters of the American Revolution Conference. Chaired by Virginia DAR state regent Patricia Musick Hatfield, the conference allowed the state's 132 DAR chapters and various committees to report their accomplishments in the past year.

The Virginia Daughters of the American Revolution recently donated $5,896 to pay for the conservation, digitization, and microfilming of a Stafford County Order Book, 1749–1755, that was discovered in the collections of the Jersey City Free Public Library and returned to the Library of Virginia in October 2011. On March 16, the conserved volume was on display at the DAR's state conference held at the Richmond Marriott. The Daughters were so impressed with the work done with their funding and so appreciative of the Library's efforts to keep them updated about the project that they decided to continue working with the Library to preserve records. At their business meeting, Hatfield announced that the organization would contribute $4,620 toward the conservation of the final two boxes of the Colonial Papers Collection. This collection was laminated in the 1930s using a then-new technique pioneered by William J. Barrow, but the cellulose acetate film used during the process is now degrading, causing the documents to become unstable. The Library had been slowly conserving the valuable collection as funding became available, but this generous donation will now allow us to de-laminate, de-acidify, and mend the remaining items.

The Colonial Papers Collection, 1630–1775, consists of loose records from Colonial governors, clerks of the Colonial Council, the House of Burgesses, and other sources. The collection contains petitions, court records, orders, summonses, patents, accounts, proceedings, returns, grants, proclamations, addresses, certificates, and correspondence...
David Baldacci to Speak on Researching Law and Justice in a Novel Way

Since the release of Absolute Power in 1996, attorney and best-selling Virginia author David Baldacci has thrilled readers with suspenseful, fast-paced stories of politicians, assassins, and government agents. On May 16 at 6:00 PM, Baldacci will discuss and answer questions about how he researches and uses contemporary legal issues in his novels. Laws are not perfect and there are occasional breakdowns where justice is not necessarily served, as his novels prove. This program complements the Library's latest...

Tuesday, April 16, 2013

Death by Petticoat: American History Myths Debunked
Time: Noon–1:00 PM
Place: Conference Rooms, Free
Author Mary Theobald will uncover the truth behind many of the myths and misconceptions that abound in America's classrooms and museums. A book signing will follow her talk.
Wednesday, April 17, 2013

Poster Child: The Life of Kemba Smith
Wednesday, April 17, 2013
Time: 6:00 PM–7:30 PM
Place: Lecture Hall, Free
In 1994 Hampton University student and Richmond native Kemba Smith began serving a 24½-year sentence as a result of a turbulent four-year relationship with a major figure in the crack cocaine trade. Her crime: attempting to "fit in" with the wrong crowd. After serving six and a half years she was granted clemency by President Clinton in 2000. Since then, she has used her life story to crusade against the rise of lengthy sentences for first time nonviolent drug offenders. Smith offers an inspirational and cautionary tale of perseverance and courage in her quest to teach all Americans that there are consequences to their life choices. A book signing will follow. This program complements the Library's latest exhibition, You Have No Right: Law and Justice in Virginia. Thanks to our programming sponsors: Style Weekly (media) and Middleburg Trust Company (education).

Wednesday, April 17, 2013
Researching African American Records in the Library of Virginia and Bedford County Courthouse
Time: 7:00 PM–8:30 PM
Place: Bedford Museum & Genealogical Library, 201 E. Main St., Bedford 540-586-4520, bmgl@bedfordvamuseum.org, Free
Greg Crawford, local records archivist at the Library of Virginia, and Karen Glover, deputy clerk of the Bedford Circuit Court, will discuss the free Negro and slave records that are located at the Library of Virginia and the Bedford County Courthouse.

Saturday, April 20, 2013
2013 Voorhees Lecture on the History of Cartography
Time: 1:00 PM–3:30 PM
Place: Lecture Hall
Free, but reservations required. Visit www.lva.virginia.gov/maps or call 840-692-3813.
The 2013 Voorhees Lecture will focus on the life and times of Matthew Fontaine Maury and will include two lectures separated by a short intermission. "The Puzzling Portrait of Matthew Fontaine Maury" will be given by Scott Walker and "Highlights from the Matthew Fontaine Maury Collection" will be presented by Cassandra Farrell. A special one-day exhibition of maps relating to the talk will be displayed from 10:00 AM until 4:00 PM. Behind-the-scenes tours of the Library will be available and box lunches will be available at noon if preordered.

Wednesday, May 1, 2013
Barbara Johns: The Making of an Icon
Time: 5:30 PM–7:30 PM
Place: Lecture Hall, Free
This film by French filmmaker Fabrice Chiambretto follows the creation of the Virginia Civil Rights Memorial, unveiled on Richmond's Capitol Square in 2008. It also tells the story behind the memorial: the 1951 Moton High School Student Strike led by 16-year-old Barbara Rose Johns in Farmville, Virginia. The students' courageous actions catapulted Prince Edward County into the center of the U.S. civil rights movement and ultimately resulted in the Supreme Court's landmark 1954 Brown v. Board decision outlawing racial segregation in America's public schools. A tour of the memorial with individuals directly related to the strike will conclude the evening. The film is presented in partnership with the Robert Russa Moton Museum. This program complements the Library's latest exhibition, You Have No Right: Law and Justice in Virginia. Thanks to our programming sponsors: Style Weekly (media) and Middleburg Trust Company (education).

Friday, May 3, 2013 - Saturday, May 4, 2013
Second Annual Library of Virginia Antiquarian Book Fair
Place: Library of Virginia Lobby, Free
In conjunction with the Virginia Antiquarian Booksellers' Association and the support of the Southeast Chapter of the Antiquarian Booksellers' Association of America, the Library of Virginia will host the commonwealth's premier rare book event featuring over 40 of the region's finest dealers in mass-market titles, rare books, manuscripts, maps, and ephemera. Items are available for every wallet and interest!
Friday, May 3, 2013
Noon–8:00 PM with evening wine reception 5:30–7:30 PM
Saturday, May 4, 2013
9:00 AM–3:00 PM

Thursday, May 9, 2013
Poetic Principles Featuring Lisa Russ Spaar and Kelly Cherry
Time: 6:00–7:00 PM
Place: Conference Rooms, Free
Poetic Principles at the Library of Virginia celebrates the diversity and strength of poetry being written in Virginia. This evening features poetry from central Virginia, in particular—which has been supported by the generosity of Carole Weinstein—with a reading of recent work by Lisa Russ Spaar and Kelly Cherry, the most recent winners of the Carole Weinstein Prize in Poetry. Spaar, the author of three books of poetry, has received fellowships from the Rona Jaffe Foundation and the Guggenheim Foundation, among other honors. Her latest book of poetry is Vanitas, Rough. Cherry has authored numerous books of poetry, fiction, and essays, including a new collection of poems, The Life and Death of Poetry, appearing this spring from LSU Press. She has also served as Poet Laureate of Virginia.
Through Saturday, May 18, 2013

You Have No Right: Law & Justice
Time:9:00 AM–5:00 PM
Place: Exhibition Hall
Using Virginia cases—and the stories of the people behind them—You Have No Right: Law and Justice demonstrates how the law affects individuals directly and how people have used the law to achieve political and social goals. Using original records and electronic resources to convey the themes of human rights, citizenship, and the rule of law in a lively and engaging presentation, the exhibition explores questions about citizenship, marriage rights, eminent domain, and why prosecutors have to prove guilt and defense lawyers don't have to prove innocence.