Click any excerpt below to read the full article.
Smith, Varon, and Mackinnon Receive 2014 Library of Virginia Literary Awards

The Library of Virginia is pleased to announce the winners of the 17th Annual Library of Virginia Literary Awards, sponsored by Dominion. The October 18 awards celebration was hosted by award-winning Virginia author Adriana Trigiani. Awards categories were fiction, nonfiction, poetry, and literary lifetime achievement. Winners of the Library of Virginia's Annual Literary Awards receive a monetary prize and a handsome engraved crystal book.

Lee Smith is the recipient of the 2014 Emyl Jenkins Sexton Literary Award for Fiction for Guests on Earth, which the judges felt explores the interplay of talent, beauty, character, and illness in the lives of a fascinating spectrum of Southern women. Set at the Asheville, North Carolina, hospital where Zelda Fitzgerald and eight others perished in a tragic fire in 1948, Smith's Guests on Earth is "ambitious and utterly charming," according...
Budget Cuts to Library Announced

On October 15, 2014, Governor Terry McAuliffe announced the savings actions he would use to eliminate the revenue shortfall in the Virginia budget for fiscal year 2015. Due to revenue collections that came in under the projection set in 2013, the governor asked executive branch agencies to submit budget reduction plans of 5 percent for fiscal year 2015 and 7 percent for fiscal year 2016 in order to close an $882...
Beth Macy to Discuss Factory Man at the Library on November 19

Journalist Beth Macy will discuss and sign her award-winning debut book, Factory Man: How One Furniture Maker Battled Offshoring, Stayed Local—and Helped Save an American Town, at the Library on November 19 at noon. Her writing has won more than a dozen national journalism awards, including a Nieman Fellowship for Journalism at Harvard and Columbia's J. Anthony Lukas Work-in-Progress Award.

She worked for the Roanoke Times for 25 years and first wrote a feature for the paper about the central figure in her book, John D. Bassett III, as part of a series on the impact of globalization...
Encyclopedia Virginia Is a 2014 Friend of Education

Encyclopedia Virginia (EV), for which the Library of Virginia has been a partner since 2012 with the Virginia Foundation for the Humanities, has been selected as the 2014 Virginia Council for the Social Studies (VCSS) Friend of Education.

The award honors organizations or individuals who advocate and provide resources for social studies throughout the commonwealth of Virginia...
Public Comment Period open Until December 5 on Library's Proposed Regulation

In accordance with the Governor's Regulatory Review Initiative begun in 2012 the Library of Virginia conducted a thorough review of its regulations. As a result, the Library has proposed a new regulation, 17 VAC 15-61 Standards for Permanent Instruments Recorded by Hard Copy, which combines three current regulations into one, simplifies the language of the rules, improves the organization, and removes obsolete sections. The development and review ...
"Making History: Transcribe" Makes History Accessible

The "Making History: Transcribe" (www.virginiamemory.com/transcribe) lets users transcribe documents in the Library of Virginia's collections in a collaborative online workspace that hosts a few projects at a time. So far, more 1,940 pages have been transcribed by individuals within Virginia, across the United States, and around the world!

The need for transcription vastly outstrips Library staff time. What better way to solve this problem than to engage the public in areas of interest? Today's open-source transcription tools...
Diana Rosapepe Receives 2014 Lewis Award

Virginia's public library directors have awarded Diana Rosapepe, director of the Roanoke County Public Library, the 2014 Elizabeth M. "Libby" Lewis Award, named for the former director of public library development at the Library of Virginia. Also nominated for the award were Sam Clay, director of the Fairfax County Public Library, and Sandy Whitesides, director of the Shenandoah Public...


Friday, November 7–8, 2014
Holiday Shoppers' Fair
The Museum Stores of Richmond Holiday Shoppers' Fair—held this year at the Library of Virginia—offers the Richmond region more than a dozen of the best local museum stores under one roof. To celebrate the event's 20th anniversary, the fair will host a birthday party on Friday evening (5:00–8:30 PM) with cake and refreshments—including Virginia wine—as well as 20 percent off all merchandise, a story time for children on Saturday morning, and Virginia author meet-and-greets throughout the weekend. Free and secure parking is available below the Library, with elevator access to the event. Groups are welcome, with bus parking available nearby. For details on group visits, please contact Jennifer Blessman at 804-692-3561.Open Friday: 9:30 AM to 8:30 PM, Saturday: 9:30 AM to 5:00 PM.

Tuesday, November 11,2014
Closed
The Library will be closed for Veterans Day.

Wednesday, November 12, 2014
"Books on Broad" Featuring Eliza McGraw I Edna Ferber's America
Time: 5:30–7:30 PM
Place: Lecture Hall, Free
Edna Ferber's America is a critique of Ferber's novels, which convey a broad, nuanced vision of the United States as a multiethnic country, with particular emphasis on Jewish American communities. Reception (wine and cheese) 5:30–6:00 PM, book talk 6:00–7:00 PM, and book signing 7:00–7:30 PM.

Saturday, November 15, 2014
Closed
The Library of Virginia will be closed for the Anthem Richmond Marathon.

Wednesday, November 19, 2014
Factory Man
Time: Noon–1:00 PM
Place: Conference Rooms, Free
Author Beth Macy brings to life John Bassett's fascinating family furniture business with wildly colorful stories from an American industry that once ruled the world—and might again see better days. As Macy shows how he uses legal maneuvers, factory efficiencies, and sheer will to save hundreds of jobs, she also discovers the hidden history of industry in America.

Friday, November 21, 2014
Researching Your War of 1812 Ancestor
Time: 1:00–4:00 PM
Place: Conference Rooms, Fee $25 ($20 Semper Virginia Society members)
This intermediate level genealogy workshop will be led by senior reference archivist Tom Crew and certified genealogist Rebecca Whitman Koford. For more information, contact Adrienne Robertson at 804-692-3001. To register, go to www.eventbrite.com/e/researching-your-war-of-1812-ancestor-tickets-11494348907.

Wednesday, November 25 – Saturday November 29,2014
Closed
The Library of Virginia will be closed from noon on November 26 through Saturday, November 29 for the Thanksgiving holiday.
Through Saturday, May 30, 2015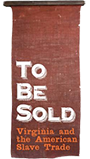 To Be Sold: Virginia and the American Slave Trade
Time: 9:00 AM–5:00 PM, Monday–Saturday
Place: Lobby and Exhibition Hall, Free
This groundbreaking exhibition will explore the pivotal role that Richmond played in the domestic slave trade. Curated by University of Virginia professor Maurie McInnis, To Be Sold will draw from her recent book, Waiting to Be Sold: Abolitionist Art and the American Slave Trade, and be anchored by a series of paintings and engravings by Eyre Crowe, a British artist who witnessed the slave trade as he traveled across the United States in 1853. This internal trade accounted for the largest forced migration of people in the United States, moving as many as two million people from the Upper South to the Cotton South. Virginia was the largest mass exporter of enslaved people through the Richmond market, making the trade the most important economic activity in antebellum Virginia.