Wednesday, January 13–Saturday, March 12, 2016
Virginia General Assembly in session.
Parking at the Library will be very limited.
Please note that the Virginia General Assembly, the oldest continuous law–making body in the New World, will be in session for 60 days beginning January 13. Parking for Library of Virginia patrons will be very limited during that time.


Friday, January 15–Monday, January 18, 2016
Online Resources Unavailable
The Library of Virginia's online resources will be unavailable from 6:00 AM on January 15 until January 19 as we relocate our computer room.

Friday, January 15–Monday, January 18, 2016
Closed


The Library will be closed Lee–Jackson Day through Martin Luther King Day.




Saturday, January 30, 2016
VOLUNTEER OPPORTUNITY: Transcribe-a-thon
Time: Noon–2:00 PM
Place: Network Training Center
Join other volunteers to transcribe handwritten pages by reading written text and typing it into digital form. Participate in enhancing access to collections of more than 400 years of Virginia history and culture. Twelve computer stations will be available. If you have your own laptop, please bring it! Transcribe-a-thons are facilitated by the volunteer organization HandsOn Greater Richmond. Minimum age is 16 (12 with an adult). Registration required: http://bit.ly/LVAvolunteer.


Monday, February 1–Saturday, February 6, 2016
2016 Strong Men & Women in Virginia History Exhibition
Time: 9:00 AM–5:00 PM
Place: Second Floor Lobby
In observance of Black History Month, the Library of Virginia and Dominion Virginia Power honor eight distinguished Virginians in this traveling exhibition as the 2016 Strong Men & Women in Virginia History for their contributions to the commonwealth and the nation. Through education and advocacy, they demonstrate how African Americans have actively campaigned for better lives for themselves and their people. For a schedule of this traveling exhibition, please visit: www.lva.virginia.gov/public/smw/2015/exhibit.htm.

Saturday, February 13–Monday, February 15, 2016
Closed
The Library will be closed for the George Washington Day holiday weekend.


Monday, February 22–Monday, February 29, 2016
2016 Strong Men & Women in Virginia History Exhibition
Time: 9:00 AM–5:00 PM
Place: Second Floor Lobby

Through Saturday, March 26, 2016
Remaking Virginia: Transformation through Emancipation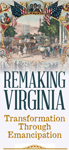 Time: 9:00 AM–5:00 PM, Monday–Saturday
Place: Lobby and Exhibition Hall, Free
Even as the Civil War was still being fought, the status of almost a half–million African Americans in Virginia began to change. No longer were they someone else's property–they were free. They anticipated the promise of change from their former status as slaves: the promises of education, political participation, and full citizenship. Yet, in their struggle to achieve these goals, freedmen and freedwomen faced the hostility of their former masters and the society that had long benefitted from their labor. Union troops and U.S. government officials reconstructing the Southern states were often indifferent.