Richmond Theater Fire Talk and Tour on March 15
On December 26, 1811, 72 people lost their lives when fire swept through a crowded theater in downtown Richmond. Alerted by a cry of "fire," the 600 guests scrambled down narrow staircases to escape the inferno. Among the 54 women and 18 men who lost their lives that night was Virginia Governor George W. Smith.
Later the City of Richmond would decree that a church be built on the site of the fire as a memorial to those who lost their lives. A committee headed by Supreme Court Chief Justice John Marshall raised funds for the church's construction. Monumental Episcopal Church, designed by architect Robert Mills, is one of America's earliest and most distinctive Greek Revival churches, is listed on the National Register of Historic Places, and is a National Historic Landmark. It was built from 1812 to 1814.
Learn more about this tragedy at noon on March 15 as author Meredith Henne Baker discusses her award-winning book The Richmond Theater Fire: Early America's First Great Disaster.
As an added bonus, before and after the talk the Historic Richmond Foundation will offer tours of nearby Monumental Church, where the bodies of the tragedy's victims are still in a brick crypt below the church. Reservations are required for the tours and space is limited. Please call 804-692-3999 to reserve space for a tour.
<< back to e-newsletter

Former Library Board Member Andy McCutcheon Dies at 84
"A true gentleman." That's the phrase that comes to mind when thinking of Andy McCutcheon, along with "gifted writer"; "devoted husband, father, grandfather, and friend"; "accomplished public relations executive"; "raconteur of great political and sports stories"; and "public servant."
Andrew H. McCutcheon Jr. died of cancer on February 12 surrounded by Charlotte McCutcheon, his wife of 60 years; his daughter and her husband; his granddaughters; and his sister. He was 84.
McCutcheon became a member of the Library of Virginia family when he was appointed to fill an unexpired term on the Library Board by Governor Doug Wilder in 1989, and was reappointed for a full five-year term in 1992. He served two terms as chair of the Library Board, guiding the Library through a period of budget cuts and the planning for and opening of the new Library of Virginia building at 800 East Broad Street. He played an instrumental role on the Library Building Committee and the Dedication Committee for the new Library of Virginia facility. He understood the awesome responsibility the Library had to hold in trust for the people of Virginia: its irreplaceable and priceless historic collections. In one of his last communications as chair of the Library Board he urged Governor Allen "to consider carefully what the Commonwealth and its history mean and to provide the funding necessary for the Library to continue its role as the State's preeminent library and archives."
After his tenure on the Library Board he continued to serve the Library as a member of the Library of Virginia Foundation from 1997 to 2007. His thoughtful leadership on both boards resulted in greater visibility and increased support for the Library.
"Andy McCutcheon was one of the dearest people and most conscientious of board members I have ever known. Always upbeat and positive, with an infectious twinkle in his eye, Andy gave his all to anything he undertook. He loved the Library, its people, and its collections, and we were the better for his experienced perspective and advice. We will miss him terribly and extend our sympathy and love to his wife, Charlotte, and his devoted family," said Librarian of Virginian Sandra G. Treadway.
After graduating from Washington and Lee University, McCutcheon began a career as a sports writer for the Richmond News Leader. He served as executive assistant to U.S. Representatives J. Vaughan Gary and David E. Satterfield, served as a special assistant for Sargent Shriver at the Office of Economic Opportunity, and in 1968 he ran for Congress, losing to incumbent William L. Scott. He served 24 years in various capacities with Reynolds Metals Company. In 1969 he took a year off from Reynolds to run J. Sargeant Reynolds Sr.'s successful campaign for lieutenant governor. McCutcheon later co-wrote Sarge Reynolds: In the Time of His Life, about the charismatic young politician who died of an inoperable brain tumor at 34.
McCutcheon was a longtime member and chairman of the Metropolitan YMCA Board, active with the Virginia Sports Hall of Fame, a supporter of J. Sargeant Reynolds Community College, a trustee of St. Matthew's Episcopal Church, chairman of the Richmond Forum, and a member of the Richmond Urban League.
<< back to e-newsletter

Letters to Caroline: Brothers' letters describe Civil War life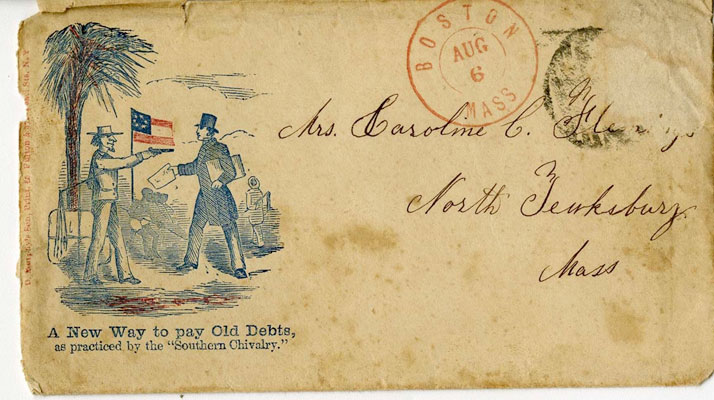 In December 2011 an article appeared in the Associated Press news regarding the Civil War 150 Legacy Project and the work that has been done scanning and cataloging images of never-before-seen Civil War manuscripts. The AP article spread like wild flowers (even appearing in the United Kingdom's newspaper Daily Mail) and the Library's Civil War 150 Legacy Project archivists were inundated by people from across the country wanting to participate and contribute to the effort. One such call came from a family in Maryland who had "over 50" Civil War letters that they wanted to contribute to the Library of Virginia.
Last month, CW 150 Project archivists drove up to Maryland to meet with that family and view the letters they had described. Included were 65 letters, 1861-1891, written from brothers Lewis Garrison Holt (1839-1916) and Warren Eugene Holt (1833-1884) to their sister, Caroline Charlotte Holt Flemings (1826-1902), of Andover, Massachusetts. Both brothers served with the 1st Massachusetts Heavy Artillery Regiment, a unit stationed mainly in Virginia during the war. The artillery unit participated in several Virginia battles, including those at Winchester, Spotsylvania Court House, Cold Harbor, Petersburg, Peeble's Farm, Hatcher's Run, and Appomattox Court House.
The letters are very detailed and well written, describing camp life, battles, the deaths of comrades, scenes of local citizenry and towns, and political views. Many were written in response to specific questions that their sister had asked: What do their barracks look like? ["They are thirty six feet long, and eighteen feet wide, the bunks are on one side of the building, in three tiers..."] Do they have desks to write on? What do they eat? How do they pass the time? ["Well, in fine weather we have to drill on the big guns in the fort and when it is rainy we spend our time reading and playing chickers (sic).] What does the countryside look like? What are the people like in Virginia?
In 1982, the donor, Eleanor Flemings Munch, spent a summer transcribing all of the letters and created a booklet that included all of the typed transcriptions, as well as some pertinent genealogical information. These transcriptions are an additional bonus for historians, educators, and researchers. The original letters and typed transcriptions were donated to the Library of Virginia for inclusion in its Private Papers section. All of the materials are also being scanned by an intern from Randolph-Macon College and will be included on the Legacy Project Web site. The Library hopes to have all of the images scanned and online within the next three months.
The CW 150 Legacy Project has been an exciting adventure. Thanks to the efforts of the Virginia Sesquicentennial of the American Civil War Commission and the Library of Virginia, we are saving these treasures, both digitally and sometimes physically, for the future of all citizens.
-submitted by Laura Drake Davis and Renee Savits, Civil War 150 Legacy Project
<< back to e-newsletter
Books on Egypt and Nubia Contribute to UR Exhibition
The Library of Virginia has loaned two of its oversize volumes of Egypt and Nubia from the drawings made on the spot by David Roberts to the University of Richmond's Lora Robins Gallery of Design from Nature for display in its exhibition Ti-Ameny-Net: An Ancient Mummy, An Egyptian Woman, and Modern Science, on view through June 29, 2012. The exhibition celebrates the life of Ti-Ameny-Net, a woman who lived in Egypt in the 7th century BCE (Before the Common Era) and whose mummy was donated to Richmond College in 1876 by Professor Jabez L. M. Curry.
David Roberts was born in relative poverty outside Edinburgh, Scotland, and spent years developing his skills as an apprentice and a working artisan. Unlike most artists, who relied on sketches brought back by other travelers, Roberts had visited these countries himself. His adventurous approach and his technical brilliance served him well on the journey of a lifetime-an artistic pilgrimage to Egypt and the Holy Land, the first ever undertaken by a British artist. Roberts spent three years on his journey. The press lauded the aesthetic quality of his art, its historical and topographical accuracy, and the grandeur of its subject matter. In 1841 he was elected to the Royal Academy of Arts.
Publication of the first edition of his work was a slow and enormously expensive process. It was printed in sections, each one containing six hand-colored lithographs created from the original drawings. But there was no shortage of subscribers, with Queen Victoria (to whom the Holy Land series is dedicated) and Charles Dickens among those who reserved a set. Roberts's pictures caught the imagination of the British public and shaped the West's perception of the East.
Considering the scale and the scarcity of complete first editions of these works, it is quite a marvel that the Library of Virginia holds not only the Egypt and Nubia volumes, but the Holy Land volumes as well, making the Library's set complete-247 lithographs in all. The Library's volumes were the gifts of sisters Eliza and Caroline White in May 1920. Each volume is more than two feet tall and weighs approximately 35 pounds.
-submitted by Audrey Johnson, Special Collections
<< back to e-newsletter

Library to Host Antiquarian Book Fair on April 28
The Library of Virginia and the Virginia Antiquarian Booksellers Association will host the Library of Virginia Antiquarian Book Fair on Saturday, April 28, 2012, 9:00 AM-5:00 PM.
Admission is free of charge and there is free, limited parking in the underground garage at the Library of Virginia.
More than thirty booksellers from around the region will be present with a broad range of titles-everything from rare collectibles to mainstream fiction.
In addition to the books offered by vendors from around the state, the Library of Virginia Foundation will sell or auction some fascinating titles that relate to Virginia's history that have been donated to the Foundation to raise funds for the Library. These include a number of autographed, first-edition books from the personal collection of the late Richmond author Emyl Jenkins ($15 each), as well as miscellaneous 19th- and early-20th-century imprints that include collector sets and notable Virginia provenance bound periodicals (individually priced). In addition, a set of reference works that belonged to Douglas Southall Freeman (with his personal bookplate in 25 volumes) will be sold by silent auction. Bids for this set will be accepted beginning at $50.00.
Visitors that day will also have a chance to view items from the "Adopt Virginia's History" program and hear the stories behind some of the unique and interesting items that have been conserved in recent months at the Library of Virginia. Staff will be on hand to show these materials and answer questions.
-submitted by Betsy Moss, Library of Virginia Foundation
<< back to e-newsletter

Library Mourns Passing of Sara Bearss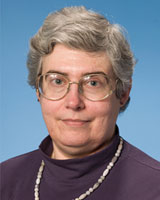 The Library of Virginia remembers our esteemed colleague Sara B. Bearss, who passed away on February 13, 2012, following a brief battle with cancer. Born in Vicksburg, Mississippi, she was raised in Arlington. She received a B.A. from Mary Baldwin College in 1982 and an M.A. from the University of Virginia in 1984. A gifted writer and historian, from 1984 to 2000 she was managing editor of the Virginia Magazine of History and Biography at the Virginia Historical Society. During this time she authored The Story of Virginia: An American Experience (1995) and cowrote Foster's Richmond (1991). From 1997 to 2001 she was president of the Conference of Historical Journals.
Sara came to the Library of Virginia in 2000 as senior editor of the Dictionary of Virginia Biography. Her able hand guided the production of volume two (which includes surnames Bland-Cannon) and volume three (Caperton-Daniels) of the DVB, as well as current work on volume four (Darden-Fiveash). In addition to the DVB, Sara's expert writing and editing skills were felt on a host of Library projects, including Union or Secession and other exhibitions; annual African American Trailblazers and Virginia Women in History programs; Broadside, the Library's quarterly magazine; and the forthcoming Changing History: Virginia Women Through Four Centuries. She was also a driving force behind the recently announced partnership between the Library of Virginia and the Virginia Foundation for the Humanities to publish historical content from the Dictionary of Virginia Biography and other Library collections on Encyclopedia Virginia (http://EncyclopediaVirginia.org).
A Latin scholar of uncommon intellect, she loved film, literature, theater, opera, and classical music. Those who worked with Sara quickly understood her devotion to proper grammar and fondly recall her e-mail tagline "Friends don't let friends split infinitives." She leaves many friends in the public history and academic community throughout Virginia. A fund to assist the Library's efforts to conserve rare books is being established in Sara's honor. Contributions may be made to the Library of Virginia Foundation, 800 E. Broad Street, Richmond, Virginia, 23219.
-submitted by John Deal, Public Services and Outreach
<< back to e-newsletter

Straight to the Source Conference Set for April 13
Five staff members from the Library of Virginia are scheduled to speak at the Friends of the Virginia State Archives Straight to the Source program to be held at the Library on Friday, April 13, 2012. This marks the 20th year that the two organizations have presented this annual spring conference. Straight to the Source is the longest-running series of public programs at the Library of Virginia focused on the archival collection.
William B. Bynum will discuss the 1940 United States Census, due to be released on April 2. Thomas Crew will share the many holdings at the Library of Virginia related to the War of 1812, whose bicentennial celebration begins this year. Greg Crawford and Sarah Nerney will present an archival project to arrange county coroner's inquests, and also the various criminal records found in court papers. Minor Weisiger will detail the complex structure and changes to the Virginia court system and city courts for the period 1776-1970.
The $35 fee for Friends members includes a box lunch. The $50 fee for nonmembers includes a one-year Friends membership and a box lunch. For registration information, contact straight.to.the.source@gmail.com or Anne Brown at 804-741-0136 or annetaylorb@aol.com. Registration is limited to 75 people. The deadline for registration is April 9.
<< back to e-newsletter

Library Acquires Volume Dealing with Slave Accounts from Middlesex County
Alerted by Marilyn South of the Middlesex County Historical Society, the Library of Virginia participated in the September 2011 bidding at Heritage Auctions for a 19th-century memorandum book purportedly from Jamaica Wharf, a town in Middlesex County now known as Jamaica. The Library's Special Collections staff helped to place a successful bid on the item, titled Memorandum book for the purpose of keeping acct of Negro accounts from the year 1838. Accounts begin as early as 1836 and the latest are from 1845. A large number of the accounts are with slaves and list the slave and the owner. Detailed lists of purchases include foodstuffs, clothing, and accessories. There is a summary of account balances due as of March  31, 1840. The volume was then reversed and later accounts entered.
The volume has some water and mold damage and the spine is in poor shape. Additional damage was done early in the 20th century when the volume was used as a scrapbook and pictures from magazines and newspapers were pasted over some of the entries. Prior to the auction, an attempt was made to remove these later items, with only marginal success.
The item is currently undergoing conservation treatment at the Library of Virginia's in-house conservation lab. Once this work is completed, the volume will be reformatted, and a copy will be sent to the Middlesex County Museum. It will be thoroughly analyzed and added to the Library's online catalog. The record (or its reformatted version) will then be available for public use. This unique volume may shed light on mercantile relations with slaves and their dealings with individuals other than their masters.
-submitted by Lyndon Hart, Archives, Records, and Collections Services
<< back to e-newsletter