Barbara Teague Is Library's New Director of Government Records Services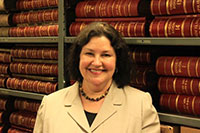 Current Kentucky State Archivist and Records Administrator Barbara Teague has been selected as director of the Government Records Services Division at the Library of Virginia. She has 32 years of experience in archives and records management having begun her career at the Kentucky Department for Library and Archives processing circuit court records. She will assume her new duties in mid-September.
"We are delighted that Barbara Teague is joining the staff of the Library of Virginia," said Librarian of Virginia Sandra G. Treadway. "She brings a wealth of expertise and experience to the position, not just with archives and records management but with information technology as well."
At KDLA, Teague oversaw a comprehensive archives and records management program for the Kentucky state and local government, with services for approximately 2,200 government agencies. She managed records appraisal, analysis, and scheduling for state and local government agencies; reformatting services for government records; an electronic records management and digitization preservation program; a grant program for local governments; archival description, public services, and outreach; and storage and collection management services in the state archives and state records center.
She is active on several committees for both the Council of State Archivists and the Society of American Archivists and is a member of the National Association of Government Archives and Records Administrators. Teague holds a master's degree in public administration from the University of Virginia and a bachelor's degree in history from the University of Kentucky, where she was a member of Phi Beta Kappa and was recognized for the best undergraduate paper in history.
<< back to e-newsletter

Brown Teacher Enrichment Fund Supports Fellowships and Teacher Institute
The Anne and Ryland Brown Teacher Enrichment Fund, generously endowed by Ellen and Orran Brown in honor of his parents, Anne and Ryland Brown of Forest, Virginia, is a legacy to their lifelong belief in the power of education to improve an individual's well-being and that of his or her family. The Brown Teacher Research Fellowship provides Virginia educators the opportunity to research and study a specific aspect of Virginia history and produce educational resources to support the Library of Virginia's ongoing exhibition and education programs. The award includes a generous stipend as well as an allocation to cover registration fees and travel for conference presentations.
The Library of Virginia is pleased to announce that Joy Beatty from Richmond's Thomas Jefferson High School and W. Scott Pierce from Heritage High School in Newport News have been awarded the 2015 Anne and Ryland Brown Teacher Research Fellowships. Beatty, an International Baccalaureate teacher, has been published twice by the Yale National Press, has traveled to study the educational systems in South Korea and Brazil, and has presented at a number of conferences that address student achievement and cultural inclusion. Pierce, a social studies instructional lead, is a member of the National Honor Society of Historians, was named as a fellow in both the Voices of a Nation and Foundations of Freedom teaching grants, and has won the "I Make a Difference Award" several times at Heritage High School. Over the course of two weeks during the summer, the Brown Fellows will work to develop teacher resources for Document Bank of Virginia, the Library's web portal for primary sources in the classroom. The Brown Fellows are also encouraged to make presentations at educational conferences based on their research and lesson plans.
In addition, the Brown Fund will support the sixth annual Brown Teacher Institute at the Library of Virginia, August 3–4. Entitled the Reconstruction Amendments and Their Legacy, the program will focus on the 13th, 14th, and 15th Amendments to the U.S. Constitution and their lasting impact. Teachers will discover how to use primary sources to enhance student learning in the classroom, learn about newly available digital sources, and explore the Library's exhibition Remaking Virginia: Transformation through Emancipation. Thanks to generous support from the Dr. Martin Luther King Jr. Commission, registration has been expanded to include 70 teachers, and hotel accommodations will be provided for the first 35 participants living more than 50 miles from Richmond.
<< back to e-newsletter

CCRP to Award Grants to Localities
At its June meeting the Circuit Court Records Grants Review Board evaluated 63 grant applications and voted to fund 58 projects for $903,697. Among the items to be conserved are deed books, marriage registers, minute books, will books, and order books. These records are vital to surveyors, genealogists, title searchers, and attorneys. They represent some of the earliest city and county records and offer information on the history and development of localities. Many are in fragile condition: torn, soiled, or brittle. Some have been laminated or are in books with broken bindings. Without proper conservation these invaluable historic records would be lost to ravages of use, age, and environment.
The review board consisted of Diane Mumford, Circuit Court Clerk of Lancaster County; Maetta Crewe, Circuit Court Clerk of Pulaski County; Terry Whittle, Circuit Court Clerk of the City of Winchester; Erica W. Williams, Circuit Court Clerk of Montgomery County; Sandra Treadway, Librarian of Virginia and State Archivist; and John D. Metz, Deputy of Collections and Programs at the Library. Greg Crawford, Local Records Program Manager, served as facilitator for the meeting.
This grant cycle is the first to reflect a revised process for awarding CCRP grants. The new process requires Library of Virginia staff members with conservation and preservation expertise to help clerks applying for grant funding to develop a "Statement of Work" so that vendors competing for projects can provide treatment proposals and cost estimates using the same parameters. The new process will provide both vendors and clerks a clearer understanding of the type of work required for items scheduled for conservation, which should result in a higher quality of work from vendors.
The Virginia Circuit Court Records Preservation Program is funded by a $1.50 fee that is included with the cost of recording land transactions and judgments in the circuit courts. Nearly half of the funds collected are awarded to localities for circuit court records preservation. The remainder of the funding supports preservation of circuit court records such as the chancery indexing project, an ongoing effort to flat-file, index, and reformat the pre-1913 records of Virginia circuit courts and make them available online through the Chancery Records Index on the Library's Virginia Memory website.
<< back to e-newsletter

Hampton Roads Group Features Kaine E-mails in Open Government "Hack-a-Thon"
One of the Library of Virginia's newest online collections was recently hacked, and we could not be more excited. The Kaine E-mail Project has caught the attention of a group of civic hackers called Code for Hampton Roads. As the local chapter of the Code for America Brigade, Code for Hampton Roads provides opportunities for people to marry technological skills with a desire to foster open government and improve communities through open-source web solutions. The group's recent projects include web apps for finding local restaurants' health inspection results and for searching all of Virginia's civil court records from a single search page.
In the case of the Kaine E-mail Project, on June 6, 2015, hackers got a chance to tackle this massive data set (currently composed of more than 130,000 processed records) as part of the third annual National Day of Civic Hacking. The hackers' goal was to devise new entry points for researching the collection, such as visualizations of topic frequency in Kaine administration e-mail discussions or maps showing which correspondents interacted with each other the most. An immediate output of the hack-a-thon was a "word cloud" of the most common terms used in the set of e-mails currently available for public viewing. A word-cloud generator creates a free-form collage of words from a piece of text or from text data, giving greater prominence to words that appear most often. In this case, the words "budget," "governor," "meeting," and "update" were among the largest words. The hackers also began developing network maps to show communication channels within the administration. They hope to refine their preliminary maps to show communication channels over time, as well as to highlight communication networks among people within the Kaine administration and with other government agencies or media outlets.
As a bonus, one of the participants in the hack-a-thon was able to compress the Kaine e-mail data set provided by the Library of Virginia, thus reducing its size by nearly 70 gigabytes and making it much easier to distribute to future hackers. We hope that this is only the beginning of the public's innovative engagement with the Kaine E-mail Project and look forward to sharing more results as the hackers continue their work.
–submitted by Susan Gray Page, IT Services
<< back to e-newsletter

Governor McAuliffe Announces the Completion of Major Project to Index and Digitize Virginia Vital Records
On June 2, Governor Terry McAuliffe announced the completion of a two-year, public-private collaboration between the Virginia Department of Health (VDH) and Ancestry.com that fully digitizes the state's vital records. To date, more than 16 million records have been digitized and indexed. Scanned images of the original public documents are available online through Ancestry.com. Access to the indexed information about the records is available free of charge through the websites of both the Library of Virginia and VDH's Division of Vital Records.
The project began two years ago following legislation (Senate Bill 660 in 2012) that supported digitizing vital records. So far, birth and death records from 1912 to 2014, marriage records from 1936 to 2014, and divorce records from 1918 to 2014 have been scanned and are available. Nonpublic records—those that have not yet reached the required time for release—are only available in a "limited index," which discloses only an individual's name and the date and location of the event. In Virginia, death, marriage, and divorce data become public information 25 years after the event; birth data becomes public after 100 years.
Access to the indexed information for these records is available free of charge to Library of Virginia patrons inside the Library building only.
Patrons may access the AncestryInstitution.com database through the Library's public access computers located on the second floor. It's also available via Wi-Fi on a personal computer in the Library's reading rooms at www.lva.virginia.gov/public/using_collections.asp.
To see an index of records scanned by Ancestry, visit the VDH index. Please note that the birth index on the VDH website includes location and year of birth but no other information without a subscription to Ancestry.com. Its death, marriage, and divorce index gives names only. Please contact the VDH for questions regarding the index.
"The Office of Vital Records in the Virginia Department of Health has done a great service for family historians and the genealogical community by making these important records much more easily accessible," commented Librarian of Virginia Sandra G. Treadway. "The Library of Virginia is pleased to have assisted with this project and to help Virginians in accessing the Ancestry.com database."
For more information on Virginia's records visit www.vdh.virginia.gov/Vital_Records, www.lva.virginia.com, or www.ancestry.com.
<< back to e-newsletter

Library and King Commission Present Panel Discussion on Legacy of the African American Delegates
The Dr. Martin Luther King Jr. Memorial Commission and Library of Virginia will present a free public forum on the legacy of the African American Delegates to the 1867–1868 Virginia Constitutional (Underwood) Convention and the 1869–1890 Reconstruction legislators, cosponsored with the Virginia House of Delegates and the Senate of Virginia as a part of the King Commission's commemorative events for the 150th anniversary of the Emancipation Proclamation. The event will be held on Monday, July 6, 2015, 6:30–8:30 PM, in House Room 3 in the State Capitol in Richmond. Persons planning to attend should enter on Bank Street. This program complements the Library's exhibition Remaking Virginia: Transformation through Emancipation.
The Virginia constitutional convention that first met in December 1867 included two dozen African Americans and numerous white reformers and men of northern birth. The convention and the constitution that it adopted are known by the name of the convention's president, federal judge John C. Underwood. The constitution provided for the creation of the state's first free public school system for all children and expanded the right to vote to all adult men who had not taken a significant part in the Confederate army, the Confederate government, or the government of the state of Virginia that was a part of the Confederacy.
The forum will focus on the legacy of the African American delegates to the Underwood Convention and the Reconstruction legislators and connect with their descendants. The panelists include:
The Honorable Viola O. Baskerville, former Virginia secretary of administration and former member of the Virginia House of Delegates, who will discuss the political and social conditions for African Americans before the right to vote, the obstacles that had to be overcome to obtain elective office during Reconstruction, what life was like for African Americans under Jim Crow, and her experiences as an African American female elected to local and state level offices and as an appointed executive branch official.
Ajena Rogers, a historian, a supervisor/ranger for the National Park Service's Maggie Walker National Historical Site, and a descendant of the Honorable James Apostle Fields, an African American member of the Virginia House of Delegates (1889-1890).
The Honorable Mamie E. Locke, vice chairwoman of the King Commission and chairwoman of the Virginia Legislative Black Caucus, who has been asked to address contemporary issues of race and racism as a current member of the Senate of Virginia.
Juanita Owens Wyatt, a King Commission member and descendant of African American members of the Virginia House of Delegates, who will represent descendants on the panel.
Moderated by Dr. Lauranett L. Lee, curator of African American history at the Virginia Historical Society, the forum will be followed by a question-and-answer session with the audience.
The forum is free; however, space is limited. Please RSVP to bedwards@dls.virginia.gov by June 30, 2015. For additional information, please contact Brenda H. Edwards, Division of Legislative Services; bedwards@dls.virginia.gov or (804) 786-3591, ext. 232.
<< back to e-newsletter

Library Receives Grant for a Preservation-Needs Assessment
The Library of Virginia was recently awarded a $5,000 grant to participate in a preservation needs assessment program administrated by the Conservation Center for Art and Historic Artifacts in Philadelphia. This program is funded by a grant from the National Endowment for the Humanities. The assessment will review the Library's preservation needs with regard to environment (temperature, relative humidity, pollution, and light), housekeeping, pest control, fire protection, security, disaster preparedness, storage, handling, exhibition, treatment, and preservation planning. This process will help lay the groundwork to produce a collection-specific disaster plan, but will also help us focus our resources toward preservation efforts in general. The Library's conservator, Leslie Courtois, initiated effort and will coordinate the process.
<< back to e-newsletter

Newspaper from Virginia's "Little Switzerland" to Be Preserved
The Library of Virginia has signed a memorandum of understanding with the publisher of the Highland Recorder, a weekly newspaper published in Monterey, the seat of Highland County, to allow the Library's Virginia Newspaper Project to preserve and provide online access to the Recorder through preservation microfilming and digitizing.
Founded in 1877, the Recorder offered its readers a wide variety of material, serving as the county's primary source for news and more. For example, page 1 traditionally included a poem, a short story, and a sampling of national and international news mixed with several anecdotes. Page 2 offered an editorial comment and additional news. Page 3 was devoted to the concerns of a local economy based primarily on general farming, sheep-raising, and the production of maple sugar. Page 4 featured a weekly sermon and usually included a large number of advertisements.
The Library will provide free online access to the Recorder from the start of its run through 2007. This effort is significant because the newspaper is still being published and the material after 1923 is under copyright. The Recorder currently has a circulation of 5,000 subscribers.
<< back to e-newsletter