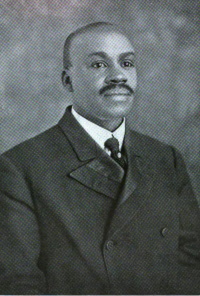 Llewellyn Longfellow Berry (26 February 1876–23 November 1954), African Methodist Episcopal minister, was born on Butler's Farm near Hampton, the second of five sons and second of eight children of John Berry and Nancy Jenifer Berry. His parents had both been born into slavery, but his father had escaped from the Maryland plantation on which he was born, changed his name from John Miles to John Berry, and served in the United States Army during the Civil War. Berry grew up near Hampton and was educated in its public schools. He had a religious-conversion experience when he was thirteen years old and, intending to go into the ministry, attended Hampton Institute for one year before enrolling in 1895 at Kittrell College, a school of the African Methodist Episcopal Church in Granville County, North Carolina. After graduating in 1899, he began his ministerial career in Pope, Southampton County.
On 26 September 1900 Berry married Beulah Ann Harris, one of his Kittrell classmates. Some of their four sons and three daughters were born at her family's home in North Carolina, where she sometimes lived while he was ministering to his congregations. During the first six years of Berry's ministry, he served a succession of small churches in Virginia and North Carolina. During the academic year 1903–1904 he temporarily left the ministry to teach in North Carolina, and then returned to the ministry and served from 1905 to 1907 at Saint James Church in Winston-Salem and from 1907 to 1911 at Saint Paul Church in Chapel Hill. He then returned to Virginia as minister at Mount Zion Church in Princess Anne County from 1912 to 1914. In the latter year Berry took charge of the substantial Saint James Church in Norfolk, where he remained until 1917. For the next four years he served as presiding elder of the Portsmouth District. He was minister at Emanuel Church in Portsmouth from 1921 to 1926 and again in 1932 and 1933. During his years in Portsmouth he attracted 1,500 new members to the congregation. Between his two terms there, Berry officiated at the prestigious Saint John's Church in Norfolk.
Berry became a leader among Virginia's AME pastors. In 1920 he began regularly attending the denomination's quadrennial General Conferences as a delegate from Virginia. At the 1932 General Conference, Berry lost a bid for the post of general secretary for home and foreign missions to the incumbent, Edmund Higgins Coit. Following Coit's sudden death in 1933, Berry, as the runner-up in the previous election, was the logical choice as his successor, and the mission board elected him secretary on 11 April 1933. He won reelection at five succeeding General Conferences.
Berry moved to New York City, the site of the mission board's headquarters. His church had begun ministering to slaves and free Blacks before the Civil War and afterward expanded its outreach to southern freedpeople and African Americans in the West. It also sent missionaries abroad to Africa, the Caribbean, and South America, where the church not only founded congregations and erected churches but also built and staffed schools, orphanages, and hospitals. As secretary of missions, Berry traveled frequently and extensively overseas. In November 1937, for example, he visited AME congregations in Haiti, the Dominican Republic, Jamaica, Trinidad, Barbados, and the Virgin Islands, and he traveled to British Guiana and Dutch Guiana. In March 1939 he went to Africa and inspected AME work in Sierra Leone, Liberia, and the Gold Coast.
Berry also edited the Voice of Missions, his department's quarterly journal, from 1933 until 1954. He frequently reported on his work and travels and periodically printed special issues about AME churches in Africa, Bermuda, the Caribbean, and South America. After the church began missionary work in Cuba in 1938, he paid the salary of the superintendent there and published a booklet in English and Spanish about African Methodism. In 1938 Berry prepared A Little Missionary Journey to a Great Missionary Area, which chronicled AME development in the West Indies. He also wrote A Century of Missions of the African Methodist Episcopal Church, 1840–1940 (1942), a lengthy, heavily illustrated volume containing a full account of the missionary efforts of the church on three continents and detailing the work and contributions of the women who served as teachers and did other missionary work alongside the men.
In 1948 Berry unsuccessfully sought election as a bishop, but when he was not chosen he readily accepted reelection as general secretary. He never retired, continuing to work hard and travel regularly around the United States and Canada. Llewellyn Longfellow Berry died on 23 November 1954 at his home in New York and was buried in Elmwood Cemetery in Detroit, where one of his daughters lived.

Sources Consulted:
Leonidas H. Berry, I Wouldn't Take Nothin' for My Journey: Two Centuries of an Afro-American Minister's Family (1981; portraits); Israel L. Butt, History of African Methodism in Virginia (1908), 228; Arthur B. Caldwell, ed., History of the American Negro, vol. 5: Virginia Edition (1921), 139–142; Llewellyn Longfellow Berry Papers, Schomberg Center for Research in Black Culture, New York; Who's Who in the General Conference (1924): 58; Richard R. Wright Jr., ed., The Encyclopaedia of the African Methodist Episcopal Church, 2d ed. (1947), 37; Norfolk Journal and Guide, 7 Feb. 1948; obituaries in New York Times, 26 Nov. 1954, and Norfolk Journal and Guide, 4 Dec. 1954.
Photograph in Arthur B. Caldwell, ed., History of the American Negro, vol. 5.
Written for the Dictionary of Virginia Biography by Dennis C. Dickerson.
How to cite this page:
>Dennis C. Dickerson, "Llewellyn Longfellow Berry (1876–1954)," Dictionary of Virginia Biography, Library of Virginia (1998– ), published 1998 (http://www.lva.virginia.gov/public/dvb/bio.asp?b=Berry_Llewellyn_Longfellow, accessed [today's date]).

Return to the Dictionary of Virginia Biography Search page.