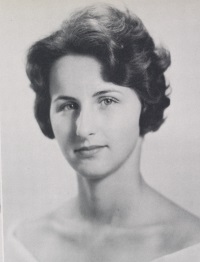 Claudia Lane Dodson (31 August 1941–18 August 2007), women's sports advocate, was born in Washington, D.C., and was the daughter of Claude James Dodson and Edna Vera Lane Dodson. She grew up in Chesterfield County, Virginia, and attended local schools. At Westhampton College (later part of the University of Richmond) Dodson lettered in women's basketball, field hockey, and lacrosse and in 1963 received a B.S. in physical education. In 1965 she completed an M.S. in physical education at the University of Tennessee.
Dodson dedicated herself to developing opportunities for girls' athletics, because her own had been limited. As chair of the girls' physical education department at Meadowbrook High School, in Chesterfield, from 1965 to 1971, she taught health, physical education, and driver's education, as well as coaching cheerleading, basketball, and softball. On 1 September 1971 Dodson became programs supervisor for girls' athletics for the Virginia High School League. At the time, the VHSL sponsored only one statewide competition for girls (in gymnastics), and Dodson had to fight the perception that providing opportunities for girls meant decreasing those available for boys. She began traveling the state and meeting with principals, athletic directors, coaches, and school boards to alleviate concerns that participating in sports would harm young women's minds and bodies and to identify priorities for girls' athletic offerings. Dodson pushed for every high school in Virginia to offer two sports, one team and one individual, for girls during each of three athletic seasons and to offer regional and state finals in all of them. After Congress passed Title IX as part of education amendments in 1972, schools could no longer ignore female athletics. During Dodson's first decade as the VHSL programs supervisor, the number of girls playing high school sports in Virginia increased from about 8,100 in 1972 to more than 30,000 in 1982. At the time of her retirement in January 2002, the VHSL offered thirty-one state championships for girls in twelve sports.
Dodson also contributed to women's athletics at the national level. One of the first two women appointed to the National Basketball Committee of the United States and Canada, she was serving in 1976 when the committee adopted a number of changes to the rules governing amateur basketball in North America. In 1978 Dodson served as coordinator for the American women's basketball team at the Olympic Festival and also as the administrative manager for the United States Olympic Committee's National Junior Women's Basketball Team, which played exhibition games in Bolivia, Ecuador, and Peru. She chaired the committee of the Amateur Basketball Federation of the United States of America (later USA Basketball) that selected the American women's basketball team for the 1980 Olympic Games, although the team did not compete that year as a result of the United States' boycott of the Moscow Olympics.
Dodson qualified in 1994 as a certified athletic administrator with the National Interscholastic Athletic Administrators Association. In 1996 she helped to found WinS (Women in Sports), which supported and recognized female athletes in the Charlottesville area. She served as president of WinS from 2002 until her death.
Dodson became a successful representative on many boards, including the board of directors for the Council on Standards for International Educational Travel and the superintendent's advisory council of the Virginia Department of Education. In 1996 she received the Distinguished Service Award from the National Interscholastic Athletic Administrators Association for her contributions to high school sports at the local, state, and national levels. The following year the National Federation of State High School Associations awarded her a citation. Dodson received the Washington Post's Donald Huff Award in 2001 for her service to high school athletics. The next year she was inducted into the Virginia High School Hall of Fame and, in 2004, into the National Federation of State High School Associations' Hall of Fame.
Claudia Lane Dodson died of a heart attack on 18 August 2007 at a hospital in Charlottesville, where she had lived since the 1970s, attended by her companion, Brenda Langdon. She was remembered as a "trailblazer in expanding female athletics in Virginia," and one VHSL official remarked, "Every girl that's playing sports today in Virginia owes that to Claudia Dodson." Soon after her death the Virginia Interscholastic Athletic Administrators Association held the Claudia Dodson Memorial Golf Tournament to help support scholarships for deserving athletes, which included a scholarship in Dodson's name. In 2007 the VHSL renamed its Sportsmanship, Ethics and Integrity Award in Dodson's honor.

Sources Consulted:
Birth date in Social Security application, Social Security Administration, Office of Earnings Operations, Baltimore, Md.; Who's Who of American Women, 12th ed. (1981/1982), 197; Virginia High School League Leaguer 11 (Sept. 1971): 1–2; VHSL In Touch 6 (Aug. 2001): 1; Fredericksburg Free Lance-Star, 13 May 1972, 15 June 1974, 29 Apr. 1978, 10 June 1989; Winchester Star, 7 Feb. 1991; Richmond Times-Dispatch, 7 Mar. 2002; obituaries in Charlottesville Daily Progress, 20 Aug. 2007, Richmond Times-Dispatch, 21 Aug. 2007, Washington Post, 23 Aug. 2007 (second quotation) and Petersburg Progress-Index, 24 Aug. 2007; memorial in Charlottesville Daily Progress, 21 Aug. 2007 (first quotation).
Image courtesy of the Library of Virginia
Written for the Dictionary of Virginia Biography by Autumn Reinhardt Simpson.
How to cite this page:
>Autumn Reinhardt Simpson,"Claudia Lane Dodson (1941–2007)," Dictionary of Virginia Biography, Library of Virginia (1998– ), published 2016 (http://www.lva.virginia.gov/public/dvb/bio.asp?b=Dodson_Claudia_Lane, accessed [today's date]).

Return to the Dictionary of Virginia Biography Search page.