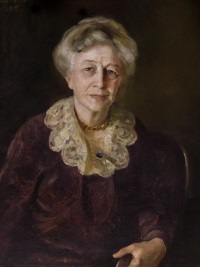 Virginia Randolph Ellett (30 January 1857–9 April 1939), educator, was born in New York City and was the daughter of Mary S. Hudson Ellett and James Ellett, a businessman who settled the family in his native Richmond before the Civil War. After her father died at the Battle of Fredericksburg in December 1862, Ellett, along with her younger sister and their mother, lived with her paternal grandparents. In 1869 her mother married her former brother-in-law Thomas Ellett, who later assisted in managing the business affairs of Ellett's school. Jennie Ellett, as she was known throughout her life, received her earliest education at home from her mother. She later attended private academies, including the Richmond Female Seminary. Beginning in 1895 she took summer courses at Harvard University. She never married.
After serving for a time as a governess for a family in Brunswick County, Ellett taught for several years at Annie Colston Camm's school for boys in Richmond. About 1884 she began teaching classes with her sister and mother at their home on East Grace Street, while continuing to work at Camm's kindergarten. After her sister died in 1889, Ellett continued to operate their small school; 1890 is generally considered the founding date of the school that bore her name, despite its earlier origins.
Ellett's students, many of whom came from the families of Richmond's influential business and civic leaders, always referred to her as Miss Jennie. Beginning with about a dozen girls and four boys, enrollment steadily increased, and by 1897 she had moved the school to a house on Franklin Street and had begun accepting only female students. Continued growth entailed another move to larger facilities a decade later. Ellett developed a strong curriculum and set high academic standards. An admirer of Robert Edward Lee, she emphasized duty and honor and awarded a medal bearing his name to especially deserving pupils. Ellett combined a classical curriculum of literature and history with leading-edge methodology that included preschool programming, experiential learning, exercise, and outdoor play. On the recommendation of her mentor, the Harvard instructor John Albert Macy, in 1913 Ellett established Richmond's first Montessori class, which emphasized self-directed learning on the part of young children, and again began allowing boys to attend the lower grades.
Ellett advocated higher education for women. As early as 1895 Bryn Mawr College, in Pennsylvania, recognized her school as one of the few southern institutions whose graduates were prepared for college work. As a result of Ellett's efforts, in 1904 Richmond became one of only eight cities where the Bryn Mawr entrance examination, precursor of the college board, was administered. She also sought to improve public schools in the city. A charter member of the Richmond Education Association, Ellett served as its first secretary and on its executive and lecture committees during the first decade of the twentieth century.
Although respected for its high standards, Ellett's school was often financially unstable, and in 1917 Ellett transferred ownership to a board of alumnae and patrons. Incorporated as the Virginia Randolph Ellett School for Girls, it became a country day school and was moved west of the city limits to a fourteen-acre site in the Westhampton section of Henrico County that had originally been part of an Ellett farm that the family had lost late in the nineteenth century. Ellett relinquished her responsibilities as headmistress but continued teaching English and history. In 1920 the Episcopal Church incorporated the Church Schools in the Diocese of Virginia and, as part of its effort to create a diocesan school system, acquired the school, which Ellett renamed for Saint Catherine of Alexandria, patron of young women and scholars.
In 1923 Virginia Randolph Ellett Hall opened at Saint Catherine's School. That same year Ellett retired from full-time teaching. She undertook a year of study at the University of Oxford during the 1925–1926 academic term and spent vacations with her former student Nancy Witcher Langhorne Astor, viscountess Astor. In 1929 Ellett moved into a house on the Saint Catherine's campus provided by the alumnae association. In recognition of her achievements in education, the University of Richmond's Phi Beta Kappa chapter named her an honorary member in 1934. Virginia Randolph Ellett died of pneumonia at her home on 9 April 1939. She was buried in Richmond's Hollywood Cemetery, where her monument, dedicated in October 1940, bears an epitaph composed by the writer James Branch Cabell, one of her early pupils.

Sources Consulted:
Biographies in Pocahontas Wight Edmunds, Virginians Out Front (1972), 198–243 (portrait by Pierre Troubetzkoy on 198), and Susan L. Klaus and Mary Porter Martin, "A Fair Chance: Virginia Randolph Ellett and Women's Education," Virginia Cavalcade 39 (1989): 52–61; correspondence and school-related materials in Virginia Randolph Ellett Records, Saint Catherine's School Archives, Richmond, and in Ellett–St. Catherine's Alumnae Association Papers, Virginia Museum of History and Culture, Richmond; Ellett family correspondence discussed and excerpted in Natalie Blanton, Miss Jennie and Her Letters: An Effort at Documentation (1955), Love Remains (1960), and Ninety-Nine Notes to Love Remains (1962); State Corporation Commission Charter Book, 54:322–323, 95:421–422, Record Group 112, Library of Virginia (LVA); Richmond Dispatch, 17 May 1900; Richmond News Leader, 25 May 1923, 4 June 1927, 26 Oct. 1940; Josephine Augusta Clarke Knight, Symbols of the South: Education and Early Life in Richmond under Tutorship of Miss "Jennie" Ellett (1941); Klaus and Martin, A Part of Us Forever: A Centennial History of St. Catherine's School, 1890–1990 (1989), esp. 10–37 (several portraits); Death Certificate, Henrico Co., Bureau of Vital Statistics, Commonwealth of Virginia Department of Health, Record Group 36, LVA; obituaries in Richmond News Leader and Richmond Times-Dispatch, both 10 Apr. 1939, and Virginia Churchman 53 (May 1939): 13–14; editorial tributes in Richmond News Leader, 10 Apr. 1939, and Richmond Times-Dispatch, 11 Apr. 1939.
Image courtesy of St. Catherine's School.
Written for the Dictionary of Virginia Biography by Tyler Bird Paul.
How to cite this page:
>Tyler Bird Paul,"Virginia Randolph Ellett (1857–1939)," Dictionary of Virginia Biography, Library of Virginia (1998– ), published 2018 (http://www.lva.virginia.gov/public/dvb/bio.asp?b=Ellett_Virginia_Randolph, accessed [today's date]).

Return to the Dictionary of Virginia Biography Search page.