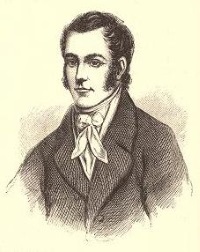 James Faulkner (2 April 1776–11 April 1817), militia officer, was born in County Armagh, Ireland, and was the son of George Faulkner and Rebecca Faulkner (whose maiden name is unknown). After being orphaned at age ten, he was, according to family sources, placed under the care of a family friend, Richard McSherry, who took him to Baltimore, Maryland, in 1786 and later to Martinsburg, Virginia, where he was apprenticed to Michael McKewan, a storekeeper. With McKewan's help, Faulkner established his own store, James Faulkner and Company, in 1797. McKewan soon withdrew, and Faulkner continued the business alone. He handled a wide variety of dry goods, furniture, and books and also imported distilled liquors and fine wines. His company prospered and expanded during the early years of the nineteenth century, and he regularly advertised in the Martinsburg Gazette and the Berkeley and Jefferson Intelligencer. On 15 December 1803 Faulkner married Sally (or Sarah) Mackey. Before her death on 2 March 1809, they had a daughter who lived only a few weeks and a son, Charles James Faulkner (1806–1884), who became a member of the Convention of 1850–1851 and of the House of Representatives.
On 2 November 1797 Faulkner received a commission as an ensign in the Berkeley County militia. He was promoted to captain on 22 July 1807. While in command, Faulkner sought repeatedly, though not always successfully, to supply his company with adequate fieldpieces, ammunition, and side arms. He occasionally solicited help from his representative in Congress to obtain arms from federal arsenals. On 16 April 1812 Faulkner submitted his resignation from the Virginia militia but, in view of the growing prospect of hostilities, reconsidered the next month and requested to continue in command of his company. In June the United States declared war on Great Britain. After winning promotion on 22 August 1812 to major in the 3d Regiment Virginia Artillery, Faulkner in May 1813 accompanied his former company to Norfolk, where he was assigned the command of several artillery companies, which became part of the 6th Regiment Virginia Artillery.
On 15 June 1813 Faulkner took command of artillery on Craney Island, a lightly defended post at the mouth of the Elizabeth River that guarded the water approach to Norfolk, Portsmouth, and the nearby navy yard. On 22 June a British fleet launched a two-pronged amphibious attack on the island. Faulkner's seven-gun battery, manned primarily by members of the Portsmouth Light Artillery and naval servicemen, repulsed the assault on his left flank and laid down a deadly barrage of cannon fire as British barges containing about 1,500 combatants plowed toward the beach at his front. The American artillery suffered no losses, while the British commander called off the attack and ordered his battered forces back aboard ship. Faulkner remained in the Norfolk area and supervised artillery defenses until October of that year. He did not participate in any other military action during the war.
Thirty-six years after the engagement, the Virginia House of Delegates reexamined the military operations at Craney Island in light of exaggerated claims by some United States naval officers that the navy crews on Craney Island had been primarily responsible for the American victory. The House found that the Virginia artillery units had manned the majority of the artillery batteries on Craney Island and that at all times the navy crews had been under Faulkner's direction. The House voted to award Faulkner and three other officers commemorative swords for their exemplary skill and bravery, but the Senate of Virginia did not act on the proposal.
After Faulkner returned to Berkeley County, he organized a smallpox vaccine lottery and served as a director of the overseers of the poor until his death. He owned a town lot in Martinsburg and four slaves in 1817. At that time his personal estate and other property, including merchandise in the store, was worth more than $6,300. Despite this prosperity, the war left him a broken man emotionally and physically. James Faulkner died, probably in Martinsburg, on 11 April 1817 and was buried in Norborne Parish Cemetery in that town.

Sources Consulted:
Biographies in F. Vernon Aler, Aler's History of Martinsburg and Berkeley County, West Virginia (1888), 168–175, and Willis F. Evans, History of Berkeley County, West Virginia (1928), 147–148, 170–171; birth and death dates on gravestone; Berkeley Co. Marriage Bonds; family and business records, letters, commissions, and estate inventory in Faulkner Family Papers (1737–1952), Virginia Historical Society, Richmond, Va.; some letters in James Barbour Executive Papers, Accession 41557, Record Group 3, Library of Virginia; Compiled Military Service Records, Records of the Adjutant General's Office, Record Group 94, National Archives and Records Administration, Washington, D.C.; Stuart Lee Butler, Defending the Old Dominion: and its Militia in the War of 1812 (2013), 246–254; Journal of the House of Delegates, 1848–1849 sess., 395–410; Journal of the Senate of Virginia, 1848–1849 sess., 140, 141; Report of the Select Committee, In Obedience to a Resolution of the House, in Reference to the Defence of Craney Island in This State… , Doc. 75, supplement to Journal of the House of Delegates, 1848–1849 sess.; Benson J. Lossing, The Pictorial Field-Book of the War of 1812… (1868), 678 (portrait); Berkeley Co. Will Book, 6:33–36.
Image courtesy of the Library of Virginia.

Written for the Dictionary of Virginia Biography by Stuart Lee Butler.
How to cite this page:
>Stuart Lee Butler,"James Faulkner (1776–1817)," Dictionary of Virginia Biography, Library of Virginia (1998– ), published 2016 (http://www.lva.virginia.gov/public/dvb/bio.asp?b=Faulkner_James, accessed [today's date]).

Return to the Dictionary of Virginia Biography Search page.