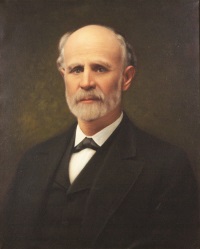 Thomas Turner Fauntleroy (20 December 1823–2 October 1906), judge of the Virginia Supreme Court of Appeals, was born in Winchester and was the son of Ann Magdalene Magill Fauntleroy and Thomas Turner Fauntleroy (d. 1883), an officer in the United States Army. Fauntleroy attended a private school in Alexandria and spent the 1843–1844 academic year at the University of Virginia studying law and natural and moral philosophy. He practiced law in a Winchester partnership and on 27 November 1850 married Ann Hite Williams. She died on 1 February 1852 about a month after giving birth to their son. On 23 December 1858 Fauntleroy married Elizabeth Smith Hite. They had six sons and four daughters.
After serving as commonwealth's attorney of Frederick County early in the 1850s, Fauntleroy was elected in 1857 as a Democrat to a two-year term representing the county in the House of Delegates. He served on the Committee of Privileges and Elections and did not seek reelection in 1859. Fauntleroy opposed secession early in 1861, but after the Virginia convention voted to leave the Union, he sided with the secessionists and in May sought employment as a Confederate paymaster. During part of the Civil War he handled confiscated property as a sequestration agent for the Confederate government. His service required him after the war to apply for a presidential pardon, which was granted on 29 September 1865.
Fauntleroy continued to practice law in Winchester and in 1877 won election to the House of Delegates. He chaired the Committee on Federal Relations. As a supporter of refinancing the public debt at a reduced rate of interest, Fauntleroy joined the new Readjuster Party and at its founding meeting in February 1879 was elected a member of its state committee. Although an opponent of readjustment defeated Fauntleroy when he ran for reelection to the House later that year, the Readjusters won a majority of seats in the General Assembly and on 9 December 1879 elected Fauntleroy secretary of the commonwealth. The Readjusters instituted many reforms in state government, including replacing the boards of visitors of several colleges, and Fauntleroy served as one of the Readjuster members of the University of Virginia board from 1 May 1882 until the end of the year.
On 25 February 1882 the General Assembly elected Fauntleroy to a twelve-year term on the Virginia Supreme Court of Appeals. He wrote the court's opinions in some of the most noteworthy cases that it considered during his term. In his opinion for a unanimous court in Wise v. Bigger, Clerk, and Als. (1884), the judges rejected a charge that the law redrawing the state's congressional districts had not passed the Senate of Virginia by the required two-thirds vote to override the governor's veto. In the face of conflicting circumstantial evidence, Fauntleroy's opinion deferred to and relied on the legislative records as authoritative. The following year he wrote the majority opinion invalidating punitive legislation that effectively made it impossible for the Readjuster attorney general, Francis Simpson Blair, to collect his salary and travel expenses.
For a divided bench in 1886 Fauntleroy wrote the controlling opinion in the case of Thomas Judson Cluverius, who in a sensational murder trial had been convicted and sentenced to be hanged. Fauntleroy's opinion upheld the procedural rulings of the trial judge and the judgment of the trial jury in assessing the import of the circumstantial evidence. Fauntleroy ruled in Crump v. Commonwealth (1888) that labor unions had no legal right to organize secondary boycotts against firms that did business with companies that were engaged in labor disputes with the unions. In broad language that denied legal sanction to a popular technique of organized labor, Fauntleroy proclaimed that "the offence is the combination for the purpose, and no overt act is necessary to constitute it."
Fauntleroy wrote the majority opinion in Thomas' Administrator v. Bettie Thomas Lewis and Als. (1892), which upheld a challenge to an oral bequest that an elderly white man who never wrote a will had made to his daughter, whose mother was one of his former slaves. The ruling made the defendant one of the wealthiest African American women in Richmond, and it was also significant for its legal discussion of constructive delivery in gifts causa mortis. Also in 1892, in a heavily publicized case that broke no new legal ground and set no precedent, Fauntleroy angrily rejected in Colbert and Kirtley v. Shepherd a challenge to the ruling of the circuit court in Fredericksburg that blocked as fraudulent and distasteful a proposed sale at auction of the land that contained the burial place of Mary Ball Washington.
After Fauntleroy's term on the Supreme Court of Appeals expired on 1 January 1895, he moved to Saint Paul, Minnesota, and joined his son's law practice. In 1898 Thomas Turner Fauntleroy and his family settled in Saint Louis, Missouri, where on 2 October 1906 he died of heart disease. He was buried in Mount Hebron Cemetery, in Winchester.

Sources Consulted:
Biographies in S. S. P. Patteson, "The Supreme Court of Appeals of Virginia," Green Bag 5 (1893): 417–418 (with birth date of 20 Dec. 1823 and birthplace of Winchester), in J. R. Graham, Sketches Biographical and Genealogical of the Magill Family of Winchester, Virginia (1908), 27–28, and in William Wirt Henry and Ainsworth R. Spofford, Eminent and Representative Men of Virginia and the District of Columbia of the Nineteenth Century (1893), 441–447; variant birth date of 23 Dec. 1823 on gravestone; minister's return in Winchester Marriage Bonds (1850); Marriage Register, Winchester (1858), Bureau of Vital Statistics, Commonwealth of Virginia Department of Health, Record Group 36, Library of Virginia; several Fauntleroy letters in Fauntleroy Papers, Swemm Library, College of William and Mary, Williamsburg, Va.; Barton, Williams, and Fauntleroy Fee Book (1860–1867), Local Government Records Collection, Frederick Co. Court Records, Library of Virginia; by his own hand subject wrote that he was a "native and resident of the town of Winchester," Virginia Case Files for United States Pardons (1865–1867), United States Office of the Adjutant General, Record Group 94, National Archives and Records Administration, Washington, D.C.; election as secretary of the commonwealth in Journal of the House of Delegates of the State of Virginia for the Session of 1879–80 (1880), p. 37, and to Supreme Court of Appeals in Journal of the House of Delegates of the State of Virginia for the Session of 1881–2 (1882), p. 393; Wise v. Bigger, Clerk, and Als. (1884), Virginia Reports, 79:269–282; Blair, Attorney-General v. Marye, Auditor (1885), Virginia Reports, 80:485–502; Cluverius v. the Commonwealth (1886), Virginia Reports, 81:787–899; Crump v. the Commonwealth (1888), Virginia Reports, 84:927–946 (quotation on 941–942); Thomas' Administrator v. Bettie Thomas Lewis and Als. (1892), Virginia Reports, 89:1–86; Colbert and Kirtley v. Shepherd (1892), Virginia Reports, 89:401–417; obituaries and account of funeral in Winchester Evening Star, 2, 4, 5 Oct. 1906, Richmond Times-Dispatch, 3 Oct. 1906, Washington Post, 6 Oct. 1906, and Virginia Law Register 12 (1906): 586–587; editorial tribute in Winchester Evening Star, 4 Oct. 1906.
Image courtesy of Library of Virginia, State Art Collection.

Written for the Dictionary of Virginia Biography by Elizabeth Terry Long.
How to cite this page:
>Elizabeth Terry Long,"Thomas Turner Fauntleroy (1823–1906)," Dictionary of Virginia Biography, Library of Virginia (1998– ), published 2015 (http://www.lva.virginia.gov/public/dvb/bio.asp?b=Fauntleroy_Thomas_Turner_1823-1906, accessed [today's date]).

Return to the Dictionary of Virginia Biography Search page.