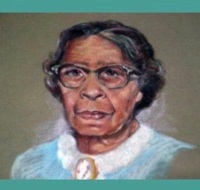 Clara Olivia Byrd Baker (22 June 1886–20 October 1979), educator and civic leader, was born in or near Williamsburg, the second of at least five girls and third of eleven children of Charles Byrd and Malvina Carey Braxton Byrd. Her father worked as a farmer, a cook, a drayman, and a woodyard proprietor, and though he could neither read nor write he owned the family's Williamsburg house mortgage-free by 1900 and was one of only thirty-six African Americans in Williamsburg still registered to vote a year after passage of the restrictive Constitution of 1902. Her mother was literate and encouraged her children to obtain all the education they could. Clara Byrd entered Williamsburg's one-room public school for black children at age six in 1892, and after exhausting its limited offerings she studied privately with her instructor, Mary E. Thurston Greenhow, to prepare for the teachers' examination.
In 1902 Clara Byrd earned a certificate to teach in the elementary grades, and she took charge of a one-room school in James City County where her duties included starting a wood fire each morning before classes began and sweeping out the building daily after classes ended. Many of her pupils were both older and larger than she, but she managed them effectively and had few discipline problems.
On 6 July 1905 Byrd married William Hayes Baker, a carpenter who later became sexton and tour guide at Bruton Parish Church. She temporarily left teaching and during the next eleven years had three sons and one daughter. While the children were young she supplemented the family income by working as a seamstress and a cook.
Clara Baker returned to teaching in the James City County public schools in 1920, when the county and the city of Williamsburg were cooperating in the establishment of a public training school for African American children. Baker was assigned first to rented rooms in the Odd Fellows Hall, then to the new James City County Training School in 1924, and ultimately to its replacement, Bruton Heights School, in 1940. While teaching, Baker continued her own education through extension and correspondence courses as well as summer institutes at Hampton Institute and at Virginia State College for Negroes (later Virginia State University), in Ettrick, near Petersburg, from the latter of which she earned a collegiate professional certificate in 1932 and a B.S. in education in 1945. When she retired in June 1952, her salary was $3,000. She was proudest of her success in encouraging many of her students to go on to professional careers. She also took pride in the fact that all of her own children achieved professional success. Her daughter became a schoolteacher, one son became a journalist, and her other two sons became college professors.
For nearly six decades Baker, known as "Smoje" to family and friends, was a leader in the black community of Williamsburg and in efforts to promote interracial cooperation. She was one of the first women to register to vote in Williamsburg after the ratification of the Nineteenth Amendment in 1920, she supported the proposed Equal Rights Amendment, and she remained a staunch advocate of women's involvement in public affairs throughout her life. Her wide-ranging activities included service as a Sunday school teacher and Girl Scout leader and membership in the Virginia Teachers Association, the National Association for the Advancement of Colored People, and the Civic Political League. In 1958 she helped organize a Williamsburg chapter of the National Council of Negro Women, and in 1962 she was a founder of a local chapter of the League of Women Voters. Baker was also instrumental in forming the Williamsburg Area Recreation Association, which built and maintained the city's Quarterpath Park. She was a trustee of the First Baptist Church, treasurer of the local United Council of Church Women, secretary of the Williamsburg Area Interracial Study Group, and board member of the Colonial Youth Center League. When Baker's Williamsburg friends and admirers gathered to pay tribute to her in 1967, the superintendent of schools declared that he could not recall a single worthwhile communitywide effort in which Baker had not participated.
Baker won numerous honors, including the Sojourner Truth Meritorious Service Award from the Tidewater Club of the National Association of Negro Business and Professional Women in 1960 and the Susan B. Anthony Award from the Norfolk and Virginia Beach chapters of the League of Women Voters in 1975.
For seven years following her husband's death on 11 April 1960, Baker continued her volunteer work in Williamsburg and traveled extensively in the United States and abroad. In 1967 she moved in with her daughter's family in Virginia Beach. There she promptly affiliated with the local League of Women Voters, the Retired Teachers Association, and the Woman's Club of Norfolk and plunged into the activities at her daughter's church, Grace Episcopal. Vigorously healthy until the final months of her life, Clara Olivia Byrd Baker died of heart disease in Virginia Beach on 20 October 1979 and was buried beside her husband in Cedar Grove Cemetery in Williamsburg. The Williamsburg–James City County School System paid her a fitting tribute in September 1989 when it opened the Clara Byrd Baker Elementary School near the site where she had begun her teaching career eighty-seven years earlier.

Sources Consulted:
Clara Byrd Baker scrapbooks in possession of daughter Lena B. Bass, Virginia Beach; Marriage Register, Williamsburg City, Bureau of Vital Statistics, Commonwealth of Virginia Department of Health, Record Group 36, Library of Virginia; Williamsburg City Voter Registration Book; Norfolk Ledger-Star, 25 Aug. 1971; Norfolk Journal and Guide, 15 Feb. 1975 (portrait); Rawls Byrd, History of Public Schools in Williamsburg (1968), 57–59, 121–122; Charles H. Smith to Clara B. Baker, 2 July 1951, Williamsburg Correspondence, Virginia Teachers Association Papers, Virginia State University Library; League of Women Voters of Williamsburg–James City County, Records, 1962–1974, Swem Library, College of William and Mary, Williamsburg, Va.; obituaries in Norfolk Virginian-Pilot, 22 Oct. 1979, Newport News Daily Press, 23 Oct. 1979, Williamsburg Virginia Gazette, 24 Oct. 1979, and Norfolk Journal and Guide, 2 Nov. 1979.
Image courtesy of Clara Byrd Baker Elementary School, Williamsburg.
Written for the Dictionary of Virginia Biography by Cam Walker.
How to cite this page:
>Cam Walker,"Clara Olivia Byrd Baker (1886–1979)," Dictionary of Virginia Biography, Library of Virginia (1998– ), published 1998 (http://www.lva.virginia.gov/public/dvb/bio.php?b=Baker_Clara_Byrd, accessed [today's date]).

Return to the Dictionary of Virginia Biography Search page.