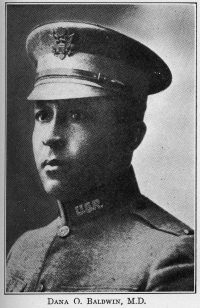 Dana Olden Baldwin (20 March 1881–9 November 1972), physician, was born near Belvoir, Chatham County, North Carolina, the eldest of at least three sons and two daughters of James Hayes Baldwin, an African Methodist Episcopal minister, and Mary Crutchfield Baldwin. After graduating at the age of sixteen from the Normal and Collegiate Institute in Apex, Wake County, North Carolina, Baldwin taught school and worked on local farms until his mother persuaded him to become a medical doctor. He attended Leonard Medical College of Shaw University in Raleigh, graduating in 1910.
Baldwin passed the examination of the Virginia State Board of Medical Examiners later in 1910 and began practicing medicine in Martinsville, where he was the only African American doctor for many years, and possibly the first. In Henry County on 24 December 1911 he married a local teacher, Vina A. Flood, a graduate of Hartshorn Memorial College in Richmond. They adopted two girls and raised three boys and a girl as foster children. Later, as Baldwin prospered, he was able to send four young men from the Martinsville area to medical school.
Baldwin's practice was still struggling when the United States entered World War I in the spring of 1917. He volunteered for the Army Medical Corps, received a commission as a lieutenant, and served in Europe with the 92d Division, 317th Sanitary Train. After his discharge from Camp Meade, Maryland, on 2 April 1919, he went to Philadelphia, where he studied and practiced radiology. He also taught ballroom dancing during his time in Pennsylvania, and even when he was in his eighties was said to have been an agile, excellent dancer.
After only a few months in Philadelphia, the Baldwins moved back to Martinsville, where Dana Baldwin resumed his medical practice and Vina Baldwin resumed teaching. He was active in the African Methodist Episcopal Church, belonged to a number of fraternal organizations, founded an annual Martinsville Colored Fair, and served as medical examiner for at least four black insurance companies. Baldwin also bought property. Beginning at the corner of Fayette and Barton Streets, where he had built a house and office in 1914, Baldwin acquired and developed virtually an entire block, starting early in the 1920s and quickly rebuilding after a fire ruined the main building later in the decade. "Baldwin's Block" became the social and commercial center of Martinsville's African American community, housing his medical offices, a brickyard and a textile-manufacturing firm, a candy store, a poolroom, a barber shop, a beauty parlor, a theater, a dentist's office, a drugstore, two restaurants, and his own twenty-seven-bed Saint Mary's Hospital. He later enlarged the hospital, which was renamed Memorial Hospital.
Baldwin practiced medicine until he suffered a stroke in the 1960s. In recognition of his half century as a physician and his long career as a community leader, he received a golden anniversary certificate of honor from Shaw University in 1960. Dana Olden Baldwin died at Memorial Hospital in Martinsville on 9 November 1972 and was buried in the Baldwin Cemetery in Apex, North Carolina. Baldwin's Block has since been razed, but a park in the city of Martinsville is named in his honor.

Sources Consulted:
Arthur B. Caldwell, ed., History of the American Negro, vol. 5: Virginia Edition (1921), 289–291 (portrait); interview with Baldwin by John P. Bing, 20 Jan. 1969; Marriage Register, Henry Co., Bureau of Vital Statistics, Commonwealth of Virginia Department of Health, Record Group 36, Library of Virginia; Norfolk Journal and Guide, 17 Aug. 1935 (portrait); Martinsville Tribune, 21 July 1961; Martinsville Bulletin, 4 July 1976, bicentennial edition, and 14 Aug. 1977; obituary in Martinsville Bulletin, 10 Nov. 1972.
Image in Caldwell, ed., History of the American Negro (vol. 5).
Written for the Dictionary of Virginia Biography by Judith P. Justus and John P. Bing.
How to cite this page:
>Judith P. Justus and John P. Bing, "Dana Olden Baldwin (1881–1972)," Dictionary of Virginia Biography, Library of Virginia (1998– ), published 1998 (http://www.lva.virginia.gov/public/dvb/bio.asp?b=Baldwin_Dana_Olden, accessed [today's date]).

Return to the Dictionary of Virginia Biography Search page.