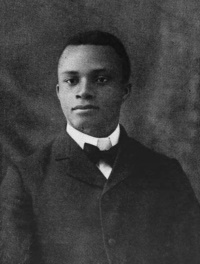 John William Barco (25 June 1877–2 August 1964), educator, was born in Camden County, North Carolina, the son of Henry L. Barco, a Baptist minister who had been born into slavery, and Susan Waters Barco. He grew up near Portsmouth and attended public schools, Hampton Institute, and the Virginia Theological Seminary and College before matriculating at the new Virginia Union University in Richmond in 1899. Barco worked his way through college and also played and coached baseball and football while in school. He received an A.B. with Virginia Union's first graduating class in 1902 and was ordained a minister the same year at Zion Baptist Church in Portsmouth.
Barco briefly served as pastor of First Baptist Church in Salem, Virginia, before returning to Virginia Union in 1903. He headed the Grammar School Department from 1903 to 1907, served as professor of Latin, Hebrew, and history, and directed the summer normal program. He also did graduate work at the University of Chicago and at Andover Theological Seminary.
From 1928 until he retired in 1947, Barco was vice president of Virginia Union. During the 1930s he was intimately involved in setting up his institution's Norfolk branch, which evolved into Norfolk State University. While teaching and serving as an administrator, Barco remained active in college athletics. Early in his career he coached the university football team. His younger brother Henry L. Barco Jr. was a star quarterback on one of his teams and recognized as one of the great players of the era. In 1912 Barco took part in organizing the Colored (now Central) Intercollegiate Athletic Association and served as its vice president during its early years.
Barco devoted most of his life to teaching and to Virginia Union University. He was much less conspicuous than his colleague Gordon Blaine Hancock, who frequently addressed regional and national audiences on questions of race relations. Barco focused his energies largely on his students and the university. As a teacher he demanded the best from his students, at least seven of whom went on to become university presidents. Virginia Union University awarded Barco an honorary doctorate in 1921 and on his retirement in 1947 named him vice president emeritus. In 1948 he came out of retirement to serve as acting dean of the Department of Religion. On 13 February 1959 the new gymnasium of Virginia Union University was named Barco-Stevens Hall, in honor of Barco and Wesley Addison Stevens, a professor of mathematics who began the university's basketball and track programs.
Barco married Lucille Williams, of Norfolk, on 7 June 1905. They had two sons and two daughters. He was an active member of Ebenezer Baptist Church in Richmond, taught in its Sunday school for more than fifty years, and was a member or officer of several community organizations, including the Richmond chapter of the National Association for the Advancement of Colored People, the Young Men's Christian Association, the Virginia State Teachers Association, and the fraternity Alpha Phi Alpha. John William Barco died of prostate cancer at his home in Richmond on 2 August 1964 and was buried at Woodland Cemetery in Richmond.

Sources Consulted:
Biography in Arthur B. Caldwell, ed., History of the American Negro, vol. 5: Virginia Edition (1921), 217–220 (portrait); professional career documented in annual catalogs and bulletins in Virginia Union University Archives, especially 1965 bulletin dedicated to Barco's memory; feature articles in Norfolk Journal and Guide, 12 June 1948, 30 Mar. 1957; Cecil Raynard Taliaferro, "Virginia Union University: The First One Hundred Years—1864–1964" (Ph.D. diss., University of Pittsburgh, 1975), 43, 99–100; Lyman B. Brooks, Upward: A History of Norfolk State University (1973), 27, 39, 46, 90; obituary in Richmond Afro-American, 8 Aug. 1964 (portrait).
Photograph in Arthur B. Caldwell, ed., History of the American Negro, vol. 5.
Written for the Dictionary of Virginia Biography by Robert M. Goldman.
How to cite this page:
>Robert M. Goldman, "John William Barco (1877–1964)," Dictionary of Virginia Biography, Library of Virginia (1998– ), published 1998 (http://www.lva.virginia.gov/public/dvb/bio.asp?b=Barco_John_William, accessed [today's date]).

Return to the Dictionary of Virginia Biography Search page.