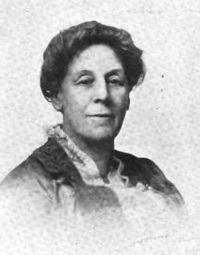 Willie Brown Walker Caldwell (29 November 1860–21 March 1946), civic leader and Republican Party leader, was born in Newbern, Pulaski County, the daughter of James Alexander Walker and Sarah Ann Poage Walker. Her father was an attorney, a brigadier general in the Confederate army, the lieutenant governor of Virginia from 1878 to 1882, and a Republican member of the House of Representatives from 1895 to 1899. Willie Walker's unflinching adulation of her father shaped her life more than any other force. From an early age she was fascinated by politics and civic affairs and drawn to educational and intellectual pursuits.
During most of Walker's childhood and adolescence her mother was in ill health and often confined to bed. Walker's aunt Mary W. Woods, who lived with the family from 1865 until her death in 1874, acted as her surrogate mother. Educated at home and in a small public school in Newbern that her father helped organize after the Civil War, Walker entered the Augusta Female Seminary (later Mary Baldwin University) in 1876 and excelled as a student. After six months, however, she was forced to leave because of failing health. Walker continued her education at home and also assumed the demands of household management. Equally important, she became her father's constant companion, legal assistant, and political confidant.
Civic Activity
In 1879 the family moved to Wytheville. There, on 13 June 1888, Walker married Manley Morrison Caldwell, a local attorney. They had one son and two daughters and lived in her father's house until after both of her parents had died. In 1906 the Caldwells moved to Roanoke, where she immediately began organizing local women in civic reform causes. Caldwell was a founder on 7 December 1906 of the Woman's Civic Betterment Club. Roanoke's rapidly increasing population had outgrown its housing, recreation, sanitation, and other civic resources, and early in 1907 the club commissioned a sanitation study of the city and also a remodeling plan by the landscape architect John Nolen, of Massachusetts. Nolen's plan was never implemented, but the club instituted many other improvement projects, including cleanup campaigns, construction of public playgrounds, and stricter food and milk inspections. Through market boycotts it encouraged farmers to store and package their foods properly. Caldwell believed that the civic club movement was the ideal vehicle to mobilize women "for the uplift of the world" in the years before woman suffrage and overt political participation. She served as the Roanoke club's first vice president and was president from 1908 to 1912.
Republican Party Politics
Caldwell soon widened her sphere of influence. She attended the first meeting of the Virginia Federation of Women's Clubs in 1908 and from 1912 to 1915 was president of the federation. During her presidency the federation's membership doubled, and Caldwell initiated civic programs, publicity committees, and library development projects. She also became involved in national affairs, and even though she had not initially supported the woman suffrage movement, at a Republican Party conference in Washington, D.C., she accepted the task of organizing the newly enfranchised women of Virginia in preparation for the 1920 presidential election. Caldwell attended the Republican National Conventions in 1920 and 1924. In the latter year the party for the first time elected women to the national committee, and she became the first Republican national committeewoman from Virginia, for two four-year terms. The 1925 Republican State Convention nominated Caldwell for state superintendent of public instruction, the last time that office was an elective one, but the entire Republican ticket lost by large margins to the Democrats in the general election.
During the 1928 presidential campaign Caldwell was at the center of a brief national controversy, one of many episodes in which the Catholicism of the Democratic Party candidate, Alfred E. Smith, became an issue. An official Republican Party letter bearing Caldwell's stamped signature and containing anti-Catholic language was published in the Washington Post on 29 September. She acknowledged dictating and sending the letter but denied responsibility for the specific inflammatory phrases. Instead, Caldwell suggested that her secretary might have added her own words to the letter. The Republican candidate, Herbert Hoover, quickly and publicly repudiated the remarks contained in the letter.
Later Years
In 1933 Caldwell began teaching a class at the National Business College in Roanoke. Her intended audience was businesspeople, whom she instructed in communication and interpersonal skills. The popularity of the course led to a radio show, and Caldwell also traveled around the state lecturing on the subject to clubs and organizations. She retired from teaching about 1940 after suffering a serious fall.
Caldwell was a founding member of what became the Thursday Morning Music Club, a regent of the National Society Daughters of the American Revolution, an honorary member of the Magic City Garden Club, and a member of the Roanoke Study Club. She wrote throughout her life and published several short stories and two novels, The Tie That Binds: A Story of the North and the South (1895) and Donald McElroy, Scotch Irishman (1918). Caldwell also composed a book-length biography of her father, which her grandson Manley Caldwell Butler, a member of the House of Representatives from 1972 to 1983, published as Stonewall Jim: A Biography of General James A. Walker, C.S.A. (1990).
Caldwell's example inspired her daughter Sarah Poage Caldwell Butler to lead a successful campaign for the establishment of a public library in Roanoke, one of the improvement projects that she had been unable to complete herself. Willie Brown Walker Caldwell died at her home in Roanoke on 21 March 1946 and was buried at the city's Evergreen Burial Park.

Sources Consulted:
Biographies in John William Leonard, ed., Woman's Who's Who of America, 1914–1915 (1915), 155, Durward Howes, Mary L. Braun, and Rose Garvey, eds., American Women: The Standard Biographical Dictionary of Notable Women (1939), 3:140, and Etta Belle Walker Northington, A History of the Virginia Federation of Women's Clubs, 1907–1957 [1958], 47–50; Pulaski Co. Birth Register; Marriage Register, Wythe Co., Bureau of Vital Statistics, Commonwealth of Virginia Department of Health, Record Group 36, Library of Virginia (LVA); information provided by grandson Manley Caldwell Butler; typed biographical memorandum, ca. 1927, in Butler's possession, 2001 (photocopy in Dictionary of Virginia Biography Editorial Files, LVA); two 1940 typescripts, based in part on interviews with Caldwell, in Biographical Files, Virginia Writers' Project, Work Projects Administration of Virginia Papers, Accession 30432, LVA; Roanoke Times, 17 May 1908 (quotation), 12 Mar. 1939; obituaries and editorial tributes in Roanoke World-News, 21 (portrait), 23 Mar. 1946, Roanoke Times, 22, 23 (portrait) Mar. 1946, and Virginia Club Woman 18 (Apr. 1946): 24.
Photograph in American Club Woman 7 (July 1914): 8.
Written for the Dictionary of Virginia Biography by Stacy G. Moore.
How to cite this page:
>Stacy G. Moore,"Willie Brown Walker Caldwell (1860–1946)," Dictionary of Virginia Biography, Library of Virginia (1998– ), published 2001 (http://www.lva.virginia.gov/public/dvb/bio.asp?b=Caldwell_Willie_Walker, accessed [today's date]).

Return to the Dictionary of Virginia Biography Search page.