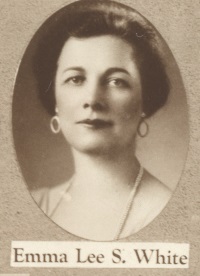 Emma Lee Smith White (1881–17 February 1983), member of the House of Delegates, was born in Greene County, Virginia, and was the daughter of Benjamin Franklin Smith, a Methodist clergyman, and Willie Ann Dunn Smith. Information about her childhood and education is scarce. She is reported to have attended private schools in Virginia, may have studied art at Central Female Institute, in Gordonsville, and likely attended one or more summer normal sessions at the University of Virginia. The 1900 census return indicates she was teaching school in Madison County.
On 25 October 1905 in Charlottesville she married Carl Clifford White, a physician. They lived in his native Mathews County and had no children. She enjoyed riding with the local fox-hunters, belonged to the Woman's Club of Gloucester County, was active in the local chapter of the United Daughters of the Confederacy, and was a founder of the Cricket Hill chapter of the Daughters of the American Revolution. During World War I she chaired the Red Cross Home Service Committee and sat on the Finance Committee. Afterwards she served on the executive committee of the women's auxiliary of the state chapter of the American Legion. White worked as an insurance agent from 1925 to 1938 and also helped manage her husband's family farm. Although always interested in public affairs, insofar as is known she did not advocate woman suffrage during the 1910s, but Mathews County had no local chapter of the Equal Suffrage League of Virginia, and few records of suffrage activity in the county survive.
In 1925 White unsuccessfully sought the Democratic Party nomination for the vacant seat in the House of Delegates for the district that consisted of Mathews and Gloucester Counties. In 1929, when Democrats were divided after many of them had voted for Republican Herbert Hoover in the 1928 presidential election, White won the nomination. She went on to defeat an independent coalition candidate who appealed to Republicans and Hoover Democrats to win election to a two-year term in the House of Delegates. She was the only woman in the General Assembly in the 1930 session and served on the influential Committees on the Chesapeake and its Tributaries and on Schools and Colleges, as well as on the Committees on Enrolled Bills and on Immigration.
White introduced a bill to have the natural oyster grounds in the county surveyed to resolve disputes that arose following surveys made in the 1890s to define boundaries between private and public oyster shoals. It did not pass, but a Senate bill to the same purpose did. Whether her bill relating to enforcement of laws concerning safety of seafood contained provisions similar to a Senate bill that passed is not clear. White also introduced by request a bill to replenish damaged natural oyster beds at public expense, but it did not pass; nor did a bill to set aside a portion of the Ware River in Gloucester County as a public clamming ground. A decade before the state established the Virginia Fisheries Laboratory (later Virginia Institute of Marine Science) in 1940, White was the patron of a successful bill authorizing the state's Commission of Fisheries to employ a marine biologist and establish a laboratory at the College of William and Mary to study the state's seafood industry, which she considered one of her most significant accomplishments during the session.
White easily won reelection to a second term in November 1931. In the 1932 session the Speaker of the House shifted her from the Committee on Enrolled Bills to the chair of the Committee on Retrenchment and Economy. She had a more-ambitious legislative agenda in her second term. It again focused for the most part on local or regional fishery issues, but it was mostly unsuccessful. White announced support for stronger laws to prevent pollution of the York River and its tributaries and sponsored a bill to prevent discrimination against married women in teacher employment. She reintroduced her bill to pay for replenishment of public oyster beds and proposed to reduce the tax on oysters exported from Virginia, to change the licensing law concerning river and harbor pilots, and to regulate the catching of black terrapins in certain counties. She also introduced a bill to require railroads to place a conductor in every sleeping, dining, and passenger coach. During the short special session in August and September 1933, White voted in favor of holding the state convention that voted to repeal the Eighteenth Amendment that required nationwide prohibition.
Shortly before the special session, she was defeated by a large margin in the Democratic primary. White remained active in Democratic Party politics for the remainder of the decade, though, and attended Democratic State Conventions regularly, was elected an alternate delegate to the party's 1936 national convention, and was an officer in the party's local committee during the presidential election campaigns in 1932 and 1936. She also unsuccessfully ran for the party's nomination to the House of Delegates in 1935 and 1937, and in 1939 she lost the race for county treasurer and in 1967 for the board of supervisors from Westville District. In 1951 White announced her candidacy for the House of Delegates, but withdrew before the primary election. A woman did not succeed in winning election to the assembly again until 1953, and at the start of the 1954 session White traveled to Richmond to meet Kathryn H. Stone and advised her not to let the male delegates intimidate her. White later reported for one of the local or regional newspapers and she remained active in the Daughters of the American Revolution, serving as head of the Cricket Hill Chapter until 1966. Emma Lee Smith White died of a heart attack on 17 February 1983 in a Newport News hospital. She was buried beside her husband, who had died on 3 February 1946, in the cemetery of Trinity Episcopal Church in Mathews County.

Sources Consulted:
Sept. 1881 birth date in Greene Co. Birth Records, 1853–1919; Oct. 1881 birth date in United States Census Schedules, Madison Co., 1900, Records of the Bureau of the Census, Record Group 29, National Archives and Records Administration, Washington, D.C.; feature articles in Newport News Daily Press, 6 Sept. 1931 and Richmond Magazine 18 (Feb. 1932): 11, 30–31; education and public service recorded in E. Griffith Dodson, The General Assembly of the Commonwealth of Virginia, 1919–1939: Register (1939), 334; Marriage Register, Charlottesville (age twenty-three on 25 Oct. 1905), Bureau of Vital Statistics (BVS), Commonwealth of Virginia Department of Health, Record Group 36, Library of Virginia (LVA); Charlottesville Daily Progress, 26 Oct. 1905; Secretary of the Commonwealth, Election Records, 1776–1941, No. 78 (1929) and No. 232 (1931), State Government Records Collection, Record Group 13, LVA; 1930 House of Delegates Legislative Photograph, Visual Studies Collection, LVA; Richmond Times-Dispatch, 8 Jan. 1930, 20 Aug. 1933, 13 Jan. 1954; BVS Death Certificate with death date and 23 Oct. 1884 birth date; obituaries in Newport News Daily Press, 18 Feb. 1983, and Gloucester-Mathews Gazette-Journal, 24 Feb. 1983.
Image courtesy of Library of Virginia, Visual Studies Collection.
Written for the Dictionary of Virginia Biography by Kelly Kubiak.
How to cite this page:
>Kelly Kubiak, "Emma Lee Smith White (1881–1983)," Dictionary of Virginia Biography, Library of Virginia (1998– ), published 2018 (http://www.lva.virginia.gov/public/dvb/bio.asp?b=White_Emma_Lee_Smith, accessed [today's date]).

Return to the Dictionary of Virginia Biography Search page.