Brunswick County
Formation Date:
1720 (government established 1732)
Formed From:
Prince George County. Parts of Isle of Wight and Surry Counties were added in 1732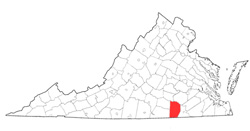 Brunswick County was named for the duchy of Brunswick-Lüneburg, one of the German possessions of George I. It was formed in 1720 from Prince George County, but county government was not organized until 1732. In the latter year, Brunswick County was enlarged by the addition of parts of Surry and Isle of Wight Counties. Its area is 579 square miles, and the county seat is Lawrenceville. The population is 18,419 according to the 2000 census.
Note: Most loose records prior to 1781 are missing.
Original Records at The Library of Virginia: Yes