Newport News, City of
Established:
1880
City Incorporated:
1896
Previous Names:
Warwick County (part) until 1896, Warwick County from 1952 to 1958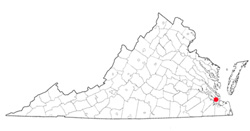 Newport News was located in Warwick County, which is now extinct. The origin of the name is uncertain but the phrase "Newportes News" appeared in documents as early as 1619 and probably commemorated Christopher Newport, who made five voyages to Virginia between 1607 and 1619. Newport News was a small settlement until late in the nineteenth century, when it became the eastern terminus of the Chesapeake and Ohio Railway. It was established in 1880 and incorporated as a city by act of the General Assembly in 1896 without ever having been incorporated as a town. Newport News was enlarged by consolidation with the city of Warwick in 1958. The population is 180,150 according to the 2000 census.
Original Records at The Library of Virginia: Yes