December 2016
---
From Mary Booth to Virginia Christian: Child Incarceration and the Making of the New South
Thursday, December 01, 2016
Time: Noon–1:00 PM
Place: Conference Rooms, Free

While many Virginians may be familiar with the story of Virginia Christian, the 17-year-old juvenile executed by the state of Virginia in 1912, few have heard of Mary Booth, a 14-year-old African American girl convicted of murder and sentenced to death in 1882. This talk by Virginia Foundation for the Humanities Fellow Dr. Catherine A. Jones, associate professor of history at the University of California, Santa Cruz, explores why Booth's life was ultimately spared while Christian's was not. These two young women shared the experience of incarceration with hundreds of Virginia youths between the end of the Civil War and the establishment of a separate juvenile justice system. In this period, Virginia children were objects of both increased state protection and intensified incarceration. Jones's talk suggests that examining the paths children traveled in and out of the Virginia Penitentiary sheds light on how shifting understandings of youth intersected with race in the emergence of the era's progressive reforms. It also considers what insights this period in Virginia's history might offer into why African American children remain disproportionately vulnerable to incarceration in the present.
---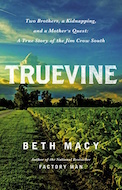 Truevine: Two Brothers, a Kidnapping, and a Mother's Quest—A True Story of the Jim Crow South
Friday, December 02, 2016
Time: Noon–1:00 PM
Place: Lecture Hall, Free

Truevine is the true story of George and Willie Muse, African American brothers who were kidnapped from a Virginia tobacco field in 1899 and displayed as circus freaks, and their mother, who embarked on a decades-long struggle to get them back and to get justice for her family. As circus attractions, the Muse brothers performed for royalty at Buckingham Palace and headlined more than a dozen sold-out shows at New York's Madison Square Garden. Through hundreds of interviews and decades of research, author Beth Macy has created a compelling narrative rich in historical detail and rife with implications for race relations today. The Richmond Times-Dispatch is the media sponsor for this talk.
---
Transcribe-a-thon
Saturday, December 17, 2016
Time: Noon–2:00 PM
Place: Network Conference Room, Free, but registration required. http://bit.ly/LVAvolunteer.

Join other volunteers to transcribe handwritten pages by reading written text and typing it into digital form. Participate in enhancing access to collections of more than 400 years of Virginia history and culture. Twelve computer stations will be available. If you have your own laptop, please bring it! Transcribe-a-thons are facilitated by the volunteer organization HandsOn Greater Richmond. Minimum age is 16 (12 with an adult). Registration required: http://bit.ly/LVAvolunteer.
---
Closed
Friday, December 23, 2016—Monday, December 26, 2016

Closed for the Christmas holiday
---
State Records Center Reading Room Closed
Wednesday, December 28, 2016—Thursday, December 29, 2016

The State Records Center reading room will be closed December 28 and 29.
---
Closed
Saturday, December 31, 2016

The Library will be closed on New Year's Eve.
---
First Freedom: Virginia's Statute for Religious Freedom
Monday, April 18, 2016—Thursday, March 02, 2017
Place: Exhibition Gallery & Lobby, Free

No one familiar with today's public and political debates about religious liberty and the relationship of church and state can doubt that Thomas Jefferson's Statute for Religious Freedom holds lasting significance. The Library of Virginia's exhibition First Freedom: Virginia's Statute for Religious Freedom explores the intent and interpretation of the statute, one of the most revolutionary pieces of legislation in American history.
---