April 2017
---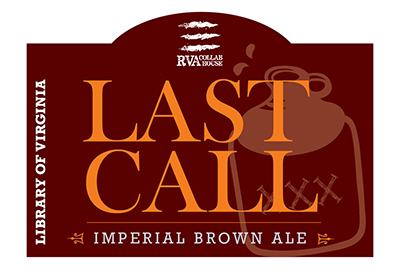 EXHIBITION-RELATED EVENT
"Last Call" Imperial Brown Ale Release Celebration
Thursday, April 13, 2017
Time: 5:00 PM–7:00 PM
Place: Three Notch'd Brewing Company, 2930 West Broad Street, Richmond, Free (but beer must be purchased)

Join the Library of Virginia and the Library of Virginia Foundation for the release and first tasting of Last Call Imperial Brown Ale, a collaborative brew with Three Notch'd Brewing Company celebrating the opening of the exhibition Teetotalers & Moonshiners: Prohibition in Virginia, Distilled (April 3–December 5, 2017 at the Library). This boozy brown ale boasts a creamy, rich body with notes of bready, toasted malt balanced by a light bitterness and earthy hop character. Enjoy a happy hour pint special until the first keg is gone. New and current Library of Virginia Foundation members will receive a complimentary set of exhibition posters. Limited parking is available on site. For more information, contact dawn.greggs@lva.virginia.gov or 804.692.3813. (This is not a fundraiser for the Library of Virginia Foundation.)
---
VFH FELLOWS TALK
Shakers & Jerkers: Radical Revivalism in the Shenandoah Valley & East Tennessee, 1805-1815
Thursday, April 27, 2017
Time: Noon–1:00 PM
Place: Conference Rooms, Free

Join Virginia Foundation for the Humanities Fellow Dr. Douglas Winiarski, an associate professor of religious and American studies at the University of Richmond, as he shares his findings during his time at the Library of Virginia. This illustrated lecture examines how "the jerks"—involuntary convulsions in which the subjects' heads lashed violently backward and forward—emerged out a shadowy world of Scots-Irish signs and wonders that flourished in the Shenandoah Valley and East Tennessee. Radical Presbyterian "jerkers" fueled the explosive growth of the early western Shaker communities, and they played a crucial role in the development of the distinctive subculture that scholars have termed Appalachian mountain religion.
---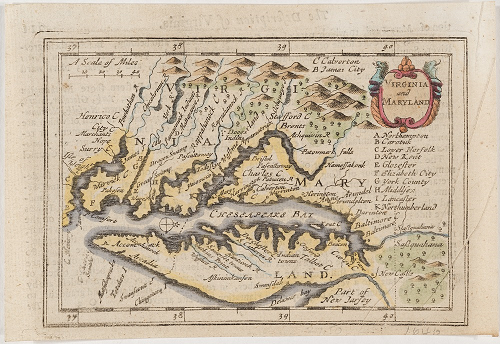 VOORHEES LECTURE ON THE HISTORY OF CARTOGRAPHY
Richmond: Evolution of a City
Saturday, April 29, 2017
Time: 10:00 AM–4:00 PM
Place: Lecture Hall & Conference Rooms, Free

The city of Richmond is the topic of the 14th annual Alan M. and Nathalie P. Voorhees Lecture, presented by speakers Marianne M. McKee, Lyle Browning, and Leslie Courtois. McKee will focus on how maps of Richmond can document urban growth and serve as examples of what maps may exist for many other cities. Browning's presentation will demonstrate how maps, surveys, plats, court files, and other cartographic records at the Library can be used to find previously unknown sites in the James River and to discover adjacent land usage along the river. Courtois will discuss her work conserving a large-format manuscript map of Richmond by Richard Young that was drawn in the early 1800s. The Fry-Jefferson Map Society hosts this free annual lecture series. Lectures run 1:00–3:00 pm. Maps will be on display 10:00 am–4:00 pm. Map appraisals by Old World Auctions will be available from 10:00 am to Noon (one map per person). Tours of Special Collections offered at 10:15 and 11:15 am (registration required). Lunches available for advance order/purchase.

For registration or more information, go to http://bit.ly/Voorhees17 or contact Dawn Greggs at 804.692.3813 or Dawn.Greggs@lva.virginia.gov.
---
EXHIBITION
Teetotalers & Moonshiners: Prohibition in Virginia, Distilled
Monday, April 03, 2017—Saturday, December 02, 2017
Place: Exhibition Gallery & Lobby, Free

Which Virginia county is the Moonshine Capital of the World? The Library of Virginia's upcoming exhibition, Teetotalers & Moonshiners: Prohibition in Virginia, Distilled, will reveal that and more as it explores the impact of Prohibition on the Old Dominion. On November 1, 1916, Virginia's breweries and distilleries closed their doors as the state began a grand experiment in Prohibition. From that date until 1933, state inspectors and federal agents attempted to stem the flow of illicit alcohol to a thirsty populace. Newsreels of still-busting raids, music from the Jazz Age, and vintage stills will complement the archival record of the exploits of Virginia's Prohibition Commission. This exhibition is supported in part by the Virginia Department of Alcoholic Beverage Control and the National Alcohol Beverage Control Association.
---