April 2018
---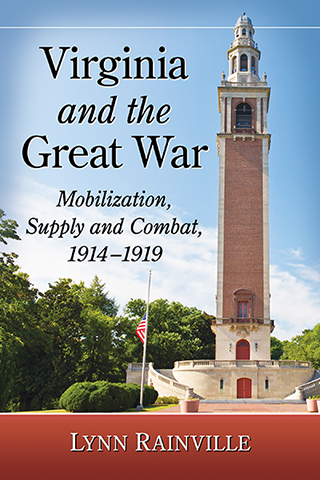 BOOK TALK WITH LYNN RAINVILLE
Virginia and the Great War: Mobilization, Supply and Combat, 1914–1919
Tuesday, April 10, 2018
Time: Noon–1:00 PM
Place: Conference Rooms, Free

Join author and historian Lynn Rainville as she discusses her new book, Virginia and the Great War: Mobilization, Supply and Combat, 1914–1919. The state played an important role during World War I, supplying the Allied forces with food, horses, and steel in 1915 and 1916. After America entered the war in 1917, Virginians served in numerous military and civilian roles—Red Cross nurses, sailors, shipbuilders, pilots, stenographers, and domestic gardeners. Almost every city and county lost men and women to the war. Rainville details the state's manifold contributions to the war effort and presents a study of monuments erected after the war. A book signing follows the talk.
---
VIRGINIA'S CONSTITUTIONAL CONVENTION OF 1867–1868
"You Have No Right to Refuse to Register Me!": Disenfranchisement in Virginia, 1866–1902
Thursday, April 12, 2018
Time: Noon–1:00 PM
Place: Conference Rooms, Free

Following the Civil War, thousands of African American men over the age of 21 received the most cherished right of citizenship—the right to vote. Within a generation, that right would be taken away. Library of Virginia archivist Greg Crawford shares the story of African American disenfranchisement using local and state election records stored at the Library. He will also talk about how the public can play a role in telling this story through the Library's innovative "Transcribe" project. Cosponsored by Virginia's Dr. Martin Luther King Jr. Memorial Commission and the Capitol Square Preservation Council.
---
BEGINNER GENEALOGY WORKSHOP
Finding Your Family History: An Introduction to Genealogical Research
Friday, April 13, 2018
Time: 9:30 AM–12:30 PM
Place: Conference Rooms, $15 ($10 for Semper Virginia Society members)

Preregistration required: https://beginnergenealogy2018.eventbrite.com
Are you interested in exploring your family tree but don't know where to begin? Join Library of Virginia senior reference librarian Zach Vickery and senior reference archivist Kevin Shupe to learn about basic research strategies, useful websites, and helpful resources found at the Library. No experience necessary. Plan to arrive early to sign up for a Library of Virginia card at the circulation desk before the workshop begins. For more information, contact catherine.wyatt@lva.virginia.gov or 804.692.3999.
---
BOOK LAUNCH & SIGNING
The Memoirs of Hon. Henry L. Marsh, III: Civil Rights Champion, Public Servant, Lawyer
Tuesday, April 17, 2018
Time: 5:30 PM–7:00 PM
Place: Lecture Hall & Lobby, Free

This new memoir offers reflections on the nearly eight and a half decades of life of Henry L. Marsh, III. A tenacious spirit (don't say 'can't" or "never") propelled Marsh to overcome formidable obstacles to graduate from high school, college, and law school. A protégé of trailblazing civil rights lawyers Oliver Hill and S. W. Tucker, Marsh helped lead the legal fight to implement the mandate of Brown vs. Board of Education—equality of opportunity for all. A powerful champion in the courts, Marsh successfully litigated cases in state and federal courts, including the United States Supreme Court. Marsh also became the first African American mayor of the former capital of the Confederacy, Richmond, Virginia. He proved a skilled elected official and statesman as he lead the City of Richmond during a transitional time from acute racial polarization toward a more civil society. His service to American society is incalculable. This is the story of a true American human rights hero. Reception 5:30–6:00 PM, author talk 6:00–7:00 PM, and book signing 7:00–7:15 PM. For more information, contact catherine.wyatt@lva.virginia.gov or 804.692.3999.
---
VIRGINIA HUMANITIES FELLOWS TALK
Stretching Skins & Stories: Taxidermy and the Confederacy as Endangered Species
Tuesday, April 24, 2018
Time: Noon–1:00 PM
Place: Conference Rooms, Free

Join Virginia Humanities fellow Nicole Maurantonio, associate professor of Rhetoric and Communication Studies and American Studies at the University of Richmond, for a talk on her research exploring memories of the Confederacy in 21st-century Virginia. This talk will focus specifically on the meanings of the taxidermied body of Little Sorrel, Confederate general Stonewall Jackson's warhorse, which is on display at Virginia Military Institute's museum in Lexington. Reading the revered Little Sorrel as a commemorative object, Maurantonio considers the horse and the practice of taxidermy in relation to contemporary debates surrounding the meanings of Confederate monuments.
---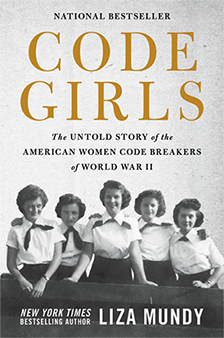 BOOK TALK WITH LIZA MUNDY
Code Girls: The Untold Story of the American Women Code Breakers of World War II
Wednesday, April 25, 2018
Time: Noon–1:00 PM
Place: Lecture Hall, Free

Join author and journalist Liza Mundy as she discusses her new book, Code Girls: The Untold Story of the American Women Code Breakers of World War II. Recruited by the U.S. Army and Navy from small towns and elite colleges, more than 10,000 women served as codebreakers during World War II. While their brothers and boyfriends took up arms, these women moved to Washington and learned the meticulous work of code-breaking. Their efforts shortened the war, saved countless lives, and gave them access to careers previously denied to them. A strict vow of secrecy nearly erased their efforts from history. Now, through dazzling research and interviews with surviving code girls, Mundy brings to life this riveting and vital story of American courage, service, and scientific accomplishment. A book signing follows the talk.

The Richmond Times-Dispatch is media sponsor for our book talks. Additional funding provided by the Carole Weinstein Endowment for Virginia Authors.
---
VOORHEES LECTURE ON THE HISTORY OF CARTOGRAPHY
17th-Century Virginia in Maps
Saturday, April 28, 2018
Time: 10:00 AM–4:00 PM
Place: Lecture Hall & Conference Rooms, $10 (Free for Fry-Jefferson Map Society & Semper Virginia Society members)

Registration required: https://goo.gl/B7JD66

The 15th Annual Alan M. and Nathalie P. Voorhees Lecture on the History of Cartography features guest speakers Dr. Martin Gallivan on "The Map of Virginia: Algonquian and English Cartography in the 17th-Century Chesapeake" and Dr. Buck Woodard on "Mapping Colonialism: British Cartography of Indigenous Lands." The lectures run from 1:00 to 3:00 PM. Other activities include a display of 17th-century maps (10:00 AM–4:00 PM); map appraisals by Old World Auctions (10:00 AM–Noon, one map per person); an Online Map Resources Workshop presented by Cassandra Britt Farrell, the Library's senior map archivist (11:00 AM–Noon); and tours of Special Collections (10:15 AM & 11:15 AM, reservations required). Boxed lunches are available for advance purchase. For more information, contact the Library of Virginia Foundation at 804.692.3813 or dawn.greggs@lva.virginia.gov.
---
EXHIBITION
True Sons of Freedom
Tuesday, January 16, 2018—Friday, November 09, 2018
Place: Exhibition Gallery & Lobby, Free

True Sons of Freedom, a photographic exhibition at the Library of Virginia, explores the stories of Virginia's African American soldiers who served during World War I. More than just mementos for families and sweethearts, these portraits challenge the crude and demoralizing cultural products of an era that often reduced African Americans to stereotypes and denied them full participation as citizens of the United States. Reflecting the pride and determination of African American World War I servicemen, the images were submitted with the soldiers' responses to military service questionnaires created by the Virginia War History Commission as part of an effort to capture the scope of Virginians' participation in the Great War. The original photographs, reproduced in the gallery at nearly life-size dimensions, place visitors at eye level in front of the soldiers. The monumental scale allows viewers the opportunity to examine rich details not seen in the original photo postcards.

For more information, go to www.virginiamemory.com/truesons.
---