December 2016 Book Talks
---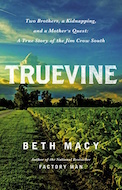 Truevine: Two Brothers, a Kidnapping, and a Mother's Quest—A True Story of the Jim Crow South
Friday, December 02, 2016
Time: Noon–1:00 PM
Place: Lecture Hall, Free

Truevine is the true story of George and Willie Muse, African American brothers who were kidnapped from a Virginia tobacco field in 1899 and displayed as circus freaks, and their mother, who embarked on a decades-long struggle to get them back and to get justice for her family. As circus attractions, the Muse brothers performed for royalty at Buckingham Palace and headlined more than a dozen sold-out shows at New York's Madison Square Garden. Through hundreds of interviews and decades of research, author Beth Macy has created a compelling narrative rich in historical detail and rife with implications for race relations today. The Richmond Times-Dispatch is the media sponsor for this talk.
---