All events are free and take place from noon until 1 PM in the conference rooms at the Library of Virginia unless otherwise noted.
Wednesday, November 7, 2012
"Books on Broad" Featuring Gigi Amateau
Join us as local author Gigi Amateau discusses and reads from her new young adult novel, Come August, Come Freedom: The Bellows, the Gallows and the Black General Gabriel. Based on the true events of Gabriel's Rebellion, this powerful novel illuminates a little-known corner of American history as it honors the extraordinary will of one Virginia man. Reception (wine and cheese) 5:30–6:00 PM, book talk 6:00–7:00 PM, and book signing 7:00–7:30 PM.

Saturday, November 10, 2012
Closed
The Library of Virginia will be closed because of traffic congestion and street closings related to the Anthem Richmond Marathon.

Monday, November 12, 2012
Closed
The Library of Virginia will be closed in honor of Veterans Day.
Tuesday, November 13, 2012

12th Annual Governor Henry Lecture: "We Must Fight!" Patrick Henry and Lord Dunmore
Time: 5:30–7:00 PM
Virginia's Revolution was less the result of events than of personalities; less the product of a misunderstanding than of a mutual conviction that "After all, we must fight." Those were Patrick Henry's words, and when they are compared to Lord Dunmore's December 24 reply to the king's rebuke, "these Virginians should be made to suffer the misery of which they themselves are the author," it is clear that Henry and Dunmore were of one mind about the inevitability of war. Had it not taken weeks for the governor's letters to reach London, he might have been stopped. Had Henry not been an oratorical force of nature, Virginians might have given peace a chance. But both men were effectively beyond recall, and what they achieved together, revolution and war–though it would later be ascribed to political differences–was actually the result of irreconcilable similarities in character aggravated by contempt on one side and a bottomless need for revenge on the other. George Morrow II will deliver the 12th Annual Governor Henry Lecture, sponsored by the Patrick Henry Memorial Foundation, Hampden-Sydney College, and the Library of Virginia.

Wednesday, November 21, 2012
Close at noon
The Library will close at noon for the Thanksgiving Holiday. Please note that the State Records Center Archives Annex reading room will be closed on Wednesday and Thursday.

Thursday, November 22–24, 2012
Closed
Closed for Thanksgiving Holiday weekend
Wednesday, November 28, 2012

"Books on Broad" Featuring Bill Wooldridge
With Mapping Virginia: From the Age of Exploration to the Civil War, Wooldridge has written a fascinating book for the general reader as well as the map connoisseur. Mapping Virginia demonstrates the remarkable process by which Virginia gradually, magically revealed its form to the collective mind. Reception with wine and cheese (5:30–6:30 PM), book talk (6:00–7:00 PM), and book signing (7:00–7:30 PM).
Thursday, December 6, 2012

War on the Waters: The Union and Confederate Navies, 1861-1865
Eminent Civil War historian Jim McPherson chronicles the impact naval forces had on the progression of the war and its eventual outcome. A book signing will follow the program. This program is cosponsored by the Museum of the Confederacy and the American Civil War Center.
Thursday, December 6, 2012

"Books on Broad" Featuring Lee Woodruff
Lee Woodruff of CBS This Morning will read from and discuss her first novel, Those We Love Most, which draws on the author's own experiences of family tragedy and healing. Light refreshments (wine and cheese) will be served (5:30–6:00 PM), followed by author talk (6:00–6:45 PM), and book signing (6:45–7:30 PM).

Saturday, December 22-25, 2012
Closed
Closed for the Christmas holiday
Through Saturday, May 18, 2013
You Have No Right: Law and Justice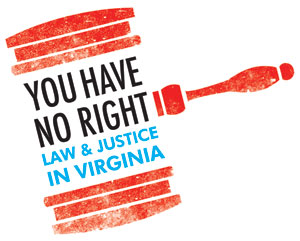 Place: Lobby and Exhibition Gallery
Using Virginia cases–and the stories of the people behind them–You Have No Right: Law and Justice will demonstrate how the law affects individuals directly and how people have used the law to achieve political and social goals. Using original records and electronic resources to convey the themes of human rights, citizenship, and the rule of law in a lively and engaging presentation, visitors will explore questions about citizenship, marriage rights, eminent domain, and why prosecutors have to prove guilt and defense lawyers don't have to prove innocence.

Saturday, December 29, 2012–January 1, 2013
Closed
Closed for the New Year's holiday