Library to Host Continuing Education Coordinators
The Library of Virginia is hosting the 2009 State Library Continuing Education Coordinators Forum in Williamsburg, August 24–26. The group is composed of continuing education coordinators and library development staff members from each state library. Over the course of the meeting, participants will receive two days of professional development, share best practices, and problem solve and troubleshoot library continuing education issues.
Cindy Church, continuing education coordinator at the Library of Virginia, is coordinating plans for this year's conference. "Even in these tough economic times, most state libraries are sending staff to the forum. They see a real economic benefit in the collaboration and coordination of continuing education efforts. Ultimately, by sharing information we will be able to increase accessibility to information resources, avoid duplication of efforts, and improve library staff performance."
States expected to send representatives include:
Alabama, Alaska, Arizona, Arkansas, Delaware, Georgia, Idaho, Iowa, Kentucky, Maryland, Mississippi, Montana, Nevada, New Hampshire, New Jersey, New York, North Carolina, Pennsylvania, Texas, Utah, Vermont, Washington, and Wyoming.
<< back to e-newsletter

Suzy Szasz Palmer Named Deputy Librarian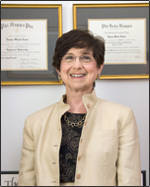 After a nationwide search the Library of Virginia is pleased to announce that Suzy Szasz Palmer has been selected as deputy librarian. She assumed her new duties on July 10.
For the past two years, Palmer has served as director of the Research and Information Services Division at the Library of Virginia. Prior to coming to the Library, Palmer was associate dean for collections, preservation, and digital initiatives at the University of Louisville. From 1979 through 2002, she held numerous positions in the Cornell University library system, including head of public services for rare and manuscript collections, reference coordinator and bibliographer, and special project assistant to the deputy director of the Olin Library. She is visible and active in the library profession nationally. Among the many current positions she holds are membership on the editorial board of Microform & Imaging Review, secretary of the American Library Association (ALA) State Library Section of the Association of Specialized and Cooperative Library Agencies, chair of the Hot Topics in Front Line Reference Discussion Group of the ALA Reference and User Services Association, chair of the Publications Committee of the Virginia Library Association, and president-elect of the Richmond Academic Library Consortium.
Palmer earned her undergraduate degree, summa cum laude, in political philosophy and her master's degree in library science from Syracuse University.
<< back to e-newsletter

Last Chance to Buy Tickets to Literary Awards Celebration
The Library of Virginia's annual salute to Virginia's finest authors is almost here and we hope that you will join us for the party! The 12th Annual Library of Virginia Literary Awards Celebration on Saturday, October 17, 2009, is presented by Dominion. The Literary Awards feature the most distinguished and talented writers in the state who gather in Richmond for the annual celebration.
Please plan to attend the Literary Awards as a member of the 2009 Page Turner Society. With your Page Turner ticket you will enjoy an evening of fabulous authors and fabulous food… all for a fabulous cause! Purchasing a Page Turner ticket will enable you to support the Library of Virginia's programs and services. Tickets at the Page Turner level are $170 per person ($85 of which is tax deductible). Reserve your Page Turner ticket by August 21, 2009, to receive recognition on the Literary Awards invitation and other great benefits at the event. A very limited number of regular tickets at $100 per person will be available after August 11.
Call 804-692-3900 to reserve your ticket today!
<< back to e-newsletter

New Look at Library's Collections
The Description Services and Local Records Services sections at the Library of Virginia have created a new quarterly report of newly processed collections called Primary Sources. It is located under "What's New in the Collections" on the Library's Web site. The first issue describes significant collections that have been processed, microfilmed, or digitized over the past several years. Future issues will focus on the previous quarter.
<< back to e-newsletter

Maps Reveal Library's Participation in the First International Exchange Program
Several maps with the stamp "Système d'Echange International, A.V.," indicating that the maps came from the first international exchange system among libraries begun by the world-renowned French ventriloquist Alexandre Vattemare (1796–1864), have been discovered at the Library of Virginia. The first was La Carte l'Etat-Major, a topographical map of France and a portion of the Netherlands consisting of approximately 250 sheets in French and Dutch, orchestrated by Napoleon III in 1851. Others followed. The materials, most of which are in French, include letters, reports, and books in addition to maps, and can be identified by Vattemare's stamp, inscription, or dedication. The dates on the materials that were acquired through the program range from approximately 1836 through 1855. Some of the titles are Souvenirs et Impressions: ou, Lettres a Lady ***, 1855; Aide-Mémoire à l'Usage des Officiers d'Artillerie, 1851; and Études Politiques et Historiques, 1836.
Vattemare started a promising career as a surgeon but was denied a degree because of his disconcerting talent for making the cadavers appear to speak. He later cultivated his talent in order to provide for his livelihood, performing one-man shows throughout Europe, and then used his earnings for philanthropy. In 1839 he began promoting his program for the purposes of exchanging duplicates and multiples of government publications and other materials. Seeing that state libraries generally housed legal works for members of the legislature, Vattemare believed that state libraries could also house cultural resources for laypeople and scholars and fulfill America's literary aspirations, thus broadening their appeal to the public. The Virginia General Assembly endorsed Vattemare's program, authorizing the State Librarian to exchange materials with France on March 23, 1848, according to the Virginia State Records Collection Auditor of Public Accounts (1776–1928), which includes the International Literary Exchange, Vouchers and Receipts, 1859–1860. On April 4, 1848, the General Assembly appropriated $250 for participation in the program. Shortly thereafter, on June 26, 1848, Congress passed an act regulating Vattemare's exchange program, appointing him agent.
Institutions, such as the Library of Congress, the Smithsonian Institution, and state libraries, embraced Vattemare's ideas and participated in his program. Additionally, he inspired the public library movement in the United States, resulting in the establishment of the Boston Public Library. In 1955, the United Nations Educational, Scientific and Cultural Organization (UNESCO) recognized Vattemare as founder of its mission of exchange among governments. In 2007 the Boston Public Library hosted a joint exhibition with France, The Extravagant Ambassador: The True Story of Alexandre Vattemare, the French Ventriloquist Who Changed the World. Until recently, Vattemare's name had fallen into obscurity, resulting from the decline in institutions' enthusiasm for his program around 1850. Though short-lived, his exchange program was not shortsighted. Vattemare planted the seeds for both an idea and an ideal that he called "a true intellectual democracy," which the Library continues to actively pursue.
—Leah Thomas
<< back to e-newsletter

Winners of Poe Young Writers' Competition Recognized
The results are in! The response to the Library of Virginia's Poe Young Writers' Competition was wonderful. The Library received dozens of inspired works of poetry and prose, ranging from mysterious to murderous. In addition, hundreds of people participated in the online People's Pick for the best work of poetry or fiction.
The winners in the poetry category are:
First place, Bryan Killian, a sophomore at Deep Run High School, Henrico County, for "No Birds"
Second place, Kirk Rountree, a junior at Kings Fork High School in Suffolk, for "aMuse"
Third place, Robert Poindexter, a sophomore at Deep Run High School, Henrico County, for "Shades of Evil"
People's Pick, Bryan Killian, a sophomore, Deep Run High School, Henrico, for "No Birds"
The winners in the short story category are:
First place, Keely Wright, a junior at Hanover High School, Hanover, for "Elizabeth's Dream"
Second place, Evelyn Hildebrand, a sophomore, from Springfield, for "Darkness and Light"
Third place, Alex Zuercher, a junior at Maggie Walker Governor's School, Richmond, for "The Man Who Talked to God"
People's Pick, Alex Zuercher, a junior at Maggie Walker Governor's School, Richmond, for "The Man Who Talked to God"
First place winners received a $100 savings bond and a filmed reading of the winning story or poem on Comcast ON DEMAND Local Features. Second place winners received a $50 savings bond and a filmed reading of the winning story or poem on Comcast ON DEMAND Local Features. Third place finishers and People's Pick winners received a Comcast Prize Pack.
The winners were recognized at the opening reception for the Poe: Man, Myth, or Monster exhibition at the Library of Virginia on July 17, 2009. The exhibition runs though December 5, 2009.
<< back to e-newsletter

2010 Virginia Forum Call for Papers
The fifth annual Virginia Forum will meet at Christopher Newport University in Newport News, April 15–17, 2010. The Virginia Forum offers an opportunity for exchanges of ideas among scholars, archivists, librarians, museum curators, K–12 teachers, and all those interested in Virginia history and culture.
The Virginia Forum invites proposals for presentations on all topics in Virginia history and culture, but the Hampton Roads area's relationship to the Atlantic Ocean, Chesapeake Bay, and other waterways offers a special opportunity to reflect on maritime history and culture. Proposals from graduate and undergraduate students conducting research in Virginia history are encouraged. The deadline for submitting proposals is September 15, 2009.
The Virginia Forum invites proposals for individual papers or complete panel sessions, roundtable discussions, workshops, poster sessions, or electronic/multimedia presentations. Additional information is available online at www.virginiaforum.org.
<< back to e-newsletter

Morrison and Polin Selected for 2009 Anne and Ryland Brown Teacher Research Fellowships
The Library of Virginia is pleased to announce the inaugural Anne and Ryland Brown Teacher Research Fellows for 2009.
Nathaniel Morrison teaches advanced placement United States history at Atlee High School in Hanover County. During his five years at Atlee, he has also instructed students in the school's International Baccalaureate History of the Americas program, and has assisted with the development of curriculum and assessments for the Hanover County School System.
Celia Polin teaches in the social studies department at Cosby High School in Chesterfield County. She has taught U.S. government, world history, and U.S. and Virginia history in high schools for the last five years. Between 2004 and 2007, Polin was one of 60 teachers in the United States selected to participate in the Annenberg Civic Education Initiative, designed to increase civic participation among America's high school students. In addition to her teaching credentials, Polin has experience presenting, consulting, and publishing on educational topics. Both recipients hold master of teaching degrees from the University of Virginia.
"Both in their applications and in their interviews, it was evident Nathaniel Morrison and Celia Polin are passionate and creative educators," said Tameka Hobbs, program and education coordinator of the Library of Virginia. "The selection committee was impressed with Morrison's integration of technology into his students' projects and with Polin's stellar record of innovative teaching and leadership. While we initially set out to identify one fellow, we were torn and decided instead to invite them both."
Founded in 2009, the Anne and Ryland Brown Teacher Research Fellowship is designed to provide Virginia educators the opportunity to research and study a specific aspect of Virginia history and to produce educational resources to support the Library of Virginia's ongoing exhibition and education programs. The award includes a stipend of $2,000, and a $500 allocation to cover registration fees and travel for conference presentations.
<< back to e-newsletter

New Market Library Honored with Green Building Award
Rob Pasco, director of the Shenandoah County Library System, announced that the New Market Area Library project has been selected to win a Green Building of America Award. The branch library will be featured in the upcoming Northeast Real Estate & Construction Review's Green Success Stories Edition. The library is applying for Federal LEED certification (Leadership in Energy and Environmental Design) for the environmentally friendly project. LEED-certified buildings are designed to:
Lower operating costs and increase asset value
Reduce waste sent to landfills
Conserve energy and water
Be healthier and safer for occupants
Reduce harmful greenhouse gas emissions
Qualify for tax rebates, zoning allowances, and other incentives in hundreds of cities
Demonstrate an owner's commitment to environmental stewardship and social responsibility
<< back to e-newsletter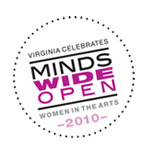 Minds Wide Open to Celebrate Women in the Arts in 2010
In spring 2010 Virginia will present a celebration featuring performances, exhibitions, literary readings, films, speakers, and panel discussions on the theme of women in the arts. Minds Wide Open: Virginia Celebrates Women in the Arts is the first celebration of its kind in Virginia. The goal of Minds Wide Open is to raise the public visibility of the size and scope of the arts and cultural industry in Virginia, while building collaborations and partnerships among the arts and cultural organizations across the commonwealth.
<< back to e-newsletter