Library of Virginia's Budget Reduced
In September 2009, following Governor Tim Kaine's most recent adjustments to the state's fiscal year 2010 budget, the annual general fund budget of the Library of Virginia dropped from $30,409,896 to $27,415,771, a cut of 9.4 percent, which included eight layoffs. The 9.4 percent cut is somewhat misleading, however, as the Library's budget includes $16,509,697 that is distributed directly through the state-aid formula to Virginia's 91 public library systems and $2,356,396 that covers the rent payment to the state Department of General Services. Removing these items from the Library's base budget leaves $8,549,678 for agency staff and operations, representing a reduction of nearly 19 percent for the Library's internal operations.
As a result of the latest budget reductions, the Library will:
carry nearly 30 vacancies for the foreseeable future
have virtually no discretionary spending money and no funds for travel or training beyond what is absolutely essential
supplant state funds for its conservation lab and microfilming operation with nongeneral fund sources, putting those programs in jeopardy
put on hold the purchase of most new books and manuscripts, including new titles in the areas of Virginia history and genealogy
have insufficient funding to sustain its electronic records program
<< back to e-newsletter

Edwards, Harris, and Lewis to Retire on November 1
On November 1, three members of the Library of Virginia's executive management team will retire. State Archivist Conley L. Edwards III; Ann Harris, director of Finance and Administrative Services; and Elizabeth M. "Libby" Lewis, director of Library Development and Networking, together have more than 85 years of public service.
When Conley Edwards joined the staff of the then-Virginia State Library on August 1, 1974, there were approximately 47,500 items in the archives, of which 15,743 were manuscripts. As he retires he can take pride in the fact that the Library's archives contains more than 109,221,000 items and is consistently one of the most-visited archives in the nation.
Edwards's first job was as a reference archivist, a position he held until 1981, when he became a senior records management analyst. In 1984 he was promoted to head of the Public Services and Programs section. In that capacity he was responsible for assisting patrons using the archives and library collections. He quickly became known for his skill in finding obscure sources as well as for his love of his job. He served as acting State Archivist from May 1995 until his appointment as State Archivist on January 1, 1996. In addition, he is director of the Library's Archival and Records Management Services Division.
Edwards is active in numerous professional organizations, including the Society of American Archivists, the National Association of Government Archives and Records Administrators, and the Mid-Atlantic Regional Archives Conference, and is a sought-after speaker on archival and genealogical topics. In 1993 he traveled to Belgium to address a professional conference concerning the Library's digital program for historical records.
Libby Lewis came to Richmond in 1974 and worked for three years establishing a library at the city jail. She then worked briefly in reference at the Richmond Public Library before coming to then-Virginia State Library in 1978. She worked first as a consultant for institutional libraries and with the federal Library Services and Construction Act, which provided federal assistance to libraries for improving or implementing library services or undertaking construction projects. Next she concentrated on state and federal aid for libraries. In 1988 Lewis left the Library to return to school. In 1989 she became the library director for the Virginia Department of Mental Health and Mental Retardation at Central State Hospital in Petersburg. From 1990 to 1995 Lewis was school library coordinator for the Department of Correctional Education. In 1995 she returned to the Library as assistant director of the Library Development and Networking Division. In 2005 she became the director of the division.
Over the course of her 33-year career in libraries, Lewis has been involved in nearly every aspect of public and institutional library activity. As a consultant, she traveled across the state counseling library directors, trustees, and Board members; attending library dedications and board meetings; and conducting workshops.
Ann N. Harris served as an external auditor for the Auditor of Public Accounts (1985–1988) and as an internal auditor for State Water Control Board (1988–1989) before bringing her accounting and budget skills to the Library of Virginia as fiscal director in 1989. In 1995 she became director of the now Finance and Administrative Services Division, which is responsible for managing and monitoring the agency's budget; administering the accounting program; overseeing state and federal grant recipients; managing the agency's facilities, including the Library of Virginia building and the State Records Center facility; and overseeing the human resources, procurement, graphic design, and photographic services sections of the Library.
Harris is a certified public accountant and a member of the American Institute of Certified Public Accountants and the Virginia Society of Certified Public Accountants. She has used her wealth of skills and knowledge to guide the Library through the numerous budget reductions of recent years.
"These three outstanding public servants will be missed. The breadth and depth of their knowledge of the Library, its programs, and its history is astonishing. They have touched the lives not only of staff at the Library but also of citizens across the commonwealth. We are all richer for their service," said Librarian of Virginia Sandra G. Treadway.
<< back to e-newsletter

Cohabitation Registers Now Available at Virginia Memory Web Site
The Library of Virginia has recently completed digitizing of its cohabitation registers. Cohabitation registers are among the most important genealogical resources for African Americans attempting to connect their family lines back through their enslaved ancestors. The registers date from 1866 and provide a snapshot in time for the individuals recorded therein, offering a wealth of information that otherwise might be impossible, or at least very difficult, to uncover. The documents can offer clues to how to proceed with an individual's history that may have remained hidden even from the 1870 federal census takers four years later. The registers also interest historians because of what the documents say about a particular community of people at a time when great changes had come about as a result of the Civil War and the end of slavery. The information about an individual contained in a cohabitation register is literally priceless, as it is often the first time that a former slave appeared officially in the public record and because of the range of information that the register recorded. Though recorded at the local level, registers may not exist for every Virginia county. Images of some cohabitation registers are available at www.virginiamemory.com/collections/whats_new, along with accompanying full-text searchable transcriptions of each.
<< back to e-newsletter

Berry and Neville Discuss "Write What You Love" on October 16
Best-selling mystery/thriller writer Steve Berry will be in Richmond on Friday, October 16, for "Write What You Love," a free Library of Virginia program. Virginia author Katherine Neville, whose books The Eight, A Calculated Risk, and The Magic Circle are best sellers in more than 30 languages, will moderate the program, which will take place at noon at the Hilton Garden Inn, 501 East Broad Street. The event is free, but seating is limited. Please call 804-692-3900 to reserve a seat.
Steve Berry is the New York Times best-selling author of The Amber Room, The Romanov Prophecy, and The Third Secret as well as the popular Cotton Malone series, which began with The Templar Legacy, and continues with The Alexandria Link, The Venetian Betrayal, The Charlemagne Pursuit, and The Paris Vendetta, due out in December. His books have been translated into 37 languages and sold in 50 countries. Each of Berry's books is a fast-paced mystery with a historical premise relevant to the plot.
Berry was a Georgia trial lawyer before becoming a full time writer. He and his wife have created a foundation, History Matters, to assist communities around the world with restoration and preservation.
<< back to e-newsletter

Gordon-Reed Featured at October 17 Literary Luncheon
Annette Gordon-Reed, author of Thomas Jefferson and Sally Hemings: An American Controversy and The Hemingses of Monticello: An American Family, which won the 2008 National Book Award for Nonfiction and the 2009 Pulitzer Prize in history, is the featured author at the 2009 Library of Virginia Literary Luncheon on Saturday, October 17, at 11:30 am at the Hilton Garden Inn, 501 East Broad Street. Tickets are $35 per person and include valet parking until October 9th ($50 after October 9). Dan Roberts, associate professor at the University of Richmond and host of the radio series A Moment in Time, will moderate "A Lens on American Cultural History: A Conversation with Annette Gordon-Reed."
Gordon-Reed's fascination with Thomas Jefferson began when she was in grade school in Texas and read a child's biography of him. She first learned of Sally Hemings while reading her parent's copy of Winthrop Jordan's White Over Black.
Gordon-Reed's first book, Thomas Jefferson and Sally Hemings: An American Controversy, came out in 1997, prior to the DNA study suggesting that one of the descendants of Sally Hemings was related to Jefferson. Her book laid out the long-overlooked evidence that an affair occurred between Jefferson and his slave.
In her prize-winning second book Gordon-Reed sets the Hemings's compelling saga against the backdrop of Revolutionary America, Paris on the eve of its own revolution, 1790s Philadelphia, and plantation life at Monticello. The book brings to life not only Sally Hemings and Thomas Jefferson, but also their children and Hemings's siblings, who shared a father with Jefferson's wife, Martha.
The Pulitzer Prize citation calls The Hemingses of Monticello: An American Family,
"a painstaking exploration of a sprawling multi-generation slave family that casts provocative new light on the relationship between Sally Hemings and her master, Thomas Jefferson."
Roberts and Gordon-Reed will explore how the telling of the Hemings and Jefferson story has changed over the years and what this says about how the history of the country and the legacies of slavery, for whites and blacks, affect us today.
<< back to e-newsletter

Swearingen to Deliver Annual Governor Henry Lecture
Dr. C. Jan Swearingen, professor of English at Texas A&M University, will deliver the Ninth Annual Governor Henry Lecture at the Library of Virginia at 5:30 pm on Tuesday, November 17, and at Hampden-Sydney College at 4:30 pm on Wednesday, November 18. Her lecture is entitled "Samuel Davies and Patrick Henry: Prophets of Liberty in Presbyterian Virginia." Swearingen will illuminate the Henry family's links to the pioneering evangelist Davies and other "dissenting" Presbyterians in Virginia—subjects that have been the recent focus of her research in Scotland and Virginia on a fellowship from the National Endowment for the Humanities.
Swearingen's published works include Rhetoric and Irony: Western Literacy and Western Lies (Oxford, 1991) and Rhetoric, the Polis, and the Global Village: Selected Papers from the 1998 Thirtieth Anniversary Rhetoric Society of America Conference (1999). Her current works in progress include After Washington: Virtue and the American Presidency and From Church to State: Rhetoric, Religion, and the Transformation of Liberty in Colonial Virginia. She is a past president of the Rhetoric Society of America, and serves on the advisory board of the Historic Polegreen Church Foundation, in Mechanicsville.
The annual Governor Henry Lectures are jointly sponsored by the Patrick Henry Memorial Foundation, the Library of Virginia, and Hampden-Sydney College. The lectures are open to the public at no charge. Free parking is available, and a reception follows each event.
<< back to e-newsletter

Library Seeks Archive of School Desegregation Records
The important story of the desegregation of Virginia's schools is in danger of being lost as a generation ages and records are forgotten or discarded. School records reflect this tumultuous time in recent history. By locating them, archivists at the Library of Virginia help to ensure that these times will be documented and that the voices of the participants will be heard. A wide variety of local records at the Library of Virginia describe schools, both white and black, and their desegregation.
Recent transfers include teacher's registers from a variety of localities for white and black schools in New Kent County and the city of Portsmouth. Materials from York County include library reports for black and white elementary and secondary schools. These give details on library staff training, library holdings, and reading-room furniture. Newly accessioned city of Portsmouth school records highlight the desegregation of schools there. Michael Copeland was six years old in April 1965 when his petition to attend neighborhood schools helped achieve integration. Materials related to his case are now in the archives, along organizational charts for the schools, information on elementary school zones, and plans for desegregation proposed by the school board.
An inventory and transfer project is currently underway in Warren County, where Front Royal High School closed rather than integrate in September 1958. Materials concerning desegregation have been designated as historically significant and permanent in the general schedules used by records managers in the localities. A Public School Records Consortium composed of records officers from the school districts meets at the Library of Virginia frequently. The group regularly consults with records analysts and the Library's local records appraisal archivist, and members communicate through an online listserv sponsored the Library. A superintendent's memo outlining the Library's efforts, sent in November 2008 by State Archivist Conley Edwards in coordination with the state Department of Education, resulted in helpful contacts and several transfers of desegregation-related material.
As outlined in the Virginia Public Records Act, public records concerning school desegregation are retained in the locality by their legal custodian (the school board, for example), or transferred to the Library of Virginia, where they are preserved and made available to researchers. Some materials are housed at the State Records Center or have privacy-related restrictions, however, so researchers should check with Archives staff members about the availability of records prior to visiting the Library.
The Library's archival collections provide a rich source for exploring the commonwealth's educational history. They document massive resistance, the opinions of elected officials and citizens, and the lives of students and teachers. They outline the curriculum, describe school libraries, and allow researchers to see what school buildings across the state looked like—inside and out. By working together, local records archivists, records analysts, and record keepers across the commonwealth are saving the stories these records contain.
—submitted by Jennifer Davis McDaid, Archival and Records Management Services
<< back to e-newsletter

Library Receives Funding From NPS Challenge Cost Share Program
The Virginia Genealogical Society and the Richmond National Battlefield recently completed a project to microfilm Virginia records of the Southern Claims Commission as part of the 2004 National Park Service Challenge Cost Share Program. As a modification to the initial agreement, the Library was pleased to receive $9,500 in support of its continuing efforts to provide digital access to its rich collections.
Carrying on the original project focus of Virginia-related Civil War and Reconstruction records, the Library used these funds to support the description, digitization, and enhanced public access to nearly 200 Civil War–era maps, 45 of which are manuscript maps, from the Library's vast collection of cartographic materials. Originally scanned and indexed as part of a collaborative between the Library, the Virginia Historical Society, and the Library of Congress, the digitized maps were available previously only via the Library of Congress' Web site.
In addition, the Library was able to use a portion of these funds to transcribe, digitize, and provide public access to several cohabitation registers, another group of records that are invaluable to the research of Virginia's African American population during and immediately following the Civil War. These records served to officially recognize the marriages of former slaves and legitimize their children; as such, they offer a significant amount of information to students, historians, and genealogists researching an under-documented segment of our population.
The Library is pleased to provide free online access to all images and indexing resulting from this project in our Digital Collections, available on the Library's Virginia Memory Web site: http://www.virginiamemory.com.

—submitted by Kathy Jordan, Information Technology Services
<< back to e-newsletter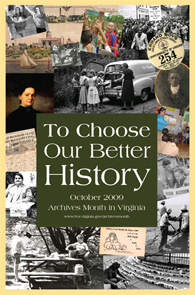 October Is Archives Month in Virginia
The theme of the 2009 Archives Month is "To Choose Our Better History." October is a great time to explore your Virginia history by delving into an archives collection near you. Virginia is home to more than 75 archives and special collections repositories that preserve and make available Virginia's history.
On Tuesday, October 27, repositories from across the state will showcase items from their rich collections at a Virginia History and Archives Fair, hosted by the Museum of the Confederacy in Richmond. Admission to the museum is free to those attending the fair. On Thursday, October 29, the Library of Virginia and the Museum of the Confederacy are offering free, behind-the-scenes tours of their archives, giving visitors an opportunity to view some of the rare documents in their safekeeping. Also on October 29 at noon the Library of Virginia and the Chancellor Wythe Chapter of the Daughters of the American Revolution are sponsoring a noon book talk by Bruce Chadwick exploring the bizarre true story of George Wythe's murder.
Archives Month is a collaborative effort to celebrate the commonwealth's archival and special collections repositories and the rich cultural record they protect. It is a project of the Library of Virginia, in conjunction with the Virginia State Historical Records Advisory Board and the National Historical and Public Record Commission. To learn more about Archives Month visit www.lva.virginia.gov/archivesmonth
—submitted by Conley Edwards, State Archivist
<< back to e-newsletter

Young Writer Reads Short Story Based on Edgar Allan Poe
Listen to a reading of "Darkness and Light," a short story by Evelyn Hildebrand, second-place winner for the short story division in the "Poe: Man, Myth, or Monster" Young Writers' Competition. Last spring, the Library of Virginia and the Poe Museum invited high school students to submit their poetry and short stories, written in the genres Poe mastered—mystery, science fiction, and horror. For a complete list of winners, or to view the winning entries, visit events.
To hear Evelyn Hildebrand read her short story, go to http://www.youtube.com/watch?v=S1DDPdSxmEk&feature=channel_page
<< back to e-newsletter

Literary World Mourns the Passing of Safire, Hoffman, and Peterson
Library of Virginia staff members recently learned of the deaths of three disparate authors with connections to the Library. The best known of these three is William Safire, who died September 27. The acerbic conservative columnist for the New York Times and language expert spoke at the Library of Virginia in February 2000 about his novel Scandalmonger, a tale of scandals and seductions involving America's founders. Safire's appearance at the Library was in part a thank-you for research assistance that the Library provided for his novel.
William Hoffman, who spoke twice at the Library on his novels, died on September 13. Hoffman was a gentle man, talented teacher, and gifted writer. Librarian of Virginia Sandra Treadway said of him that he was Virginia's "least-known best writer." He was awarded the Hillsdale Prize for Fiction by the Fellowship of Southern Writers in 1995 and was selected to become a member of that prestigious group in 1996.
Lastly, Merrill Peterson, noted Jefferson scholar, author of 37 books and the 2005 recipient of the Library's Literary Lifetime Achievement Award, died September 23. Peterson won the Bancroft Prize for his first major book, Jefferson Image in the American Mind. He was one of the nation's most gifted and prolific historians.
These three writers will be missed, but they leave behind books and commentary that will continue to engage readers. Visit your library and check out a book by one of these authors. You won't be disappointed.
Books by Virginia authors and on Virginia subjects have a special place at the Library of Virginia. The Virginia Authors Room on the second floor of the Library contains more than 5,000 books by Virginia authors. This popular room, where works by such established writers as Tom Wolfe and William Styron sit beside the first editions published by new writers, is a magnet attracting large numbers of visitors. The next time you visit the Library, walk through the Virginia Authors Room and take a look at this sampling of Virginia authors.
If you read the Library's calendar of events you will see that several times a month the Library hosts talks and book signings by authors. The authors range from Pulitzer Prize winners and best-selling authors to those speaking about their first published book. We invite you to attend one of these free talks and hear some of the best authors in the country speak.
<< back to e-newsletter

Trustee Workshops Prove Popular
The Library Development and Networking Division offered a series of six public library trustee workshops this fall designed to help trustees understand their powers and duties. In Virginia the governance of the vast majority of public libraries is placed with citizens of the community, organized as a library board of trustees. As a result of this statutory process, board members are public officials and the powers delegated to them are a public trust. Library boards have both legal and practical responsibilities. They are responsible for carrying out their legal duties correctly and, consequently, are accountable under law for actions they take.
Boards of trustees represent the total community. They serve as a vital link between the library and the community, bringing the public's point of view and the needs of the community to the development of responsive library service.
Five of the six trustee workshops filled almost immediately. Some spaces are still available for the October 8 trustee workshop at the Loudoun County Public Library in Leesburg. For more information or to register, contact Cindy Church, 804-692-3773, cynthia.church@lva.virginia.gov.
To learn more about being a public library trustee, see the Virginia Public Library Trustee Handbook at http://www.lva.virginia.gov/lib-edu/LDND/trustee/.
<< back to e-newsletter