Library of Virginia Looking for Volunteers
If you love Virginia history and culture, libraries, and spending time talking about them, you might fit right in as a docent for the Library of Virginia.
The Library of Virginia is seeking enthusiastic, energetic, and dependable individuals to serve as volunteer docents. Docents are needed to greet and welcome visitors and to guide tours of and answer questions about the Library's changing exhibitions. Additionally, docents will serve as educational instructors for school-age visitors, and assist in the development of the Library's educational programs. On occasion, docents will assist with various support activities such as processing mass mailings or staffing special events.
Docents must have basic knowledge of the Library's history, facilities, and functions. Candidates should demonstrate knowledge, dedication, and passion for Virginia's history and a commitment to the educational function of libraries. Individuals selected as docents will receive training and preparatory walk-throughs of exhibitions led by curators and staff. Docents also receive discounts in the Virginia Shop and have access to private behind-the-scenes tours of the Library and its treasures.
Candidates will need to complete a Docent Application. Please visit our Web site at: www.lva.virginia.gov/volunteer for more information about this program and the application. Applications will be screened and candidates will be contacted if selected for an interview. Applications are due by July 30, 2010. Docents must be 18 years old or older. Candidates must pass a security background check.
The Library of Virginia, located in historic downtown Richmond, holds the world's most extensive collection of material about the Old Dominion and has been a steward of the commonwealth's documentary and printed heritage since 1823. The story of Virginia and Virginians has been told in many ways since 1607. At the Library of Virginia it is told through more than 110 million manuscripts and more than 1.8 million books, serials, bound periodicals, microfilm reels, newspapers, and state and federal documents, each an individual tile in the vast and colorful mosaic of Virginia's experience.
<< back to e-newsletter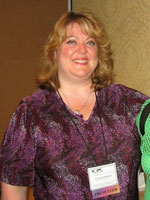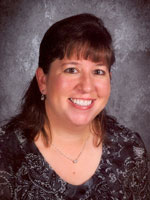 Anderson and Zecher Receive 2010 Anne and Ryland Brown Teacher Research Fellowships
The Library of Virginia is pleased to announce the second annual Anne and Ryland Brown Teacher Research Fellows for 2010.
Penny Anderson teaches world geography and advanced placement human geography at Riverbend High School in Fredericksburg. She is a graduate of Mary Washington College (now the University of Mary Washington) and earned a master's degree in professional teaching from George Mason University. In addition to her teaching duties, Anderson is an active member of the Virginia Geographic Alliance and has consulted for the last two years with National Geographic's "My Wonderful World" project. She will be working with the Library's map collection to create lesson plans that incorporate these resources into classrooms throughout the commonwealth.
Jennifer Zecher is a member of the faculty at Park View High School in Sterling, where she teaches U.S. history and advanced placement U.S. history. She earned a master's degree in secondary education from the College of William and Mary, and a master's degree in educational leadership from George Mason University. During her ten years at Park View, Zecher has demonstrated a creative approach to classroom instruction, successfully integrating primary sources and digital media into her lessons.
"Penny Anderson was a perfect fit to achieve our goal of maximizing the use of our map collection," said Tameka Hobbs, program and education manager of the Library of Virginia. "Additionally, the selection committee was impressed by Jennifer Zecher's employment of creative teaching techniques that incorporate technology and the use of primary sources. While we received several stellar applications, these two stood out from the other candidates."
Founded in 2009, the Anne and Ryland Brown Teacher Research Fellowship provides Virginia educators the opportunity to research and study a specific aspect of Virginia history and produce educational resources to support the Library of Virginia's ongoing exhibition and education programs. The award includes a stipend of $2,000 and a $500 allocation to cover fees and travel for conference presentations.

—submitted by Tameka Hobbs, Education and Outreach Services
<< back to e-newsletter

Archivists Launch "Out of the Box" Blog
Every box of records that arrives at the Library of Virginia is full of possibilities. We never know what we're going to find in even the most seemingly mundane record series. A joy of our work is sharing with colleagues and friends the images, documents, and stories that pique our interest as we process the collection. The Library's archivists want to share these discoveries with those outside our professional circle. Therefore, we are pleased to announce the official launch of the Out of the Box blog, a project of the Local Records, State Records, and Private Papers staff at the Library of Virginia. We hope to share the interesting things we find while processing the collection as well as something about the archival profession as practiced here at the Library.
The creation of the blog was a collaborative process involving staff members from Information Technology, Digital Imaging, and Graphic Design. Thanks go to the archival staff for submitting posts and sharing their work with the editors. Be sure to check out recent blog posts on cohabitation registers, Virginia's Web Archive, the Russell County chancery records, and more. Visit often. Make comments. Share your stories. We will update the blog every week with a new entry at http://www.virginiamemory.com/blogs/out_of_the_box/
<< back to e-newsletter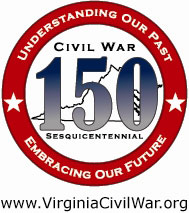 Library of Virginia to Lead Civil War 150 Legacy Project on Document Digitization and Access
The Virginia Sesquicentennial of the American Civil War Commission and the Library of Virginia have partnered to create a statewide online collection of original Civil War manuscripts that remain in private hands. The Civil War 150 Legacy Project focuses on manuscript materials created between 1860 and 1865 that reflect social, political, military, business, and religious life in Virginia during the period of the Civil War and the early period of Reconstruction.
Based on the Library's experience and recent acquisitions, many original manuscripts concerning the Civil War are still held and maintained in private collections. These items range from single letters and diaries to substantial collections of correspondence between soldiers and family at home. These firsthand accounts, often in fragile or deteriorating condition, are carefully guarded treasures that many families are reluctant to relinquish. By scanning these items and providing online access, the Legacy Project will allow individuals to retain their original items, yet preserve the intellectual and historical content of these valuable documents. Two archivists from the Library of Virginia will be leading the project: Renee Savits is coordinating the Eastern Region; and Laura Drake Davis is coordinating efforts in the Western Region. Savits and Davis will work with local committees to organize events across Virginia. At these events, teams of archivists will identify, scan, and describe these privately held manuscript materials for inclusion on the Web sites of both the Library of Virginia and the Virginia Sesquicentennial of the American Civil War Commission.
"This project will truly be the lasting legacy of Virginia's sesquicentennial commemoration," said Cheryl Jackson, executive director of the Virginia Sesquicentennial of the American Civil War Commission. "Local sesquicentennial committees throughout the state are eager for it to begin, and have pledged to be full partners in ensuring its success." A Web site for the legacy project can be found at http://www.virginiacivilwar.org/legacy/.
—submitted by Renee Savits and Laura Drake Davis, Archival and Records Management Services
<< back to e-newsletter

ALA and Scholastic Library Publishing Announce 2011 National Library Week Grant
Libraries across the United States are invited to apply for a $3,000 Scholastic Library Publishing National Library Week Grant, which will be awarded to a single library for the best public awareness campaign incorporating the 2011 National Library Week theme, Create your own story @ your library.
The grant is sponsored by Scholastic Library Publishing, a division of Scholastic, the global children's publishing, education, and media company, and is administered by the Public Awareness Committee of the American Library Association. This year's application deadline is October 1, 2010. National Library Week is April 10–16, 2011.
All proposals must use the Create your own story @ your library theme, which incorporates the "@ your library" brand from the Campaign for America's Libraries, on any and all promotional and publicity material supporting National Library Week activities. A grant application form and guidelines are available on the Scholastic Library Publishing National Library Week Grant Web site. Information is also available from the ALA Public Information Office. Telephone: 800-545-2433, ext. 2148. E-mail: mmcfarlane@ala.org.
—submitted by Megan McFarlane, ALA
<< back to e-newsletter

Visiting the Virtual Virginia Board of Public Works Map Collection
On February 5, 1816, the Virginia General Assembly established a "Fund for Internal Improvement," or Board of Public Works, for "the purpose of rendering navigable, and uniting the canals, the principal rivers, and of more intimately connecting, by public highways, the different parts of this Commonwealth" (Acts of Assembly, 1815–1816). The BPW was dissolved in 1902, and the materials were transferred to the Library of Virginia in 1903. The collection consists of more than 700 volumes and 80,000 items of which the maps account for 500.
The BPW map collection includes approximately 39 manuscript county maps drawn between 1817 and 1825 by John Wood, four state maps created between 1826 and 1859 by Herman Bőÿe, and a large selection of plans and drawings. Most of this collection contains maps related to the canal companies, especially the James River Company and the James River and Kanawha Company; railroads, many of which complement the Library's extensive Chesapeake and Ohio Railway manuscript map collection; and turnpike companies. The maps cover both Virginia and West Virginia and show details of counties, roads, rivers (including sections of the James), creeks, and canals. They include place-names, landowners, mills, "tobacco houses," businesses, churches, and landmarks. Not only do these maps provide useful information, but some are also gorgeous specimens of 19th-century cartography drafted in pen and ink with vibrant watercolor washes.
Over the years the Library of Virginia has provided access to these maps in various ways. Earl G. Swem included many of them in his Maps Relating to Virginia, first published in 1914. The Library published the Board of Public Works Inventory, which includes the maps, in 1978 and a second edition in 1996. In order to improve access to this collection, the Library is adding the maps along with descriptive metadata to the Virginia Memory. The BPW maps are essential for anyone interested in genealogy, Virginia and West Virginia state and county history, or Virginia cartographic history and geography. They are also useful for businesses, utilities, and organizations. Maintaining their accessibility in digital format will enable researchers to browse the collection and to view the maps clearly and closely. This format allows viewers to visit the BPW maps as a virtual collection, while it identifies what is available in the physical location. This project is to be completed by the end of this summer and can be visited at http://tinyurl.com/22l7mr3.
—submitted by Leah Thomas, Collection Management Services
<< back to e-newsletter

Preaching to the Choir: Recent Immigrants Explore the History of Immigration to Virginia
Imagine leading an exhibition tour for a group of young adults, all from different countries, all recently arrived in the United States, and trying to teach them about immigration. They should have been teaching us, the tour guides. In fact, they did a lot of nodding because just about everything we shared during our tour of The Land We Live In, The Land We Left: Virginia's People hit home with them. Members of this group of ESOL students (English for speakers of other languages) represented a wide variety of homelands: Iraq, Korea, Senegal, Latin America, Japan, Morocco, Ethiopia, and Iran. As newcomers to both the United States and the Library of Virginia, these visitors learned of the varied stories of other immigrants but also gained insight into American history, industries, religious experiences, and aspects of state and federal government. For example, they didn't know about Pocahontas, Chief Powhatan, or John Smith. They weren't aware that southwestern Virginia is a mountainous region rich with coal mines, or that Jewish people, despite years of discrimination, have had—and currently have—leading roles in many aspects of American life. They did not know that Richmond was the capital of the Confederacy or that the economy of the Confederacy was dependent on the labor of enslaved African Americans, originally immigrants from Africa.
What they did know was why they are here. This one group embodied many of the reasons that people come here, such as to escape difficult conditions in their home country, to go to school, and to join other family members. The theme of the loneliness of immigrants down through time resonated deeply with these visitors. They, too, experience the loss of "home"—their native country, community, and culture—and the major effort required to understand and adapt to a new place and people. The group agreed that not knowing the language was a huge problem. One young man, however, who came here as a refugee from Iraq ten years ago, seemed to be the member of the group most comfortable with English. While he stood and beamed, his teacher told me proudly that he had a job at Wal-Mart's food department. Interestingly, few of them seemed to relate to the idea of bringing artifacts from their home countries; perhaps those things did not seem so important to young adults.
The visitors reacted with smiles and nods, however, when we mentioned foods from their home countries. Love of food, the great common denominator! They agreed that food is an integral part of the traditions that they want to preserve and also share with their new American friends. They were delighted to learn of efforts by earlier immigrants—such as Pearl Fu or the many Greeks in Richmond—to share some of the traditions of their home countries through festivals and celebrations. They plan to attend future events.
The most popular item in the gallery was probably the large, colorful world map where visitors are encouraged to post sticky notes indicating their ancestral homelands. After eagerly writing their names and searching for open spots, they placed their tags among the many overlapping ones. The land they left…
It is safe to say that we have never had a group that seemed so sincerely moved by our exhibition or was as engaged in absorbing whatever tidbits they could understand. Their assignment to find the Richmond Times-Dispatch issue from their birth date was the perfect segue from the exhibition to the Library's services and resources. Their teachers deserve accolades for making that part of their experience at the Library of Virginia. We hope they return.
—submitted by Barbara Howson and Lucy Negus, Library of Virginia docents
<< back to e-newsletter

Snapshot Day Reveals Importance of State's Libraries
Libraries all over Virginia held a "Snapshot Day" between April 19 and 30 to collect information and photos illustrating the impact that Virginia libraries make in their communities on a typical day. Snapshot Day is a Virginia Library Association and Library of Virginia project, based on similar projects of the same name that began in New Jersey and have been held all over the country.
The results have been tabulated and show the value of libraries in communities across the state.
IN JUST ONE DAY:
91,871 books, movies, and more were borrowed from Virginia libraries
672 volunteer hours were logged at Virginia libraries
997 new borrowers were registered at Virginia libraries
32,488 people used computers at Virginia libraries
408 programs/classes were offered at Virginia libraries
7,210 general reference/research questions were answered at Virginia libraries
76 small business/business reference questions were answered at Virginia libraries
330 requests for employment-related assistance were answered at Virginia libraries
188 requests for other government assistance were answered at Virginia libraries
43 housing/mortgage/foreclosure questions were answered at Virginia libraries
121 consumer health questions were answered at Virginia libraries
<< back to e-newsletter

VCOG Seeks Nominations for Freedom of Information Awards
Do you know someone who works hard to keep government open and accountable? Have you read an article, seen a television show, or heard a radio program that helped you understand the importance of government records and meetings? Has someone in local or state government demonstrated a real commitment to citizen access to government information?
The Virginia Coalition for Open Government is seeking nominations for its annual Freedom of Information Awards. The awards are given in three categories: citizen, media, and government. They are based on the nominee's outstanding efforts in using public records and meetings to keep government open and accountable to the people.
The coalition's citizen award, the Laurence E. Richardson Award, is named for veteran Charlottesville broadcaster Laurence Richardson (1920–1999), a VCOG founder and longtime First Amendment and Freedom of Information supporter.
Last year's winners included a Christiansburg citizen-activist, a Bristol reporter, and the information technology departments of two Northern Virginia localities.
Carol Lindstrom received the Laurence E. Richardson Award for citizen contributions to open government for single-handedly creating a Web site for the town Christiansburg, which did not have a government site of its own. She spent more than $1,000 to obtain town records through FOIA and then post them on her site. When the town finally created its own site, Lindstrom continued to post documents that were unavailable on that site, as well as audio and video recordings of town council, planning commission, and other committee meetings.
Bristol Herald Courier reporter Mike Owens received the media award for his series of articles based on documents he obtained through FOIA requests. The documents revealed a kickback scheme between an Abingdon magistrate judge and his bail-bondsman father, which led to a state police investigation and the eventual firing of the magistrate.
Fairfax County and the City of Alexandria shared the government award for their aggressive and proactive use of new and existing technologies to solicit citizen input and educate citizens on a proposed railway transloading center in Alexandria and a projected $650 million revenue shortfall for Fairfax County's fiscal year 2010 budget.
Nominations should be accompanied by an explanation and any supporting materials (articles, letters, Web site links, etc.) that will help the judges evaluate the nominee's achievements.
A printable form is also available, and can be mailed to: VCOG, Attention: Awards, P.O. Box 2576, Williamsburg, VA 23187. Supporting materials can be mailed to the same address.
Winners will be announced in conjunction with the coalition's annual conference, October 21–22 in Richmond.
<< back to e-newsletter
Charlottesville poet Eleanor Ross Taylor, winner of the Library of Virginia's Poetry Prize in 2000 for Late Leisure, has won the American Poetry Foundation's Ruth Lilly Poetry Prize. The $100,000 award honors a living U.S. poet whose lifetime accomplishments warrant extraordinary recognition.
Barbara Kingsolver, a resident of southwest Virginia, has won the 15th Annual Orange Prize for fiction for The Lacuna, her sixth novel. The Orange Prize was established to honor novels by women, and is judged exclusively by women. Kingsolver will take home about $45,000. The Lacuna is a fiction nominee for the 2010 Library of Virginia Literary Awards. In 2008 Kingsolver's nonfiction work, Animal, Vegetable, Miracle: A Year of Food, was a nonfiction finalist for the Library of Virginia Literary Awards.
<< back to e-newsletter

On Wednesday, August 25, Rebecca Skloot will be at the Library at 6:00 PM to discuss and sign The Immortal Life of Henrietta Lacks, her intriguing and moving account of a woman who died of cancer in 1951 but lives on through cells taken from her tumor while she was undergoing surgery. Her name was Henrietta Lacks, but scientists know her as HeLa. She was a poor southern tobacco farmer who worked the same land as her slave ancestors, yet her cells—taken without her knowledge—became one of the most important tools in medicine. The first "immortal" human cells grown in culture, they are still alive today, though she has been dead for more than 60 years.
This line of continuously reproducing cells has been used for medical research resulting in some of the most important medical advances of our time. HeLa cells were essential to developing the polio vaccine. NASA launched HeLa cells into space to see what would happen to cells in zero gravity. Many scientific and medical experiments have used her cells, including cloning, gene mapping, and in vitro fertilization.
Journalist and professor Skloot takes us on an extraordinary journey, from the "colored" ward of Johns Hopkins Hospital in the 1950s to stark white laboratories with freezers full of HeLa cells; from Lacks's small, dying hometown of Clover, Virginia, to East Baltimore today, where her children and grandchildren live, and struggle with the legacy of her cells. The Immortal Life of Henrietta Lacks is an important and provocative story of racism, greed, science, and ethics.
<< back to e-newsletter