Thomas Jefferson Gubernatorial Papers Named One of Virginia's Top 10 Endangered Artifacts
The Executive Papers and Letterbooks of Governor Thomas Jefferson (1779-1781), currently under conservation by the Library of Virginia, have been named one of Virginia's top 10 endangered artifacts by the Virginia Collections Initiativeand theVirginia Association of Museums. The collection of nearly 2,000 manuscript items documents Jefferson's service as the second governor of the Commonwealth of Virginia and addresses the challenges he faced negotiating the terms of the Articles of Confederation, confronting the challenges of governance during the Revolutionary War, managing relations with Native Americans, and negotiating the boundaries of Virginia and its neighbors, among many others.
Virginia's Top 10 Endangered Artifacts program was designed to create awareness of the importance of preserving artifacts in the care of museums, libraries, and archives throughout the Commonwealth of Virginia. Thanks to a grant from the Save America's Treasures program, this collection is currently being conserved and digitized, which will make it accessible worldwide. For more information or to contribute to the completion of this restoration project, please call Dan Stackhouse at 804-692-3813.
-submitted by Dan Stackhouse, Library of Virginia Foundation.
<< back to e-newsletter

Camden and Crawford Win Inaugural Spirit of Philanthropy Award
Tom Camden, director of Special Collections, and Greg Crawford, Local Records Services manager, received the newly instituted Spirit of Philanthropy Award from the Library of Virginia Foundation Board on November 17. This award will be given to a Library of Virginia staff member on a quarterly basis. Recipients will be recognized at the Foundation Board Meeting.
"So many staff at the Library go above and beyond every day to help the Foundation, and it was a tough choice to select the first recipients," said Mary Beth McIntire, Foundation executive director. "Both Tom and Greg are extraordinarily effective ambassadors for the Library and the Foundation and do an amazing job helping history come to life."
Tom Camden is well known to visitors to the Library for the dynamic tours he gives of Special Collections, where he brings history alive while showing off the Library's incredible materials. He also serves as an ambassador for the Library through his interaction with staff in the State Capitol and the Executive Mansion as well as with professional groups and organizations around the state. His expertise, enthusiasm, and commitment to the Library have been essential to several donations and items for the collections recently received by the Library.
Greg Crawford has played a key role in increasing the visibility of the importance of local records and archival records in general. He has assisted the Exhibitions Program by providing resources for exhibitions and recently helped organize with Dale Neighbors and Barbara Batson the Library's Connect with Us exhibition. He and Bari Helms are leading a social media campaign tied to the exhibition encouraging greater engagement with the Library's social media outlets. He reached out to public library directors and civic groups to offer talks on the Library's local records and Circuit Court Chancery Records Index.
Award criteria include:
Demonstrates an understanding of the important role that philanthropy plays in the Library's vision
Acts as an effective ambassador for the Library and Foundation in the community
Promotes collaboration between Library and Foundation staff
Works with Foundation staff to identity and solicit private support opportunities
<< back to e-newsletter

Receive 30% Off Orders on Holiday Items through December 30
"But I am sure that I have always thought of Christmas time, when it has come round... as a good time; a kind, forgiving, charitable, pleasant time; the only time I know of, in the long calendar of the year, when men and women seem by one consent to open their shut-up hearts freely."
-Charles Dickens, A Christmas Carol
'Tis the season, indeed! Time to deck the halls and bake sweet treats for those gatherings of loved ones. Let us help you prepare the house for those free-roaming hearts! The Virginia Shop has an excellent selection of holiday items, from ornaments to tableware to gingerbread kits, and they are on sale now: take 30 percent off until December 30. For more information, call the Virginia Shop at 804-692-3524.
<< back to e-newsletter

American Letterpress Preview Attracts Over 250 Guests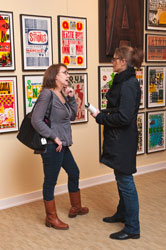 On Friday, December 2, more than 250 people came to the Library for the preview of American Letterpress: The Art of the Hatch Show Print. The Library offered special docent-led tours of the exhibition. Jim Sherraden, exhibition curator, gave an engaging talk on the history of Hatch Show Print and autographed copies of Hatch Show Print: The History of a Great American Poster Shop (available for purchase in the Virginia Shop, 804-692-3524). The event also featured complimentary refreshments, a wine tasting of Trinchero Family Estates' The Show wines featuring labels created in collaboration with Nashville's Hatch Show Print. Music was provided by the Library's own incomparable Gregg Kimball, and Art on Wheels created and sold colorful tote bags featuring the Virginia Shop's logo.
American Letterpress: The Art of the Hatch Show Print runs through February 4. Organized by Smithsonian Institution Traveling Exhibitions Service (SITES), in collaboration with the Country Music Hall of FameŽ and Museum, with support by America's Jazz Heritage, a partnership of the Wallace Foundation, the exhibition includes original posters (including authorized restrikes from vintage blocks and contemporary restrikes) and hand-carved wooden printing blocks.
<< back to e-newsletter

Please Remember the Semper Virginia Society in Your End-of-Year Giving
The Semper Virginia Society exists to provide vital private support for Library programs, including acquisition of new materials, conservation of our treasured collections, the continued digitization of our archive, and funding for the exhibitions and educational programs enjoyed by tens of thousands of visitors each year. We have bold plans for the future of this institution, and to realize them we need your help. Your tax-deductible gift will help us continue to keep the stories of the people of Virginia alive for generations to come. Please help if you are able by visiting www.lva.virginia.gov/involved/semper.asp or sending your contribution to the Library of Virginia Foundation, 800 East Broad Street, Richmond, VA 23235. Please call 804-692-3813 with any questions you might have. Thank you for your belief in what we do.
-submitted by Dan Stackhouse, Library of Virginia Foundation
<< back to e-newsletter
Visit Shutterfly to See Photographs from This Year's Literary Awards
If you attended the 14th Annual Library of Virginia Awards Celebration, you know what a marvelous event it was. Great company, wonderful writers, a special appearance by Richard Thomas (John-Boy Walton), the incomparable Adriana Trigiani as host, the self-effacing Earl Hamner, and heartfelt remarks from this year's winners made the night special. As one guest said, "The Library of Virginia's literary awards celebration is the Academy Awards for Virginia authors-special in every way."
Pierre Courtois and Paige Buchbinder, the Library's talented photographers, documented the night's festivities. To see the photographs from the Celebration and order prints, visit Shutterfly at http://www.shutterfly.com/progal/gallery.jsp?gid=768a5498ce7e6382b717.
<< back to e-newsletter
The Prints and Photographs Collection at the Library of Virginia provides an astonishing visual account of the commonwealth-from its beginnings to the present-through single items, such as one-of-a-kind daguerreotypes, to sprawling collections with many thousands of photos and related documentation, and everything in between: 19th- and 20th-century family albums, posters, scrapbooks, ephemera, bookplates, postcards, lithographs, etchings, engravings, drawings, all manner of photographic prints, film and glass-plate negatives, 35mm slides, and images digitally inscribed onto compact discs.
To give this rich collection of more than 500,000 items greater visibility, staff members have created Multiple Exposure, a blog that examines collections or single items. Blog entries relate how the collection or item came to the Library, descriptions of the collection, and related items in the Library's collections. Featured collections have included the J. Bohannon Poster Collection, the Carney Christopher Scrapbook and Ephemera Collection, a collection of Virginia Department of Labor and Industry safety posters from the 1950s through the mid-1970s, and a Hampton Institute Photograph Album (ca. 1880-1980). Check out Multiple Exposure at http://www.virginiamemory.com/blogs/multiple_exposure/
<< back to e-newsletter

Lost and Found Exhibition to Open February 27
The fabric of our world is constantly changing. Things disappear from our cultural landscape, sometimes almost without notice-signs, buildings, even towns-and others go into attics, basements, and landfills. Some are saved and carefully stored and preserved; others intentionally destroyed.
On February 27, Lost and Found, an exhibition examining the constantly changing fabric of our world, will open at the Library of Virginia and run through August 25, 2012. The exhibition highlights some poignant examples of things saved such as personal letters- some never shared with their intended recipients-as well as examples of private letters and diaries from public figures that were destroyed rather than shared with the public. Losses of records caused by fires, natural disasters, theft, and technology are showcased. The exhibition asks us to consider what we keep or collect. What things are important to our personal stories?
<< back to e-newsletter

Library Visits Top 1.6 Billion
The ways in which Americans use libraries changed significantly in the decade ending in 2009 as libraries adapted to meet the evolving needs of their users. These changes are keeping libraries relevant, vibrant places as evidenced by a 24.4 percent increase in visits per capita in the last ten years, with total visits increasing by nearly 40 percent. In 2009 (the most recent data available), libraries were visited a record-breaking 1.59 billion times, according to the Institute of Museum and Library Services' (IMLS) report on the FY2009 Public Library Survey, a census of public libraries in the 50 states, the District of Columbia, and the territories conducted annually by IMLS.
IMLS analysis of the data showed that per capita visits and circulation rose in the century's first decade. The number of public libraries increased during that period, but not enough to keep pace with the rise in population. Library staffing remained stable, though the percentage of public libraries with degreed and accredited librarians increased.
The report also found that the nature and composition of collections in U.S. public libraries is changing, indicating that library collections are becoming more varied. Although the volume of print materials decreased over the 10 years studied, collections overall continued to grow because of increases in the number of audio, video, and electronic book materials.
The role of public libraries in providing Internet resources to the public also continued to increase. According to the report, the availability of Internet-ready computer terminals in public libraries doubled over the course of the decade.
-submitted by Kevin O'Connell and Mamie Bittner, Institute of Museum and Library Services
<< back to e-newsletter

Poetry Prize Winner Dies at 96
Acclaimed poet Ruth Stone, who won the Library of Virginia Literary Award in poetry for In the Dark in 2005, has died at age 96 of natural causes at her home in Vermont. Her winning volume alluded to her failing eyesight and examined the issues of memory, aging, and loss.
She was born in 1915 in Roanoke and began writing poetry when she was five or six, but did not receive recognition until she was in her eighties. She divorced her first husband and married poet Walter Stone in 1945. His suicide while on sabbatical leave in London would become a part of her poetry for the remainder of her life.
Her first book of poetry, In an Iridescent Time, was published in 1959. Widowed with three children, Stone taught creative writing and English at universities across the United States to support her family. She did not publish her next collection, Topography and Other Poems, until 1971. It would be 15 years before her third volume, American Milk, was released. In all, she wrote 13 books of poetry.
Stone won the National Book Award in 2002 for In the Next Galaxy and was named a finalist for the Pulitzer Prize in 2009 for What Love Comes To. In July 2007, she was named poet laureate of Vermont.
<< back to e-newsletter