Cast Your Vote for the Ninth Annual People's Choice Awards
The Library of Virginia is pleased to sponsor the Ninth Annual People's Choice Awards. Finalists in fiction and nonfiction were selected by an independent panel of judges from the books nominated, and winners will be announced at the 15th Annual Library of Virginia Literary Awards at the Library of Virginia. Awards are given for the best fiction and nonfiction books by Virginia authors; in the case of nonfiction, books on a Virginia subject that have been published in the past year are eligible.
The winners will be chosen by votes from the public from among five finalists in each category. Readers may vote in public libraries or online at the Library of Virginia's Web site, www.lva.virginia.gov/public/litawards/vote.asp. Voting for the People's Choice Awards runs from May 14 through June 29, 2012.
This year's fiction finalists for the People's Choice Awards are:
Washed in the Blood by Lisa Alther
The Sixth Man by David Baldacci
A Nose for Justice by Rita Mae Brown
The Scrapbook of Frankie Pratt by Caroline Preston
The Reservoir by John Milliken Thompson
The nonfiction finalists are:
The Good Daughter by Jasmin Darznik
Virginia at War, 1865 by William C. Davis and James I. Robertson
Lost Communities of Virginia by Terri Fisher and Kirsten Sparenborg
Midnight Rising: John Brown and the Raid that Sparked the Civil War by Tony Horwitz
Seeing Trees: Discover the Extraordinary Secrets of Everyday Trees by Nancy Ross Hugo
Winners will be announced on October 20, 2012, at the 15th Annual Library of Virginia Literary Awards Celebration presented by Dominion and the Richmond Times-Dispatch.
<< back to e-newsletter

Apply Now for the 2012 Anne and Ryland Brown Teacher Research Fellowship
The Library of Virginia is pleased to announce the 2012 Anne and Ryland Brown Teacher Research Fellowship. The goal of the program is to enhance knowledge and training in history and social science instruction in the commonwealth of Virginia by providing educators with an opportunity for in-depth study and the development of teaching materials in collaboration with both teaching colleagues and members of the Library of Virginia's professional staff.
Under the program, Virginia educators research and study a specific aspect of Virginia history and produce educational materials such as lesson plans and curriculum guides based on the results of their findings. Over the course of 40 hours of research during the summer and consultations throughout the year, the Brown Fellows will work with staff members of the Library of Virginia to pursue research on the year's selected topic: Law and Justice.
The Brown Teacher Research Fellowship includes:
A stipend of $2,000 for each recipient
Up to $500 reimbursement for travel to an approved conference as a presenter
Eligible candidates for the Brown Teacher Research Fellowship must:
Be residents of Virginia
Have a minimum of three years of teaching experience in history and/or social science, two of which must be in 4th-12th grade education
Exhibit the use of creative and engaging teaching techniques in the classroom
Demonstrate a commitment to the use of primary sources as a part of classroom instruction
Be available to complete 40 hours of research on-site at Library of Virginia in July-August of 2012
Applications must include:
A résumé
A 400-word statement of interest outlining the candidate's reasons for applying for the fellowship and teaching philosophy, defining a theme/topic for research, and addressing what he or she hopes to gain from the experience
A letter of support from an immediate supervisor
A sample lesson plan demonstrating the use of primary sources, along with examples of student work based on the lesson, if available
DEADLINE: Applications deadline ended Tuesday, May 15, 2012
<< back to e-newsletter

Early Warwick County Court Records Returned to Virginia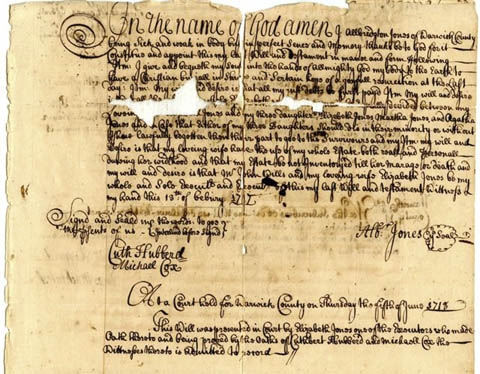 The Library of Virginia recently recovered seven documents that had been removed from the Warwick County (now city of Newport News) courthouse by a Massachusetts soldier during the Peninsula Campaign in April 1862.  The court records, dated from 1688 to 1751, include wills, a bond, and other legal documents and were discovered by Danvers, Massachusetts town archivist Richard Trask among the Putnam family papers in the Danvers Archival Center at the Peabody Institute Library. The documents were returned to Carl Childs, Director of the Library's Local Records Services Branch in a ceremony held in the Gordon Room of the Peabody Institute Library in Danvers on April 30.
Wallace A. Putnam, a second lieutenant in the 10th Massachusetts Regiment, arrived at Warwick courthouse on April 5, 1862, taking the documents from the clerk's office as a souvenir of his war service, later shipping the documents back to his family in Massachusetts.  Putnam was seriously injured by a shot to the head in the battle of North Anna in May 1864. Sent home to his native Massachusetts to convalesce, he eventually died from his injuries in June 1864.
These documents are of particular importance to researchers since the vast majority of pre-Civil War Warwick County records were destroyed by fire. One of the original Virginia shires created in 1634, Warwick County suffered a number of records losses, mainly during the Civil War period. The clerk's office was burned on December 15,1864 with both county court minute books and loose records from 1787 to 1819 destroyed by the fire. Additional records were burned in Richmond on April 3, 1865, where they had been moved for safekeeping during the War. Ironically, if Putnam had not removed these records during his 1862 visit to Warwick, they likely also would have been destroyed in the subsequent fires.
Now returned to Virginia, the fragile documents require professional conservation work before they can be reformatted, indexed, and made available to the public for research. The documents will be cleaned and mended and a custom archival storage box will be made to ensure their long-term preservation.
You can help ensure that these important documents are available for future researchers by making a donation to the Adopt Virginia History program. The Adopt Virginia's History program supports the Library's conservation efforts and helps preserve our state's collective memory. It is estimated that conservation of this priceless part of Warwick County history will cost $2,300.00.  For more information about the Adopt Virginia's History program, please contact Katarina Spears, director of development at 804-692-3813 or katarina.spears@lva.virginia.gov.
-submitted by Carl Childs, Archives, Records, and Collection Services
<< back to e-newsletter
Remote Access to Sanborn Fire Insurance Maps of Virginia Localities Available
The Sanborn Maps Geo Edition (1867-1970) database provides digital access to thousands of large-scale maps of Virginia towns and cities, searchable by address and GPS coordinates. Your Library of Virginia library card is your key to exploring this amazing resource. Stop by the Library to get a card today and then visit the Library's Using the Collections page to begin your research.
Sanborn fire insurance maps are large-scale plans used to estimate the potential risk for urban structures. Founded in 1867 by D. A. Sanborn, the Sanborn Map Company was the primary American publisher of fire insurance maps for nearly 100 years. They are the most frequently consulted maps in libraries and are a valuable tool for urban planners, social historians, architects, environmentalists, geographers, genealogists, local historians, and anyone who wants to learn about the history, growth, and development of cities, towns, and neighborhoods.
The maps include building outlines, size, use, and construction details; street names; street and sidewalk widths; property boundaries; and house and block numbers, as well as features such as pipelines, railroads, wells, and dumps. The database allows users to layer maps from different years on top of each other and over modern street, satellite, and hybrid images.
Construction details are often given on the plans with shading indicating different building materials and symbols showing building use (e.g., garage, warehouse, etc.). Names of factory owners and manufacturing details are listed, and for large factories or commercial buildings, individual rooms and the uses to which they were put are often shown.
-submitted by Lisa Wehrmann, Public Services and Outreach
<< back to e-newsletter

American Libraries Gives Accolades to Four Virginia Libraries
Central Rappahannock Regional Library (England Run Branch), Appomattox Regional Library (Prince George Branch), Roanoke County Library (South County Branch) and Old Dominion University (Patricia W. and J. Douglas Perry Library) are included in American Libraries' annual review of the best in new and renovated library facilities.
The 30,775-sq.-ft. England Run Branch of the Central Rappahannock Library in Fredericksburg was honored for its youth spaces and its innovative incorporation of technology. Among the features drawing praise were the wave wall for the teen book collection with built-in seating, the adjacent teen lounge equipped with vending machines, the room for children filled with early-learning materials and a hobbit-hole entry children can slide through, and a crawlers' corral for babies and toddlers. The $10.5-million new branch also received high marks in the technology-enabled category for the plasma screens and walk-up computers found throughout the building, as well as its many computers and Wi-Fi access. The architectural firm responsible for the branch's design was the Lukmire Partnership, located in Arlington.
The Prince George Branch of Appomattox Regional Library was recognized for its use of outdoor space as a design element. The 12,000-sq.-ft. branch designed by Enteros Design PC, located in Petersburg, cost $2.5 million and features a circular story-time area formed by the inside of a simulated silo. Outside the silo is a performance space with seating designed to offer flexibility for library events and outside space for younger children. The library's café has glass walls to further promote an outdoor ambience.
The 54,000-sq.-ft. South County Branch of the Roanoke County Library was chosen for service flexibility and the shape of things. HBM Architects in Roanoke is the firm responsible for the branch's design. The $18-million new construction doubles as a community center with large meeting rooms, a 200-seat auditorium, café, bookstore, and special room for young adults. All of these spaces are accessible outside of normal library hours. In addition, the library offers community reading gardens, access to walking and bike paths, and drive-up service. American Libraries also gave a nod to the South County Branch for its whimsical circular entrance to the children's section, complete with built-in book display.
Old Dominion University's new Patricia W. and Douglas Perry Library received recognition in the collaborative learning area. This $12.9-million renovation and expansion by architectural and engineering firm Clark Nexsen includes six collaboration rooms for four to six people and one larger room for up to ten people as part of its learning commons. The rooms allow students to practice for class presentations using the same interactive technology found throughout the university.
<< back to e-newsletter

Brooks Selected to Attend Archives Leadership Institute
Vincent Brooks, senior local records archivist at the Library of Virginia, has been accepted to attend the fourth annual Archives Leadership Institute at the University of Wisconsin. The ALI will be held July 22-28, 2012. Produced by Wisconsin University's School of Library and Information Studies, the program is directed primarily at mid-level-to-senior staff and archivists who aspire to leadership roles in their organizations and/or professional associations.
Brooks will join 24 other selected archivists for a mix of panels, workshops, and small-group discussions exploring topics such as policy issues for archivists, communication and media relations, legislative advocacy, strategies and sources for funding, and collaboration and coalition building. The week-long event features presentations by dynamic people in the archival field and relevant leaders from outside the profession. The goal is to examine the leadership needs of the archives profession and to prepare participants to influence policy and effect change on behalf of the profession and, ultimately, on behalf the public served now and in the future.
-submitted by Carl Childs, Archives, Records and Collections Services
<< back to e-newsletter
This spring at the Library of Virginia, we are driven by the power of "RE." Whether it's RE-kindling a love of Virginia history in a student, RE-storing an old book or document, RE-vealing a hidden truth found in our collection, or RE-juvenating a family tree, we are dedicated every day to finding new things to celebrate about our shared history and culture. The donors to the Library of Virginia Foundation help make each of these things possible. Your tax-deductible gift to the Library of Virginia Foundation will make an immediate difference to our staff, collections, and programs. So whether it's new or RE-new, please consider making a gift today by visiting www.lva.virginia.gov/donate or calling 804-692-3813.
<< back to e-newsletter

Library of Virginia Participates in Award-Winning Program
The Association of Southeastern Research Libraries (ASERL) is the recipient of the 2012 "Documents to the People" Award for the innovative Collaborative Federal Depository Program (CFDP). The Award was given in recognition of its "achievable and sustainable plan for the development and preservation of comprehensive [federal document] depository collections on a multi-state level."
The program seeks to create "Centers of Excellence" within federal depository libraries in the Southeast, to develop comprehensive-as-possible documents collections relating to a government agency, Superintendent of Documents class stem, subject matter, or format. Centers of Excellence (CoEs) allow researchers to identify the best documents collections for their selected areas. The Library of Virginia serves as the Center of Excellence for the Board of Publication. This collection consists primarily of post-World War II interviews with German industrialists, many of which describe their wartime operations. CoEs are required to catalog, preserve, maintain, and make accessible the collections under their care. In addition, the collections are supported by expert librarians who manage the CoEs. More than thirty libraries in the Southeast are participating in the program. Development of the program has been supported by a 2009 grant from the Institute of Museum and Library Services as well as by the Government Printing Office. Mary Clark, director of Acquisitions and Access Management at the Library, has been a member of the grant's steering committee since 2009 and has served as chair since 2010.
The "Documents to the People" Award will be presented to the Association of Southeastern Research Libraries at the American Library Association's annual meeting in June in Anaheim, California. The award is sponsored by ProQuest, the American Library Association, and the Government Documents Roundtable of ALA, and is given each year to the person or organization that has most effectively promoted the use of government publications in support of library science.
<< back to e-newsletter

Treadway Elected to Lyrasis Board of Trustees
Librarian of Virginia and State Archivist Sandra G. Treadway has been elected to the Board of Trustees of Lyrasis for a three-year term. Lyrasis, a nonprofit membership organization, partners with member libraries to create access to and manage information, while building and sustaining collaboration, enhancing library and technology operations, and increasing buying power. Lyrasis helps libraries operate more effectively by providing expanded access to valuable resources and professional expertise in content creation and management. Composed of more than 1,700 members, and serving hundreds more through group arrangements, the diverse Lyrasis membership is located primarily in the Mid-Atlantic, Northeast, Southeast, and West regions of the United States.
Other new members of the Lyrasis board are Ann Watson, dean of the library, Shepherd University (West Virginia); Cynthia Henderson, executive director of the Louis Stokes Health Sciences Library at Howard University (Washington, DC); and Kathlin Ray, dean of libraries, University of Nevada, Reno.
<< back to e-newsletter