Tom Robbins to Receive Literary Lifetime Achievement Award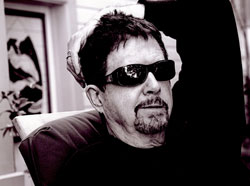 Counterculture figure Tom Robbins, known for his irreverent style, vibrant characters, and offbeat plots, will be honored by the Library of Virginia with its 2012 Literary Lifetime Achievement Award at the 15th Annual Literary Awards Celebration on October 20, 2012. Robbins is best-known for his 1976 novel, Even Cowgirls Get the Blues. Critic William Baker, reviewing the book in The Antioch Review, said "Fitzgerald's This Side of Paradise was IT for the twenties. Salinger's Catcher in the Rye was IT for the fifties.Robbins' Cowgirls may be IT for the seventies."
Born in 1936 in Blowing Rock, North Carolina, Robbins and his family moved to Warsaw, Virginia, in 1942. He graduated from Hargrave Military Academy in Chatham, Virginia, and went to Washington and Lee University, but left after his sophomore year. He enlisted in the Air Force and served in Korea as a meteorologist. After his stint in the service he returned to Virginia and enrolled in the Richmond Professional Institute (now Virginia Commonwealth University). He was editor of the college newspaper and worked on the sports desk of the Richmond Times-Dispatch. Shortly after graduation he joined the staff of the Times-Dispatch as a copy editor.
Robbins eventually ended up in Seattle, where he was accepted at the University of Washington's School of Far Eastern Studies and also worked as an art critic and copy editor for the Seattle Times. He soon left school to work full time, but in 1963 quit. After a year-long sojourn in New York City, he returned to Seattle and worked as a DJ at an alternative Seattle FM radio station and wrote for The Helix, the free counterculture paper. To support himself he worked part-time for the Seattle Post-Intelligencer.
His first book, Another Roadside Attraction, received critical acclaim but little commercial success as a hardcover release. He is the author of nine books and numerous articles. Robbins was named by Writer's Digest as one of the "Top 100 Writers of the 20th Century" and has been recognized with numerous awards, including the Golden Umbrella from Seattle Bumbershoot Arts Festival for lifetime achievement in arts and Willamette Writers' Distinguished Northwest Writer award in 2001.
His novels and other collected works include:
Another Roadside Attraction (1971)
Even Cowgirls Get the Blues (1976)
Still Life with Woodpecker (1980)
Jitterbug Perfume (1984)
Skinny Legs and All (1990)
Half Asleep in Frog Pajamas (1994)
Fierce Invalids Home from Hot Climates (2000)
Villa Incognito (2003)
Wild Ducks Flying Backward (2005) - a collection of nonfiction essays, reviews, and short stories.
B Is for Beer (2009)
<< back to e-newsletter

Finalists for Cardozo Children's Literature Award Announced
The Library of Virginia is pleased to announce the finalists for the 2012 Whitney and Scott Cardozo Award for Children's Literature. A juried panel reviewed 31 titles with a publication date of 2011 from authors whose works focused on literature for children ages three through ten. Nominated titles were accepted from the greater mid-Atlantic region.
The finalists are:
Balloons Over Broadway, by Melissa Sweet
Over and Under the Snow, by Kate Messner, illustrated by Christopher Silas Neal
Raj, the Bookstore Tiger, by Kathleen Pelley, illustrated by Paige Keiser
Stars, by Mary Lyn Ray and Marla Frazee
When a Dragon Moves In, by Jodi Moore, illustrated by Howard McWilliam
The winner will be chosen through public voting, and children and adults are invited to read each finalist's book and vote for their favorite. Voting boxes are now available at the Library of Virginia and at Richmond-area public libraries. Voting is also available online by visiting www.lva.virginia.gov/public/litawards/vote.asp. Voting will take place through August 3. The Cardozo Award was established in 2007 to recognize outstanding works of children's literature. The winner, who receives a $2,500 monetary prize, will be honored at the 15th Annual Library of Virginia Literary Awards celebration on October 20, 2012.
<< back to e-newsletter

Jessica Arnold and Stephanie Burr Selected as 2012 Anne and Ryland Brown Teacher Research Fellows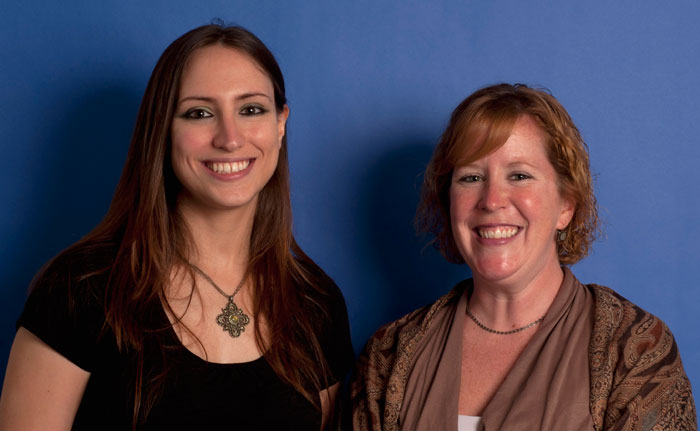 The Library of Virginia is pleased to announce the Anne and Ryland Brown Teacher Research Fellows for 2012.
Jessica Arnold teaches U.S. history, civics, and economics at Robious Middle School in Chesterfield, Virginia. She is a graduate of Radford University and is currently finishing coursework toward an endorsement in gifted education from the University of Virginia. Arnold has coached several student delegations in governmental simulations based on the U.S. Congress and the United Nations. As she describes it, simulations are "the perfect storm of applied knowledge, engagement, and fun!" Her research of the Library's extensive collections will shape the development of classroom activities that will immerse students in the state's history.
Stephanie Burr received her bachelor of arts in history from the University of Richmond and is currently applying it to her work as a teacher of U.S. history and global studies at the Maggie L. Walker Governor's School for Government and International Relations in Richmond. "It is my job as a teacher to not only teach essential content," she explained in her application, "but, more importantly, to inspire curiosity in students." In addition to her duties at Maggie Walker, she serves on the Board of Directors of the Virginia Council for the Social Studies.
"We had an outstanding pool of applicants to choose from this year," said Mark Howell, program and education manager at the Library of Virginia. "Jessica's and Stephanie's applications convinced us that they are both dedicated to creating rich and meaningful learning experiences for students by using primary sources. The passion and creativity they exhibited really stood out to the selection committee this year."
Founded in 2009, the Anne and Ryland Brown Teacher Research Fellowship provides Virginia educators the opportunity to research and study a specific aspect of Virginia history and produce educational resources to support the Library of Virginia's ongoing exhibition and education programs. The award includes a stipend of $2,000 and a $500 allocation to cover fees and travel for conference presentations.
-submitted by Mark Howell, Public Services and Outreach
<< back to e-newsletter
Discovery Café Coming to LVA in August
Discovery Café will be a new fixture in the Library of Virginia lobby and will be managed by executive chef Kelly McCabe, already a downtown Richmond favorite for his food carts outside Virginia Commonwealth University Medical Center that feature paninis, burritos, and Mediterranean-style food. The new café will open in early August with a daily selection of wraps, fresh soups, sandwiches, salads, and a hot lunch special. Stay tuned for coupons and special deals to celebrate the opening of the new café.
<< back to e-newsletter

You Have No Right: Law & Justice Exhibition to Open on September 24
The history and actions of Virginians provide a persuasive set of examples by which to understand the role of the law in defining and protecting the rights and liberties of American citizenship. Law, justice, and the legal culture are the results of the actions of citizens as well as of the men and women who hold public office or serve the public as officers of the courts. Legislators make the laws, and judges interpret and apply the laws, but voters, citizens, and participants in the legal process also influence our laws and how courts and other legal institutions function.
Using Virginia cases-and the stories of the people behind them-You Have No Right: Law and Justice will demonstrate how the law affects individuals directly and how people have used the law to achieve political and social goals. Using original records and electronic resources to convey the themes of human rights, citizenship, and the rule of lawin a lively and engaging presentation, visitors will explore such questions as:
Who is a citizen?
How can ordinary people use the law to affect change?
Do you have a right to have children or marry the person you love?
Can the government take your land for public use?
Why must a prosecutor prove guilt but a defense attorney need not prove innocence?
The exhibition will run through May 18, 2013, at the Library of Virginia and feature several complementary programs. In addition to the installation at the Library of Virginia, a companion exhibition will travel free of charge to the commonwealth's libraries and museums statewide.
-submitted by Barbara Batson, Education and Outreach Services
<< back to e-newsletter

Oberndorf to Lead State Library Board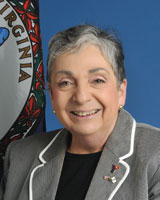 Meyera E. Oberndorf, of Virginia Beach, has been elected chair of the Library Board. She was appointed to the board in 2009 by Governor Tim Kaine, and served as vice chair from July 1, 2011, through June 30, 2012. In 1976, with her election to the Virginia Beach City Council, Oberndorf became the first woman elected to public office in the city. In 1988 she became the first directly elected mayor and the first woman mayor in Virginia Beach's history, serving until 2008. Oberndorf served as chair of the Virginia Beach Public Library Board from 1967 until 1976. The Virginia Beach City Council renamed the city's Central Library in her honor in 2008.
Dr. Mark Emblidge, of Richmond, was elected vice chair of the Library Board. He was appointed to the board by Governor Tim Kaine in 2009. He currently serves as an affiliate professor at the School of Education at Virginia Commonwealth University. In 2004 Emblidge became the director of the Literacy Institute at VCU, which provides research and development projects that study the problems of illiteracy. He is a former chair of the state Board of Education, is one of the founders and current director of the Virginia Literacy Foundation, and is the founding director of Communities in Schools of Virginia. CIS develops alternative remedies for at-risk students who are in danger of dropping out of high school.
<< back to e-newsletter

Read Historical Newspapers from Home!
The Library of Virginia provides online access to the historical Norfolk Journal and Guide and Washington Post newspapers, both of which are excellent primary sources for research on historical Virginia news and events.
The Norfolk Journal and Guide (1921-2003) had a circulation of more than 80,000 by the 1940s. It encouraged African Americans to vote, argued against restrictive covenants, and was one of only a few black newspapers to provide on-site coverage of the Scottsboro trials in the 1930s. Unlike many other black newspapers, it campaigned against the Great Migration of southern laborers to the North.
The Washington Post (1877-1995) was the first newspaper in Washington to publish seven days a week. It's probably best-known for its coverage of the Watergate scandal in the early 1970s. Today it continues to be known for its in-depth investigative reporting, first-rate photo essays, and Pulitzer Prize-winning editorial writing.
Each newspaper issue is complete, cover-to-cover, with full-page and article images in an easily downloadable PDF format. Search options include keyword, article type (front page, editorial cartoon, obituary, etc.), date or date ranges, and author.
Your Library of Virginia library card is your key to exploring these wonderful resources. Stop by the Library to get a card today and then visit the Library's Using the Collections page to begin your research.
-submitted by Lisa Wehrmann, Public Services and Outreach
<< back to e-newsletter

First State Archivist Remembered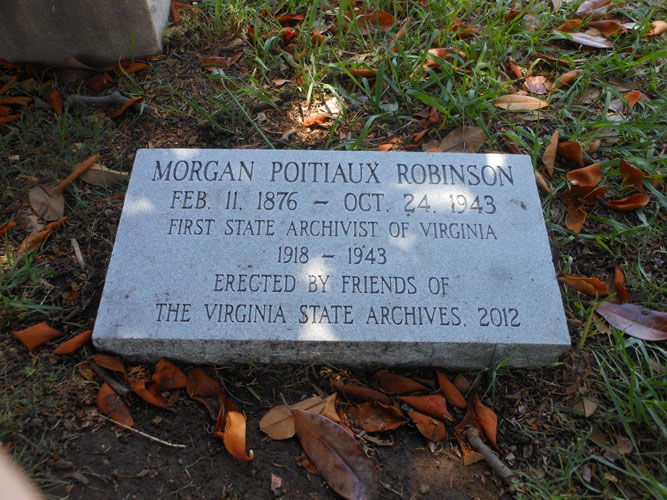 A granite stone was recently placed by the Friends of the Virginia State Archives to mark the grave of Morgan P. Robinson in Richmond's Hollywood Cemetery. The grave is just outside and to the east of the President's Circle and overlooks the James River.
Robinson was Virginia's first state archivist, holding the position from 1918 until 1943. Named chief of the Archives Department at the Virginia State Library in 1915, he had previously practiced law in Richmond and had worked for the War and Navy Departments in Washington, D.C., as a historian. Once at the Archives, Robinson embarked on an ambitious program to process the collections and reorganize the manuscript reading room. Staff began to index newly accessioned Confederate rosters and to sort through records recently discovered in the rafters of the Capitol. Robinson authored carefully researched books and articles on the commonwealth's history, among them Virginia Counties: Those Resulting from Virginia Legislation (1916). During his long career as State Archivist, Robinson worked to make records more accessible. He "acted as sort of an amiable gadfly to the county and city clerks of the State," according to the Richmond Times-Dispatch, which lauded his efforts to ensure that local records were stored in fireproof buildings. For more information on Robinson, visit Encyclopedia Virginia.
-submitted by Conley Edwards, former Virginia State Archivist
<< back to e-newsletter

Virginia Nonprofits and Libraries Receive Grants from Dollar General Foundation
Cumberland County Public Library, Augusta County Library (Fishersville), and South Boston Public Library System (Halifax) each received $3,000 grants from the Dollar General Literacy Foundation to support their summer reading programs. Other Virginia nonprofits receiving summer reading program grants were the Gloucester County Friends of the Public Library; Higher Achievement Program, Inc., in Richmond; Life Enrichment Center of Norfolk; and West End Center, Inc., of Roanoke.
Dollar General Literacy Foundation Summer Reading Grants provide funding to local nonprofit organizations and libraries to help with the implementation or expansion of summer reading programs. Programs must target Pre-K-12th grade students who are new readers, below-grade-level readers, or readers with learning disabilities.
The Dollar General Literacy Foundation awards grants to organizations in communities served by Dollar General. For more information on the Dollar General Literacy Foundation and a complete list of grant recipients, visit www.dgliteracy.org.
<< back to e-newsletter

State Records Archivist to Serve on Leadership Panel
Roger Christman, senior state governor's records archivist, will participate in a "Mission, Vision, and Strategic Planning" panel at this year's Archives Leader Institute at the University of Wisconsin-Madison. He will discuss the Library of Virginia's efforts on this topic over the past 18 months. The Archives Leader Institute brings together 25 future leaders of the archival profession. Christman is a former participant in the Archives Leader Institute.
<< back to e-newsletter