Governor Appoints Three to the Library Board
Governor Bob McDonnell has named three new members to the Library Board.
Robert Chambliss Light, Jr., of Lynchburg, regional assistant general counsel of Nationwide Mutual Insurance, previously served on the board from 1998 to 2003.
Su Yong Min, of Arlington, a lawyer at the Law Office of Su Yong Min, PLLC, earned her juris doctor degree from George Mason University School of Law and her bachelor's degree from the University of Pennsylvania.
Emily O'Quinn, of Bristol, an Oracle human resources analyst for Alpha Natural Resources, serves on the board of the Bristol Public Library. She is married to Delegate Israel O'Quinn, who represents Bristol, Galax, and Grayson and part of Smyth and Washington counties.
<< back to e-newsletter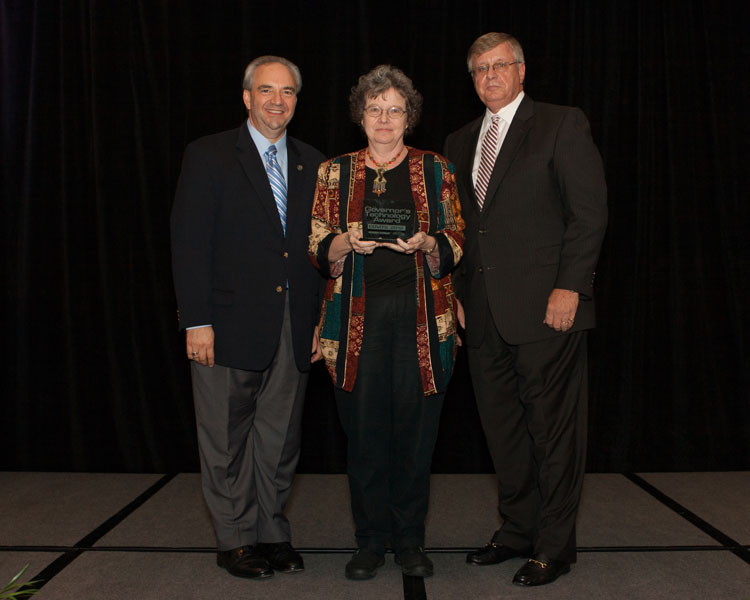 Library Wins Governor's Award for Mobile App
The Library of Virginia's Library Development team, headed by project leaders Rose Schooff and Carol Adams, recently won one of Governor McDonnell's "Government to Citizen Awards" for developing a mobile public library application. The award was presented at the Commonwealth of Virginia Innovative Technology Symposium in September. This recognition program is designed to highlight Virginia government entities that are using IT to improve citizen service and/or efficiency in service delivery.
The Library of Virginia partnered with Boopsie, Inc., to develop the free mobile application for Find It Virginia that directs users to their local public library resources. From any mobile phone or tablet connected to the Internet, you can instantly tap into your library resources, anytime, anywhere, on any SMA. You can download the app for free from your local library's website. The mobile app is made possible by the Library of Virginia through funding provided by the Institute of Museum and Library Services. The institute's mission is to create strong libraries and museums that connect people to information and ideas.
<< back to e-newsletter

Morrow to Deliver Governor Henry Lecture
George Morrow II, the author and publisher of a book series entitled "Williamsburg in Character," will deliver the annual Governor Henry Lecture at the Library of Virginia on Tuesday, November 13, at 5:30 PM and at Hampden-Sydney College's Crawley Forum on Wednesday, November 14, at 7:00 PM. Entitled "We Must Fight!": The Private War Between Patrick Henry and Lord Dunmore, the lecture will focus on the personalities at play as Virginia moved toward breaking with Great Britain.
Virginia's Revolution was less the result of events than of personalities; less the product of a misunderstanding than of a mutual conviction that "After all, we must fight." Those were Patrick Henry's words, and when they are compared to Lord Dunmore's December 24 reply to the king's rebuke, "these Virginians should be made to suffer the misery of which they themselves are the author," it is clear that Henry and Dunmore were of one mind about the inevitability of war. Had it not taken weeks for the governor's letters to reach London, he might have been stopped. Had Henry not been an oratorical force of nature, Virginians might have given peace a chance. But both men were effectively beyond recall, and what they achieved together, revolution and war—though it would later be ascribed to political differences—was actually the result of irreconcilable similarities in character aggravated by contempt on one side and a bottomless need for revenge on the other.
The lecture is jointly sponsored by the Patrick Henry Memorial Foundation, Hampden-Sydney College, and the Library of Virginia. The lectures are open to the public at no charge. Free parking is available, and a reception follows each event.
The Patrick Henry Memorial Foundation (www.PatrickHenry.com) owns and operates Red Hill, the patriot's last home and burial place overlooking the Staunton River in Charlotte County, Virginia. The Library of Virginia (www.lva.virginia.gov) holds the world's most extensive collection of material about the Old Dominion and has been a steward of the commonwealth's documentary and printed heritage since 1823. Founded in 1775 as a private liberal arts college for men, Hampden-Sydney College (www.hsc.edu) is the tenth oldest in the United States.
<< back to e-newsletter
Credo Reference Comes to Virginia's Public Libraries
The Library of Virginia is using a unique approach to improve digital and information literacy for all residents of Virginia. Through a strategic partnership with Credo Reference, public libraries throughout the state now have access to a resource called Literati Public as part of the Library's "Now We Go Where You Go" initiative. "Now We Go Where You Go" is the mobile app developed by the Library of Virginia for use by local public libraries.
Literati Public, developed in close partnership with public librarians, is a highly customizable solution that promotes the mission of public libraries by combining Credo online reference service's content with newly developed platform technology.
"We are extremely excited to provide Literati Public to all public libraries in the commonwealth, as it solves some very pressing issues," said Carol Adams, assistant director of Library Development and Networking at the Library of Virginia. "Not only can we now affordably offer core reference materials that provide an essential starting point for learners, we can also integrate resources that we have acquired from third parties, extending their value and increasing usage. Perhaps most importantly, we can leverage Credo's team of on-staff librarians to develop customized materials and programs that facilitate information literacy. Among the most exciting features is Homework Help, where students will be able to get online help with homework from a certified teacher in the key areas of reading, math, and writing."
Programs that will be supported by Literati Public include family literacy, knowledge of Virginia history, personalized homework help, and increased use of public library services and resources.
The origins of the Library Development and Networking Division can be traced to action by the Virginia General Assembly on March 8, 1904, when the state library was ordered to "purchase and procure books and other necessary equipment for the establishment of libraries." Today the Library of Virginia continues to offer professional consultation and support to public libraries in Virginia. The Library leverages federal grant money to provide services like Credo, the summer and winter reading programs, continuing education classes, and Freading (free ebooks) books to public libraries across Virginia.
For more information, see Literati Public at http://public.literati.credoreference.com.
<< back to e-newsletter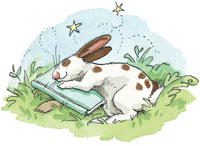 Winter Reading Program Features Anita Jeram's Artwork
Each year the Library of Virginia offers the "Snuggle with a Book" Winter Reading Program. The 2013 program features the art of Anita Jeram—from I Love My Little Storybook (2002) by Candlewick Press—and is sponsored by Target, the Institute of Museum and Library Services, Smart Beginnings, the Virginia Department of Social Services, and Read Aloud Virginia.
The winter reading program begins in February, "I Love to Read" Month, and concludes on March 2, Read Across America Day. The program is designed for young children, from birth through first grade, and contains elements to help parents and others assist in children's reading development. Special consideration is given for homes in which Spanish is the primary language. Local public libraries across the state are encouraged to participate in the program, which uses reading records, stickers, posters, and activities to help children develop reading skills.
The winter reading program builds on the special relationship public librarians have with children and the adults who bring them to the library. The desired outcome of the program is the creation of communities where children are ready to learn when they attend kindergarten.
<< back to e-newsletter

Database Spotlight: EBSCO's Newspaper Source Plus Is a Great Resource
EBSCO's Newspaper Source Plus database is an exciting addition to the Library's collections. It provides access to more than 1,100 full-text newspapers (both national and international) and includes more than 300 U.S. titles such as USA Today, the Christian Science Monitor, and the San Francisco Chronicle. Virginia content includes current coverage of the Free Lance Star, Manassas Journal Messenger, Carroll News, and Virginia Gazette newspapers, as well as historical coverage for numerous titles including the Richmond Times-Dispatch (1997–2009) and the Daily Press (1997–2009). The database also provides transcripts of television and radio news shows, such as 60 Minutes, 20/20, and NPR's Morning Edition.
Four additional resources are also included with the database: the e-book collection, the AP NewsMonitor collection, Web News, and CINAHL. Each can be selected on the "Choose Databases" page.  The e-book collection can also be accessed from the "General Reference" link on the Library's "Using the Collections" page. The AP NewsMonitor and Web News search results automatically display to the right of the main search pane after a search is performed. Each of these resources is described below.
E-Book Collection (EBSCOhost)
This collection of more than 16,000 general interest e-books (fiction and nonfiction) in PDF format can be viewed either on a computer or downloaded to an eReader. This is a collection of older works, rather than recent releases. It includes more than 1,400 titles related to U.S. history, as well as some Virginia-specific selections. There are also classics of literature, language study guides, titles for teens and children, and much more. Compatible e-book readers include the Barnes & Noble Nook and the Sony eReader.
AP NewsMonitor Collection
AP NewsMonitor provides near real-time access to top worldwide news from the Associated Press on a continuous basis. Relevant results are provided when users enter searches in EBSCOhost. This collection includes AP Top News, WorldStream, Financial News, AP Online, U.S. Politics & Government, and 50 State Reports. The index to the full-text content in AP NewsMonitor is held for a rolling 30-day archive, so users can view the previous 30 days of news relating to their search interests.
Web News
EBSCO's Web News provides near real-time access to thousands of top news feeds from around the globe. These feeds are monitored by EBSCO and relevant results are provided when users enter searches in EBSCOhost. This collection includes more than 5,000 feeds across a range of business and general news topics.
CINAHL
CINAHL is an authoritative resource for nursing and allied health professionals, students, educators, and researchers. The database provides indexing for more than 3,000 journals from the fields of nursing and allied health and contains more than 2.3 million records dating back to 1981.
Your Library of Virginia library card is your key to exploring these resources. Stop by the Library to get a card today and visit the Library's Using the Collections page to begin your research
–submitted by Lisa Wehrmann, Public Services and Outreach
<< back to e-newsletter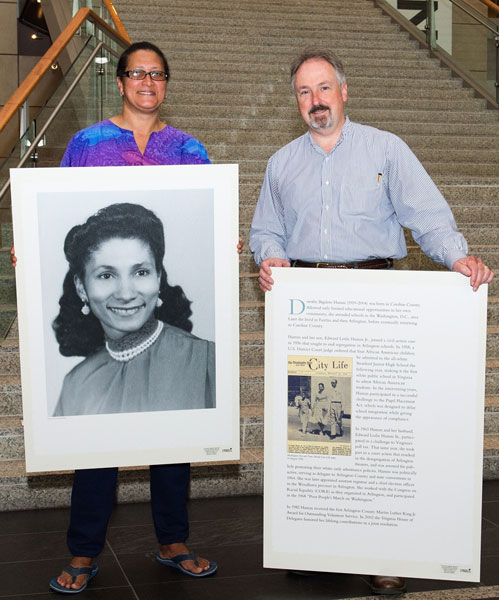 Exhibition Panel on Trailblazer Dorothy Hamm Lives On
Carmela Hamm, of Henrico County, recently contacted the Library of Virginia's education and outreach manager, Mark Howell, about her mother, Dorothy Hamm, a civil rights activist from Northern Virginia in the 1950s and 1960s. In 2010 the Library of Virginia honored Hamm as a recipient of the African American Trailblazers award. The Trailblazers program includes a traveling panel exhibition that visits different parts of the state during the course of the year. By the time the exhibition runs its course, a new class of honorees is ready to take its place on the circuit and the previous year's panels are taken down.
Old panels are usually recycled or stored. Hamm's daughter was, in this case, hoping for the latter. A recreation center in Arlington that was recently built on the foundation of J. M. Langston Elementary School—that community's African American school in the decades prior to desegregation—will include an exhibition on the civil rights movement in Arlington, and she was hoping to repurpose our panels to continue the story of her mother's achievements.
The Library's exhibitions coordinator, Barbara Batson, bravely waded into our cache of obsolete exhibition panels and, as the accompanying photograph attests, was able to retrieve Dorothy Hamm's portion of that exhibition. We are pleased to give new life to this important story and hope that Arlington's residents are able to draw inspiration from Hamm's life.
To learn more about Dorothy Hamm, go to www.lva.virginia.gov/public/trailblazers/2010/2010-poster.pdf.
–submitted by Mark Howell, Education and Outreach Division
<< back to e-newsletter

CommonHelp Lets You Apply for Assistance Online
The state's local public libraries are serving as a community partner to help the Department of Social Services and the public with a new tool called CommonHelp that will improve access to social services in Virginia. CommonHelp is a fast and easy way to apply online for many Virginia social services assistance programs.
The web-based, self-service platform allows citizens access to information about programs and the ability to apply for SNAP (food assistance), TANF (cash assistance), child care assistance, energy/fuel assistance, and Medicaid (medical assistance), 24 hours a day, seven days a week. Virginians will be able to reach CommonHelp from the comfort of home or from a public library computer or any computer with Internet access.
The Department of Social Services and the Library of Virginia facilitated training sessions recently to familiarize librarians with the new computer portal.
"The involvement of public libraries in this effort to improve access to assistance programs offered through the Department of Social Services is yet another way our libraries serve as vital community centers," said Librarian of Virginia Sandra G. Treadway. "Through good and bad economic times, our state's libraries work to help citizens, whether it is through a job search or helping a small business, introducing a child to the joys of reading or providing programs that enrich the lives of citizens, our libraries make a difference in their communities."
<< back to e-newsletter

Governor Proclaims "October Is Information Literacy Awareness Month"
Governor Bob McDonnell has proclaimed the month of October as "Information Literacy Awareness Month" in the state of Virginia. Information literacy advances society by providing people with accurate information. As the repository of the most comprehensive collection of materials on Virginia government, history, and culture available anywhere, the Library understands how vital it is for Virginia citizens to have access to information, and this proclamation demonstrates the importance of this concept. The proclamation states:
"Whereas, we live in an increasingly complex world undergoing rapid technological change with access to an ever-expanding amount of information available in a variety of formats; and
Whereas, information literacy provides the tools and skills to find, evaluate, and use creditable information from all sources; and
Whereas, the ability to search, locate, and analyze different forms of information is a critical part of effective decision making; and
Whereas, individuals who can acquire, collate, and evaluate information from computers and mobile devices form the basis of the Commonwealth of Virginia's skilled workforce; and
Whereas, information literacy is a crucial part of education and lifelong learning that will better prepare citizens for changing technologies and the job market; and
Whereas, the Commonwealth of Virginia recognizes that an informed citizenry is vital to the functioning of our democratic society and to the strength of our economy."
<< back to e-newsletter