Tom Camden to Head Special Collections and Archives at Washington and Lee University
Tom Camden, director of Special Collections and acting state art curator at the Library of Virginia, has inspired thousands of people ranging from elementary students to lawmakers with his dynamic tours of the treasures of the Library. His expertise and commitment to the Library have been evident to all who have had the pleasure to work with him.
Hundreds have "felt the power" while holding a law book of Patrick Henry's or some other original book or manuscript in the Library's collections. Whether captiviating the attention of a group of fourth graders or high school juniors, he is a master at drawing an audience into the personal stories of Virginia's history. In addition, he has been an engaging ambassador for the Library through his work with legislators and state officials as well as professional groups and organizations around the state.
On November 30 the Library said "goodbye" to Camden as he left to go home to his beloved Rockbridge County to assume a dream job as associate professor, director of Special Collections, and university archivist at Washington and Lee University. Camden holds an MSLS from the University of Tennessee. Prior to his position with the Library of Virginia, Camden worked as manuscripts curator at the New Hampshire Historical Society, as head of the Hargrett Rare Book and Manuscript Library at the University of Georgia, and as director of the museum and research library at the George C. Marshall Foundation, Virginia Military Institute. Camden is a 1976 graduate of Washington and Lee.
"To participate in one of Tom's programs was a chance to see history come alive," said Librarian of Virginia Sandra G. Treadway. "Tom was brilliant at explaining the importance of what we collect and preserve about Virginia's history. He cares deeply about Virginia's history and our books, manuscripts, photographs, and ephemera. I cannot thank him enough for his dedication to the Library and wish him luck as he returns home to Washington and Lee."
<< back to e-newsletter

Spears Authors New Book on Richmond Landmarks

Katarina M. Spears, director of retail operations at the Library of Foundation, is the author of a new book in Arcadia Publishing's popular Images of America series. Richmond Landmarks contains more than 200 vintage images from the Library's extensive photographic collection.
The City of Richmond has a long history, from its early 17th-century exploration by the English, through its 18th-century economic expansion and importance to the American Revolution and 19th century significance as the center of the domestic slave trade and capital of the confederacy, to its importance as part of the emergence of the New South in the 20th century. The book reflects not only Richmond's history but its role in national history, and includes images of important landmarks ranging from historic cemeteries to iconic and controversial monuments.
Spears has 20 years of experience in museums and historic site management. All royalties go directly to the Library and profits from book sales through the Virginia Shop also support the Library of Virginia.
The book is available through both locations of the Virginia Shop for $21.99 plus shipping and handling.
<< back to e-newsletter

Please Remember the Library of Virginia in Your Year-end Giving
Every year the members of the Semper Virginia Society add significantly to the Library's ability to collect, protect, and share the history and culture of Virginia. Your gift before December 30 can help us begin the New Year ready to do even more! There are terrific benefits, including members-only events, discounts to the Virginia Shop and Discovery Café, bus tours, and more. Please consider the benefits to you and to the culture of Virginia and visit www.lva.virginia.gov/donate to make your gift today. Thank you!
<< back to e-newsletter
Hamner to Receive Legislative Recognition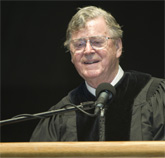 The mere mention of the name of writer Earl Hamner elicits a wave of nostalgia for many. His heart-warming stories of upbringing in the Schulyer, Virginia, during the Great Depression have won generations of fans. His experiences during those times amid his family and the natural beauty of the Blue Ridge Mountains would etch themselves into his heart and mind, providing a wealth of material for and profoundly influencing his work throughout his life. The Virginia General Assembly will recognize Hamner and his extraordinary literary achievements with special presentations on the floors of both chambers on January 17, 2013.
In 1970, The Homecoming, the story of a father's return to his family on Christmas Eve, was published and became a popular CBS Christmas special that led to the Emmy-award winning television series The Waltons. The series captivated audiences with its focus on simple living and the strength of family and introduced the memorable phrase "Goodnight John Boy."
Hamner, who recently donated his private papers and manuscripts, including the original scripts for the entire runs of the television series The Waltons and Falcon Crest, will participate in a free, public program at 6:30 PM on Wednesday, January 16, at the Library of Virginia, moderated by Lisa LaFata Powell.
<< back to e-newsletter

Database Spotlight: HeritageQuest Online
Start your family history research today with HeritageQuest Online! This database of genealogical resources includes primary source materials, local and family histories, and finding aids that will help you start exploring your roots. The Library of Virginia provides access to the following five HeritageQuest Online collections:
Freedman's Bank Records – Provides records that include the signatures of and personal identification data about depositors in 29 branch offices of the Freedman's Savings and Trust Company from 1865 to 1874. The company was established in 1865 for the benefit of freed slaves. Many of the registers provide the following information: account number, name of depositor, date of entry, place born, place brought up, residence, age, complexion, name of employer or occupation, wife or husband, children, father, mother, brothers and sisters, remarks, and signature. The early books sometimes also contain the name of the former master or mistress and the name of the plantation. Copies of death certificates have been pinned to some of the entries. In each case the certificate has been filmed immediately after the page that shows the registration of the person's signature.
Genealogy and Local History Books – Offers full-text access to more than 28,000 family histories, local histories, and other selected texts. Searches can be done by personal name, place-name, or keywords and the texts can be printed or downloaded in their entirety.
Periodical Source Index (PERSI) – Allows users to perform place and name searches in a database of more than 6,500 genealogy and local history periodicals published in the United States, Canada, and abroad since 1800, with new citations added each year. Users can also search for articles that provide instruction regarding how to do research related to certain types of genealogical records (e.g., deeds, passenger lists, tax records, etc.).
Revolutionary War Records – Includes original images from selected Revolutionary War pension and bounty-land-warrant application files based on the participation of American Army, Navy, and Marine officers and enlisted men. Most of the records are dated between 1800 and 1900 and are part of the National Archives Record Group 15, Records of the Veteran Administration.
U.S. Federal Census Records – Provides searchable access to federal census records for 1790–1820 and 1860–1920, with partial coverage for 1930 and 1940.
Your Library of Virginia library card is your key to exploring this wonderful resource. Stop by the Library to get a card and visit the Library's Using the Collections page to begin your research!
–submitted by Lisa Wehrmann, Public Services and Outreach
<< back to e-newsletter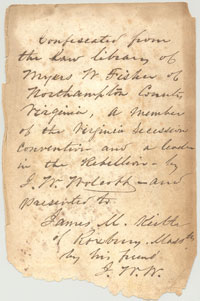 The Library is occasionally contacted by individuals from across the country who come across Virginia books in family collections. One of the most recent contacts was from Abigail Addington-May in Rhode Island.
Addington-May found a ca. 1826 copy of The Code of 1650, being a compilation of the earliest laws and orders of the General court of Connecticut in her grandmother's house in New York State. She e-mailed the Library to inquire whether we would like to have the volume.
One might ask how this Connecticut law book relates to Virginia. The first blank page in the book bears an attached inscription that explains why Addington-May chose to contact the Library. She searched the Library's website for any reference to "Myers [sic] W. Fisher of Northampton County."
VirginiaMemory.com contains a biographical sketch of Miers W. Fisher (1806–1873) written by our late colleague Sara Bearss. Fisher was a lawyer in Northampton County, a member of the House of Delegates as early as 1829, and commonwealth's attorney from 1836 to 1851. During the Civil War, he served in the Confederate government in Richmond. The little law book figures in Bearss's account of Fisher's life when she notes:
"Federal troops used Town Fields (Fisher's home) as a hospital and relief station for African Americans, and Pocahontas (a Fisher plantation) served briefly as a regimental headquarters. Later stories reported that soldiers carried off Fisher's 20,000-volume library, but this tale is likely exaggerated because he still had a sizable collection of law books when he died."
We may never know whether Fisher's considerable library was entirely "confiscated," but it is a curious historical note that the person who took the book then took the time to record the event. From Northampton County, Virginia, during the Civil War, the little book then traveled to Roxbury, Massachusetts, as noted in the inscription.
Addington-May included with the book a letter dated August 12, 1926, that adds more interest to the story. The letter was on letterhead of a publisher called the Ginn Company and apparently written by someone called Ros Pearl to Mrs. Harry Powers Story. She could not identify Ros  Pearl but she did report that Mrs. Story was a friend of her grandmother's. Addington-May suggests that, like Pearl, one of her grandparents "borrowed" the book and failed to return it to the Storys. Pearl, although not listed among the names on the letterhead, must have been a person of some importance in the Ginn Company. The publisher was in business at least seventy years. Certainly he or she was interested in history and could write a charming letter.
A little law book "confiscated" during the Civil War and "borrowed" several times along the way has now come to find a home at the Library of Virginia. Thanks to the inscription in the book, our colleague's biographical sketch, and an inquisitive donor, we have a bit of history returned to Virginia.
–submitted by Tom Ray, Archives, Records, and Collection Services
<< back to e-newsletter

Virginia Shop Offers a Wealth of Holiday Gifts
If you're looking for a unique gift for a history buff or that hard-to-please person on your list, a visit in person or online to the Virginia Shop can make your shopping a snap. Just in time for the holidays, the Virginia Shop's December book clearance sale at the Library of Virginia continues while supplies last. Books on special include fiction, nonfiction, and children's titles.
Visit the Virginia Shop online to save 30 percent on food items. Be a hit at holiday parties—bring a hostess gift of cheese straws, chocolate-covered peanuts, or pecan biscuits. Now through December, these items and more are available online at an attractive discount.
If you visit the Virginia Shop at the Library of Virginia, you'll find divine-smelling seasonal soaps and candles, whimsical literary bookmarks, witty sticky notes, gorgeous jewelry, colorful prints and maps, novel clothing, state seal products, and fabulous Virginia cookbooks. Your visit to the Virginia Shop is a low-stress shopping experience complete with free, secure underground parking.
The Virginia Shop at the Library of Virginia is open from 10 AM to 4 PM Monday through Friday and from 10 AM to 2 PM on Saturdays. For more information, call 804 692 3524. Visit the Virginia Shop online at www.thevirginiashop.org.
<< back to e-newsletter

National Medal Recognizes 10 Exceptional Museums and Libraries
On November 14, in a White House ceremony, the Institute of Museum and Library Services presented the 2012 National Medal for Museum and Library Service to 10 museums and libraries from across the country. The National Medal is the nation's highest honor conferred on museums and libraries for service to the community and celebrates institutions that make a difference for individuals, families, and communities. IMLS director Susan Hildreth was joined by White House Domestic Policy Council director Cecilia Muńoz, to present the medal, and by NPR senior national correspondent Linda Wertheimer, who served as emcee. Librarian of Virginia Sandra G. Treadway was among those attending the presentation. The Park View High School Library Media Center in Sterling, Virginia, was among the libraries recognized.
<< back to e-newsletter