Vote for the 10th Annual People's Choice Awards
The Library of Virginia is pleased to sponsor the 10th Annual People's Choice Awards. Finalists in fiction and nonfiction were selected by a panel of judges from the books nominated for our literary awards, and winners will be announced at the 16th Annual Library of Virginia Literary Awards at the Library of Virginia. Awards are given for the best fiction and nonfiction books by Virginia authors; in the case of nonfiction, books on a Virginia subject that have been published in the past year are eligible.
The winners will be chosen by votes from the public from among five finalists in each category. Readers may vote in public libraries or online at the Library of Virginia's website, www.lva.virginia.gov/public/litawards/vote.asp. Voting for the People's Choice Awards runs from May 13 through June 29, 2013.
This year's fiction finalists for the People's Choice Awards are:
Come August, Come Freedom by Gigi Amateau
Heading Out to Wonderful by Robert Goolrick
Shine Shine Shine by Lydia Netzer
The Yellow Birds by Kevin Powers
The Shoemaker's Wife by Adriana Trigiani
The nonfiction finalists are:
The Fourteenth Day: JFK and the Aftermath of the Cuban Missile Crisis: The Secret White House Tapes by David G. Coleman
Atlantic Fever: Lindbergh, His Competitors, and the Race to Cross the Atlantic by
Joe Jackson
Thomas Jefferson: The Art of Power by Jon Meacham
Whispers of Rebellion: Narrating Gabriel's Conspiracy by Michael L. Nicholls
My Extraordinary Ordinary Life by Sissy Spacek
Winners will be announced at the Library of Virginia Literary Awards Celebration on October 19, 2013. Dominion is the presenting sponsor of the 2013 literary awards celebration and the Richmond Times-Dispatch is the media sponsor.
<< back to e-newsletter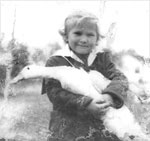 Since its introduction in 1839, photography has found its way into almost every corner of society. Beginning this summer, a wonderfully idiosyncratic and compelling series of exhibitions at the Library will survey selected facets of Virginia's photographic heritage.
Each will include photographs assembled around a particular theme and taken by residents and visitors, professionals and amateurs.
The Importance of Being Cute: Pet Photography in Virginia
Whether they bark, meow, or hiss, pets are important parts of their owners' lives and increasingly are recognized as full-fledged family members. The Importance of Being Cute: Pet Photography in Virginia is an exhibition of more than one hundred historic and contemporary photographs exploring the complex relationships that have existed between Virginians and their animals since the advent of photographs. These timeless images resonate with humor, poignancy, and life. This exhibition opens June 10.
Dark Side: Night Photography in Virginia
Night holds a special place in the heart of photography. The geometry of light and shadow creates an interplay of mystery, possibility, and the foreboding of the unknown. Advances in night photography have paralleled advances in photographic technology for the last hundred years, and as night photography has become increasingly more accessible, an ever-increasing number of photographers have engaged in the practice. In addition to examples of historic night photography, Dark Side also introduces several contemporary Virginia photographers who are using it as an artistic medium.This exhibition opens June 10.
No Vacancy: Remnants of Virginia's Roadside Culture
U.S. Route 1, once the main highway for travelers going north or south along the East Coast, now serves mostly as a detour for drivers stuck in traffic on I-95. By contrast, travelers in the early and mid-20th century who traveled along Route 1 stopped at camps, motor courts, roadside cottages, and motels to take a break from the hours of driving. Often locally owned, these businesses were and full of the local flavor of the area. Today, in the shadows of the bright lights of the Holiday Inns and Econolodges, the remnants of Virginia's roadside culture can still be seen in rusted signs, overgrown lots, boarded windows, and repurposed buildings. This photography exhibition, opening October 14, will showcase the evolution of Virginia's roadside lodging along Route 1.
<< back to e-newsletter

Now the Library of Virginia Goes Where You Go
The Library of Virginia is pleased to announce the availability of a mobile app for devices such as iPhones and iPads as well as Android phones and tablets. The Library of Virginia app makes it easy to search the online catalog, explore digital collections, read blogs, and follow the Library on Twitter and Facebook with your mobile device. It's also easy to learn about Library events and find information to help plan your visit.
You can use your mobile phone to find what you want! Go to your mobile phone's Web browser and type in "lva.boopsie.com" to install the Library of Virginia app. If you can't find what you want, you can use your mobile device to e-mail us at Help@boopsie.com .
<< back to e-newsletter
Longtime Public Library Directors Set to Retire
Many public libraries in Virginia have been helmed by long-serving directors who embody inventiveness, charisma, and diplomacy in public service. In what is expected to be the first of several large waves of retirement, five longtime directors will be retiring this year.
Trish Ridgeway, director of the Handley Regional Library for the past 20 years, will help celebrate the library's 100th anniversary with various planned events before her October 1 retirement. During her years as director, Ridgeway directed several significant changes—major renovation of the Handley Library in Winchester, construction of the Bowman Library near Stephens City, and relocating the Clarke County Library from a house to a wing of the new government building in Berryville.
Director of Virginia Beach Public Library for 37 years, Marcy Sims has overseen the library's expansion from three locations to 10, and has greatly increased its collection. She will retire September 1 after the August opening of the innovative 120,000-square-foot Tidewater Community College–City of Virginia Beach Joint Use Library on TCC's Virginia Beach campus.
Lynn Dodge has led the Lynchburg Public Library for 38 years, building a successful fundraising program with the nonprofit advocacy group Friends of the Library, opening the city's Dr. Martin Luther King Jr. Center for Human Rights, and developing a regional consortium aimed at maximizing resources for library users. She will retire June 30.
Dick Murphy, the director of the Prince William Public Library, will retire June 30 after serving in the position for 27 years. When Murphy started, the library system consisted of two full-service libraries and two neighborhood libraries. That number has grown into four full-service libraries and two neighborhood libraries, with two new libraries set to be completed in the next few years. A large source of pride for Murphy in his role as library director is the wide array of programs that the library offers to the community.
Director Kay Brooks has been with the Caroline Library for 32 years and will retire June 30. Brooks helped found the library in 1981 and led its expansion with branches in Dawn, Ladysmith, and Port Royal. Brooks also organized the Friends of Caroline Library in 1985.
With more than 150 years of combined experience, these five library directors have seen their libraries grow and services change to meet new technological advances. "These directors have guided their libraries through a period of tremendous change and growth," said Librarian of Virginia Sandra G. Treadway. "They have been in forefront of the push for full funding of libraries, have sought innovative solutions to patron needs, and have mentored a generation of librarians across the state. Their leadership and expertise will be missed."
Seven library systems of the 91 in Virginia are operating with new or interim directors and one system's director position is vacant. According to data provided by the American Library Association, the greatest estimated retirement wave of librarians will continue through 2020.
–submitted by Kim Armentrout, Library Development and Networking Services
<< back to e-newsletter

Database Spotlight: Library Express
The Library Express database from LexisNexis provides access to more than 10,000 news, business, and legal resources, which makes it an exciting recent addition to the Library of Virginia's online offerings.
With Library Express, users can retrieve full-text articles from more than 2,500 foreign and domestic newspapers including the Daily Mail (UK), Times of India, New York Times, Washington Post, and USA Today, as well as from regional titles such as the Richmond Times-Dispatch, Roanoke Times, and Virginian-Pilot. The database also includes magazines and journals; newsletters; wire services; broadcast transcripts from major television and radio networks; and political transcripts of congressional committee hearings, press briefings, and presidential news conferences. Non-English-language news sources are also provided.
A variety of information regarding public companies can be discovered by using the Company Dossier and Company Profile options. These features provide access to detailed company profiles, industry overviews and competitor information, current news articles, financial data, and legal and intellectual property information.
Library Express also includes a wealth of legal resources such as state court decisions, attorney general opinions, codes, constitutions, and court rules for all U.S. states and territories; law review articles; U.S. Supreme Court, U.S. Court of Appeals, and U.S. District Court decisions from the 18th century to the present day; legal newspapers, magazines, and newsletters; and searchable patents dating back to 1790.
Your Library of Virginia library card is your key to exploring this exceptional database. Stop by the Library to get a card today and visit the Library's Using the Collections page to begin your research!
–submitted by Lisa Wehrmann, Public Services and Outreach
<< back to e-newsletter

The Friends of the Virginia State Archives Honors Two of Its Members
At the Library of Virginia's April board meeting, the Friends of the Virginia State Archives presented a check for $1,000 to the Library of Virginia Foundation in recognition of the longtime service of two Friends board members. The donation will go to support the purchase of a rare Civil War–era pattern map of the Lower Shenandoah Valley by C.W. Oltmanns and to recognize the dedication of Anne Taylor Brown and Harriette Thorne Kent for their contributions in support of the Friends. Brown currently serves as the membership chair of the Friends of the Virginia State Archives, having first joined the Friends board in 1991. She served a term as vice president of the Friends. Kent, a founding member of the Friends, served as a board member since the mid-1980s and as secretary for many years.
Both are active users of the Library's archival collection. Kent has researched her family in Northumberland, Surry, and Isle of Wight counties and made extensive use of British resources in the Library's collection. Brown, a professional genealogist, was introduced to Virginia court records by her late husband, Connis O. Brown, who was instrumental in the development of Virginia's local records program and was assistant state archivist for local records at the Library of Virginia until his death in 1984.
The Friends of the Virginia State Archives is a 501(c)(3) nonprofit organization that supports the archival program through purchases of materials for the collection and sponsorship of educational programs focused on research using the Library's resources. Their next program, in September, features Dr. John Colletta, one of the most popular genealogical lecturers in the United States. For additional information about the Friends, contact FriendsofVaArchives@gmail.com.
–submitted by Conley Edwards, Former State Archivist
<< back to e-newsletter

Trigonometry Homework Setting You or Your Child Off on a Tangent?
You may never have to define a hypotenuse, explain the Pythagorean identities, or answer any of the myriad homework questions for your child again. Online homework help is now available statewide, Monday through Thursday from 3 to 9 PM and on Saturday from 9 AM to 3 PM. Students may use this service from a home computer, a laptop, or a computer in a local public library. State-certified teachers assist students in grades K–12 with reading, writing, and math assignments.
Students login by entering first name only, grade level, and subject. They are connected to a teacher in a whiteboard space (like a blackboard in a class room). Students may also upload writing assignments like essays and term papers as well as write, type, or draw on the whiteboard.
This service is brought to you by the Library of Virginia through funding provided by the Institute of Museum and Library Services. It is part of Literati Public, which offers a variety of content and services to students, including:
A core reference collection of more than 400 full-text eBooks from more than 80 publishers. Content includes encyclopedias, handbooks, dictionaries, animations, videos, audio clips, high-resolution images, and research aid tutorials.
Reference results that are cited in MLA, APA, Harvard, and Chicago citation formats.
"Mind Map" searching, which displays the connections between search results in a visual and interactive format. Students use mind maps to see how information is linked or to find topics for papers or research projects.
The ability to enter a subject into one search box and tap into all of the Library's resources, including E-Reference content, the Library's catalog, full-text periodical databases, and other resources to which the Library subscribes.
Watch this short video to learn more: http://corp.credoreference.com/images/literati_tutorials/il_tutorials/virginia/virginia_homework_help/virginia_homework_help.htm
–submitted by Carol Adams, Library Development and Networking Services
<< back to e-newsletter

"A Book That Shaped Me" Writing Contest Open to Rising 5th and 6th Graders

In conjunction with the 2013 National Book Festival, the Library of Congress is sponsoring "A Book That Shaped Me," a summer writing contest that encourages rising 5th and 6th graders to reflect on a book that has had a personal impact on their lives. The contest is administered through local public library summer reading programs, and top winners will be honored at the Library of Congress National Book Festival in September on the National Mall. Check with your local public library to see if it is participating in the contest.
Students are asked to write a one-page essay about a book—fiction or nonfiction—that has had a personal impact on their lives. Essays will be judged on content, spelling and grammar, and creativity.
The program is designed to affirm the importance of books and reading and to help local public libraries combat the "summer reading slump" by providing additional rewarding opportunities for summer reading program participation. The contest also aims to build connections among young readers, local libraries, the Library of Congress, and the National Book Festival.
Grand-prize contest winners will present their essays during the National Book Festival held September 21–22, 2013,between 9th and 14th streets in Washington, DC. The 2013 Library of Congress National Book Festival will feature authors, poets, and illustrators in several pavilions, including two Sunday-only pavilions: Graphic Novels/Science Fiction and Special Presentations. Festivalgoers can meet and hear firsthand from their favorite poets and authors, get books signed, have photos taken with PBS storybook characters, and participate in a variety of activities. An estimated 210,000 people attended the event in 2012.
<< back to e-newsletter