Library of Virginia Announces Selection of 2013 Brown Fellows
Barbara Adcock, an elementary school teacher at Pocahontas Elementary School in Powhatan County, and Catherine Kammer, a social studies teacher at Granby High School in Norfolk, have been selected as the Library of Virginia's 2013 Brown Fellows.
The Brown Fellowships are awarded annually and provide educators with an opportunity to study a topic related to Virginia's history and culture and to develop teaching materials in collaboration with the Library's professional staff.
Adcock—a 26-year veteran of the classroom—is a graduate of the University of Virginia and has taught kindergarten through fifth grade. She currently serves as a second through fourth grade STEM (Science, Technology, Engineering, and Mathematics) Academy teacher at Pocahontas Elementary School in Powhatan. She has a passion for the environment and will use her interest to develop statewide educational resources related to the Library's upcoming (Spring 2014) exhibition Flora of Virginia. "I am thrilled to be a Brown Fellow!" said Adcock. "It will give me the opportunity to explore authentic resources and develop inquiry-based lessons that will stimulate great learning for my students and others. I am very grateful to be given this opportunity."
Kammer earned a bachelor's degree in history in 2009 from Mary Baldwin College, where she received distinction in her major and graduated cum laude with honors. She received her master of education degree from Old Dominion University in 2010. In addition to teaching at Norfolk's Granby High School, Kammer serves as a homebound instructor, tutoring students who cannot attend school due to mental, physical, or emotional issues. Kammer has chosen to cull through the state archives, researching documents related to Norfolk and the Civil War that can be integrated into the school district's social studies curriculum. "I'm very excited to be taking advantage of such a wonderful opportunity," said Kammer. "I know it will benefit not just me, but the teachers and students I work with."
Established in 2009, the fellowships were endowed by Ellen and Orran Brown in honor of his parents, Anne and Ryland Brown of Forest, Virginia. The fund is a legacy to their lifelong belief in the power of education to improve an individual's well being and that of his or her family.
–submitted by Mark Howell, Education and Outreach Services
<< back to e-newsletter

Emblidge Elected to Full Term as Chair of the State Library Board
Dr. Mark Emblidge, of Richmond, who was elected chair of the Library Board in January 2013 upon the resignation of Meyera Oberndorf, has been elected as chair for a full term by the Library Board at its annual meeting in June. He was appointed to the board by Governor Tim Kaine in 2009. He currently serves as professor of practice in EDLF in the Curry School of Education at the University of Virginia. He received a BA in political science at Gordon College, Massachusetts, and a master's degree and doctorate in education at the University of Virginia. He is the founding director of the Virginia Literacy Foundation and Communities in Schools of Virginia.
Peter E. Broadbent, Jr., who served on the board from 1996 to 2006, was also elected vice chair of the board. He was reappointed to the Board by Governor McDonnell in 2010. He is a partner in Christian & Barton L.L.P. He is a graduate of Duke University and received his law degree from the University of Virginia. In 2010 the National Genealogical Society presented the NGS President's Citation to Broadbent in appreciation of his seven years service on the NGS Board of Directors and for his wise counsel on numerous issues that came before the board.
<< back to e-newsletter

NGS to Meet in Richmond in 2014
The National Genealogical Society will hold its 2014 Family History Conference May 7–10 at the Greater Richmond Convention Center and Marriott Hotel located in downtown Richmond, Virginia. The conference theme, Virginia: The First Frontier, will explore the records and history that draw so many back to their roots in the Old Dominion. Lecture topics will also include migration into, within, and out of the region down the Great Wagon Road, over the Appalachian Mountains, and across the South to Texas and beyond.
On the evening of May 8, conference participants can join the Virginia Genealogical Society on a trip to Colonial Virginia. The event will be held at the Library of Virginia, which is located three blocks from the Marriott Hotel, beginning at 6:30 PM. This ticketed event will be limited to 250 participants. The Library will not be open for research on that evening but will have extended hours during the conference, which will be publicized on the NGS Conference blog.
The four-day conference will include more than 150 lectures by nationally known experts on topics including the history, records, repositories, and ethnic and religious groups in Virginia and the neighboring states of Maryland, Pennsylvania, West Virginia, North Carolina, South Carolina, Kentucky, and Tennessee. The program will also feature broader genealogical categories including military and other federal records, the law as it relates to genealogy, methodology, analysis, and problem solving. There will also be an emphasis on the use of technology (GenTech) in genealogical research including genetics, mobile devices, and apps.
Want to know more? Sign up for the NGS Conference blog at http://conference.ngsgenealogy.org so you do not miss any of the conference news or announcements. Conference registration opens December 1, 2013.
–from NGS reports
<< back to e-newsletter
Puga Helps Fix a Case of Mistaken Identity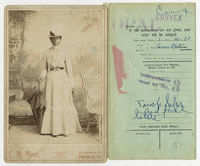 Dana Puga, prints and photographs specialist in Special Collections at the Library of Virginia, recently helped a researcher solve a mystery surrounding an image purportedly of Mary Bowser, a Union spy during the Civil War. The image has now been identified as a different Mary Bowser.
Bowser, who was probably born a slave in or near Richmond, was a servant of Elizabeth Van Lew. During the Civil War, Bowser worked in the official residence of Confederate president Jefferson Davis. She gathered information and passed it along to a Union spy named Thomas McNiven, who then used Van Lew's network of spies to get the information to Union forces.
Little is known about Bowser. Very few reliable sources are available. A few early 1900s news articles and references in Elizabeth Van Lew's Civil War diaries to the efforts of an African American named Mary are all that offer solid evidence. Subsequent articles and stories are full of embellishments. In the 1950s her family destroyed Bowser's writings about her experience.
NPR used the photo in question on its website in 2002. The caption credited the image to "James A. Chambers, U.S. Army Deputy, Office of the Chief, Military Intelligence." When historian Lois Leveen was asked by her publisher to include an image of Bowser in her book The Secrets of Mary Bowser, she used the oft-copied and blurry image whose original is at the Library of Virginia. But there was enough uncertainty about the authenticity of the photograph for Leveen to label the image as "rumored to be of Mary Bowser."
Leveen traced the Bowser image to Richmond and the Library of Virginia, whose collections include more than 350,000 images. There was no catalog entry for the photograph, but Puga located the original in the files of Special Collections and Leveen was able to examine the image and accompanying envelope during a visit to Richmond. The image was clearly a cabinet card from C. R. Rees in Petersburg. Rees did not open his studio until 1880, long after Mary Bowser faded from the public record. The envelope for the card is addressed to a Mary Bowser at a Petersburg location. The image clearly indicates clothing of a later era.
Leveen details her quest to authenticate the image in The Spy Photo That Fooled NPR, the U.S. Army Intelligence Center, and Me in this month's Atlantic Monthly
Library staff has known about the photo for years and also knew that it wasn't of the alleged spy because the time period and dress are all wrong for someone who was a young woman in the 1860s. Thanks to Dana Puga and Lois Leveen, we hope that this image of a Mary Bowser will no longer be tied to the story of the former slave who spied on Jefferson Davis for the Union.
<< back to e-newsletter

Database Spotlight: The Civil War in Words and Deeds
The sesquicentennial of the Civil War presents a significant opportunity for Americans to recall and reflect on the conflict and its legacy. The regimental histories and personal narratives included in this database are valuable resources for researchers with an interest in local and Civil War history, as well as for genealogists.
The Civil War in Words and Deeds database provides access to first-person accounts and regimental histories compiled in the postwar period and early 20th century. These documents chronicle the highs and lows of army life from 1861 through 1865, offering individual recollections regarding the reasons for volunteering, the experience of leaving home for the first time and entering camp, the clash of arms, the daily routines of camp life and garrison duty, and the anguish of imprisonment. Soldiers' attitudes regarding army life, officers and fellow soldiers, the enemy, and the political questions about the war are candidly expressed. Personal perspectives from officers are provided concerning relations with their peers, views on those they led, efforts to secure promotion, and the motivation behind their planning and conduct of operations.
This database includes, in its entirety, the microfilm collection Travels in the Confederate States, as well as a small number of selected titles from the microfilm collection Travels in the New South I, 1865–1900.
Your Library of Virginia library card is your key to exploring this wonderful resource. Stop by the Library to get a card today and visit the Library's Using the Collections page to begin your research!
–submitted by Lisa Wehrmann, Public Services and Outreach
<< back to e-newsletter

CCRP Grants Given to 32 Projects across Virginia
The Library of Virginia is pleased to announce that the Circuit Court Records Grant Review Board at its June meeting awarded $339,768 to 32 grant projects to local circuit courts. The board is composed of six members: four circuit court clerks appointed annually by the president of the Virginia Court Clerks' Association and two staff members from the Library of Virginia, currently the State Archivist and the Local Records Program Manager. The board determined that the item conservation category was its first priority for funding. Among the items conserved are deed books, will books, minute books, marriage registers, and chancery order books. Thirty grants were awarded in this category as well as one grant for preservation and one for processing.
The board reduced the number of items being conserved in this category by ranking the relative importance and condition of each volume submitted for consideration. As a result, requests from several localities were cumulatively adjusted downward by $150,049.
The Circuit Court Records Preservation Program is a statewide initiative, funded through a $1.50 fee that is included with the cost of recording land transactions and judgments in the circuit courts. The Circuit Court Records Preservation Program provides resources to help preserve and make accessible permanent circuit court records.
For a list of projects receiving grants, visit http://www.lva.virginia.gov/about/staff/meetings/CCRPminutes_2013-06-04.pdf
–submitted by Michelle Washington, Archives, Records and Collections Services
<< back to e-newsletter

Richmond Public Library Director Recognized as a Champion of Change
On June 11, the White House honored 12 people as museum and library "Champions of Change." The Champions of Change event focused on libraries and museums that make a difference for their neighborhoods and for our nation. Harriet Henderson Coalter, director of the Richmond Public Library, was one of the individuals receiving this prestigious honor. Coalter has been director of the Richmond Public Library since 2007 and has worked in the field of library science and administration for nearly 40 years. She is a former president of the Public Library Association and the Virginia Library Association. In 2012 Coalter received the prestigious American Library Association Peggy Sullivan Award for Public Library Administrators Supporting Services to Children. She previously was director of libraries in Montgomery County, Maryland; Louisville, Kentucky; and Newport News, Virginia.
Coalter was honored as a driving force pursuing innovative library efforts to serve children and parents and to work toward school readiness. In Richmond, the public library system serves as the lead agency for Richmond's Campaign for Grade-Level Reading initiative. This effort has engaged 30 community organizations to improve the educational outcomes for children ages 0–8. Coalter also co-chaired the national Public Library Association's Every Child Ready to Read project, which has become the foundation for public library outreach to parents and caregivers of preschool children as public libraries engage the child's "first teacher" in preparing children for learning.
The Champions of Change program was created to feature groups of Americans who are doing extraordinary things to empower and inspire members of their community.
<< back to e-newsletter