Evans-Hylton to Open Evening Celebration on Virginia Food and Foodways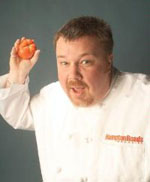 To cap off Archives Month in Virginia, the archives staff at the Library of Virginia will offer Homegrown: Celebrating Virginia's Cultural Heritage in its Archives and Special Collections, October 30, 6:00–8:30 PM. This free event brings together food-culture historians—the modern interpreters of historical foodways—and local food-movement advocates: practitioners, growers, and promoters of regional food and beverages.
Patrick Evans-Hylton—chef, food historian and writer, and author of Dishing Up Virginia: 145 Recipes That Celebrate Colonial Traditions and Contemporary Flavors—will open the festivities with a brief talk on his new book. Dishing Up Virginia is a food-history book full of delectable recipes from every region of the state. An award-winning food journalist based in Hampton Roads, Evans-Hylton trained as a chef at Johnson and Wales University and has covered food and foodways since 1995. He is senior editor for food and wine at Hampton Roads Magazine, the region's city and lifestyle publication, as well as executive editor of Virginia Wine Lover, the state's only wine and food magazine. Evans-Hylton has a collection of 20,000 culinary artifacts—antique cookbooks, postcards, 18th-century wine bottles, antique peanut bags—specific to the state and the Chesapeake Bay.
After the talk, attendees can enjoy a Virginia open house with tastings, literature, and a chance to talk with community gardeners, farm-product retailers, growers, and other homegrown Virginia specialists. Virginia products and books will be on sale and related items from the Library of Virginia's collection will be displayed.
<< back to e-newsletter

Former Board Member's Personal Papers Added to Archives
Many friends of the Library of Virginia remember Andy McCutcheon, a member of both the Library Board and Library of Foundation Board. McCutcheon passed away on February 12, 2012, and his wife, Charlotte, recently donated his personal papers to the archives. McCutcheon was born in Webster Springs, West Virginia, on May 12, 1927, and graduated from Stonewall Jackson High School in Charleston. He attended the University of Tennessee on a football scholarship, but left to join the Navy during World War II. Following his military service, he graduated from Washington and Lee University and joined the sports staff of the Richmond News Leader in 1949.
McCutcheon served as an executive assistant to U.S. Representatives J. Vaughan Gary (1892–1973) and David E. Satterfield III (1920–1988), and as a special assistant in the Office of Economic Opportunity under Sargent Shriver. He was the unsuccessful Democratic nominee for Congress in the Eighth District of Virginia in 1968, and a year later managed the successful campaign of J. Sargeant Reynolds for lieutenant governor of Virginia. McCutcheon then began a long career with the Reynolds Metals Company.
His papers, dating from 1936 to 2012, cover his career as a congressional staffer for J. Vaughan Gary, his own run for Congress in 1968 against William L. Scott (1915–1997), and his time as a campaign aide to Lieutenant Governor J. Sargeant  Reynolds (1936–1971). There is material on Reynolds's illness and death, and McCutcheon's co-authorship of a 1996 biography of Reynolds. There is also information on McCutcheon's participation in high school and collegiate football as a star offensive tackle, his career as a sports writer for the Richmond News Leader, and his time as an executive with the Reynolds Metals Company.
A detailed guide to the Andy McCutcheon Papers (Accession 50952) can be found here: http://ead.lib.virginia.edu/vivaxtf/view?docId=lva/vi03745.xml
—submitted by James Greve,
<< back to e-newsletter

No Vacancy: Remnants of Virginia's Roadside Culture to Open October 15 at the Library of Virginia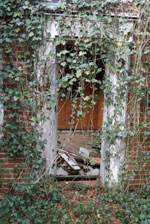 The next time you drive along Route 1, glance out the window and look for an old motel. Some are now disguised as antique malls, others are abandoned and exist as haunting reminders of a bygone era, and those still operating don't look as inviting as they may once have appeared. Try to imagine these tourist cottages and motels in their heyday, however. Bright neon signs flashed "No Vacancy." Families unloaded cars for a night's rest. Hungry travelers ordered hot chicken dinners in the motel's restaurant before turning in for the night.
A new photography exhibition at the Library of Virginia—No Vacancy: Remnants of Virginia's Roadside Culture, October 15, 2013–February 22, 2014—will focus on a selection of motels and tourist courts found along Virginia's historic Route 1, weaving the individual stories into their historical context. The more than 25 historic and contemporary photographs and accompanying text in the exhibition will highlight architectural elements, present the significance of race and class in the history of travel, and demonstrate how the perception and operation of motels have changed over time. The motels will also be explored through an array of ephemeral items like travel guides, postcards, and advertisements.
No Vacancy will ignite nostalgic memories of family road trips, share the tales of the Virginians who operated the motels, and inspire us to pay attention to our cultural landscape. From campsites to quaint cottages to sleek modern accommodations, motels tell the story of travel and society in Virginia during the 20th and 21st centuries.
—submitted by Kerry Dahm, Prints and Photographs Intern
<< back to e-newsletter
2013 SMW Honoree Hairston Donates Prize Money to Establish Scholarship
Last winter Christiansburg community advocate Nannie Berger Hairston was honored as one of 2013's Strong Men and Women in Virginia History by Dominion Virginia Power and the Library of Virginia. As an honoree, Hairston received a monetary gift of $5,000. True to Hairston's commitment to empowering people, she donated the funds to the New River Community College Educational Foundation to establish an endowed scholarship in memory of her husband, John T. Hairston. Her family is in the process of raising an additional $20,000 for the scholarship fund.
A spokesman for the NRCC Education Foundation recently announced that NRCC president Dr. Jack Lewis and his wife, Dr. Mary Ann Lewis, have pledged matching gifts for each donation received toward the scholarship to create a second John T. and Nannie B. Hairston Scholarship for deserving NRCC students.
Donations toward the John T. and Nannie B. Hairston Scholarship at New River Community College may be mailed to NRCC Educational Foundation, Inc., P.O. Box 1127, Dublin, VA 24084. (Please indicate: "Hairston Scholarship.") Or donations may be made online at www.nr.edu/foundation/donation_details.php.
The New River Community College Educational Foundation is a nonprofit, tax-exempt 501(c)(3) organization.
<< back to e-newsletter

Database Spotlight: fold3 History and Genealogy Archives Plus
The Library of Virginia is excited to provide access to the fold3 History and Genealogy Archives Plus database. This resource contains over 60 million documents and is a virtual treasure trove of military records and personal histories. Select nonmilitary items such as census records, historical newspapers, state records, city directories, and naturalization records are also included. Some of the unique archival collections that make up this database are briefly described below.
American Revolution Archives
The American Revolution Archives contain more than 4.7 million pages of original historical documents culled from materials at the National Archives. Names and details of thousands of men can be found in the Revolutionary War rolls and Revolutionary War service records. The Orderly Books Collection contains handwritten volumes documenting military orders, movements, and engagements between 1748 and 1817. Detailed accounts of troops' daily lives, documenting everything from court-martial cases to the price of necessities charged by locals, can be explored.
World War II Archives
The World War II Archives are made up of several collections that include documents regarding military conferences, captured German soldiers, foreign military studies, JAG case files, Nuremberg interrogation records, submarine patrol reports, and more. A small but vivid collection of photographs of Japanese soldiers and allied prisoners of war personalizes the conflict.
African American Archives
The African American Archives provide over one million pages of original historical documents related to the African American experience over several centuries. Users can view news clippings, letters, and families' narrative accounts, as well as information about jobs and general activities. Related manuscripts from the American Colonization Society, an organization best-known for its role in establishing Liberia, a colony in Africa for free people of color from the United States, are also included.
Native American Archives
The Native American Archives provide more than 1.8 million pages of original historical documents concerning Native American history and life from the 18th through the 20th centuries. Ratified treaties and related correspondence between the U.S. government and American Indian tribes are included. Some earlier treaties and agreements with the colonial governments, the Continental Congress, and the Congress of the Confederation are also provided.
U.S. Bureau of Investigation Case File Archives
The U.S. Bureau of Investigation Case File Archives cover case files from the Federal Bureau of Investigation, known until 1935 as the Bureau of Investigation. With over 2.2 million pages of original historical documents, the archives provide a fresh perspective on this time period. The collection includes tales of espionage during World War I, case files for German aliens who were politically suspect, records pertaining to Mexican neutrality, and reports dealing with alleged violations of federal laws.
Your Library of Virginia library card is your key to exploring this excellent resource. Stop by the Library to get a card today and visit the Library's Using the Collections page to begin your research!
–submitted by Lisa Wehrmann, Public Services and Outreach
<< back to e-newsletter

Governor McDonnell Fills Vacancies on Library Board
Governor Bob McDonnell has named three new members to the Library Board.
Christopher G. Oprison (USMC), of Lovettsville, is a litigator at Skadden, Arps, Slate, Meagher, and Flom, LLP, and former associate counsel and special assistant to President George W. Bush. He advises corporations and individuals in connection with federal criminal and civil matters as well as government enforcement matters before federal and state administrative agencies.
M. David Skiles, of Centreville, is government relations advisor for the Vectre Corporation, where he serves as director of Northern Virginia Client Services. Originally from Pennsylvania, he is a graduate of Valley Forge Military Academy in Wayne, Pennsylvania, and George Mason University, where he majored in government and international politics.
Marcy Sims, of Virginia Beach, served from 1976 until her retirement in September as director of Virginia Beach Public Library, where she oversaw the library's expansion from three locations to 10, greatly increased its collection, and promoted the role of libraries in helping the community adapt to new technology. Sims is an advocate for adult literacy in the Tidewater area and throughout the commonwealth.
<< back to e-newsletter

November 8 Deadline Set for 2014 Strong Men & Women Essays
High school students are invited to participate in Dominion Virginia Power's and the Library of Virginia's 2014 Strong Men & Women writing contest, which honors outstanding African Americans in Virginia. Essay acceptance closed Friday, November 8, 2013, for a chance to win an HP Pavilion laptop computer and $1,000 for their school. Entrants must be Virginia high school students at private or public schools or homeschoolers.  Four winning entries will be chosen, one from each of the four regions that Dominion Virginia Power serves. Each winner and a school representative must attend the awards ceremony on February 5, 2014, in Richmond in order to receive the awards.
The contest asks students to consider the career and courage of one of last year's honorees, John Mitchell Jr. (1863–1929), editor of the influential African American newspaper the Richmond Planet.
The essay prompt, biographical information on John Mitchell Jr., judging criteria, list of Dominion Virginia Power regions, contest rules, and time line can be found at http://www.lva.virginia.gov/public/smw/2014/essay.htm.
Winning essays will be posted to both the Library of Virginia's and Dominion's websites.
<< back to e-newsletter

Virginia Coalition for Open Government Establishes Woodrum Legislative Internship
Chip Woodrum represented Roanoke and part of Roanoke County in the House of Delegates from 1980 until 2003. His dedication to the Roanoke area was apparent to all who worked with him. Among his lasting contributions to the commonwealth were his efforts in establishing the Freedom of Information Advisory Council and the Birth-Related Neurological Injury Compensation Program.
He was appointed to the Library Board in 2004 by Governor Mark Warner and reappointed in 2009 by Governor Tim Kaine. He served as chair of the Library Board and was an effective advocate for the Library of Virginia and public libraries across the commonwealth.
In the spirit of a legislative resolution:
He was known in the House of Delegates for his wit, his wisdom, and his intellect.
He was known for his passion for service.
He was known for his unwavering commitment to open government.
Now, may he be known to others through the Chip Woodrum Legislative Internship at the Virginia Coalition for Open Government.
Join the Virginia Coalition for Open Government in celebrating the legacy of former Delegate Clifton A. "Chip" Woodrum by being a part of the effort to endow a student internship for each General Assembly session, where the recipient would learn about and participate in the legislative process.
Please keep Woodrum's memory alive in our hearts and minds, and in the minds of future generations of leaders. Go to www.opengovva.org/chip-internship and donate online or send a check to VCOG, P.O. Box 2576, Williamsburg, VA 23187 to the attention of the "Chip Internship."
–submitted by the Virginia Coalition for Open Government
<< back to e-newsletter

Library to Scan Original Family Records at Czech & Slovak Festival
On Saturday, October 19, 2013, staff from the Library of Virginia will participate in the first-ever Virginia Czech & Slovak Folklife Festival at the Prince George County Regional Heritage Center from 11:00 AM to 4:00 PM. Library staff will be available to scan privately held historical materials related to ethnic communities in the area. People are encouraged to bring original family materials such as old photographs, letters, and documents to be scanned.
Late in the 19th century, more than 700 Czech and Slovak families came to Virginia. The greatest number settled in the counties of Prince George, Dinwiddie, and Chesterfield, mostly on farmlands that had been abandoned after the Civil War. Others settled in Charles City, Hanover, Henrico, Greensville, and New Kent.
"The Library of Virginia is excited to be able to help preserve these priceless remnants of the history of Virginia's Czech- and Slovak-American families," said Carl Childs, local government services director at the Library of Virginia. "We will offer copies to those bringing materials to be scanned and add copies to the Library's collections. The addition of material from these vibrant ethnic groups will enrich our understanding of our past."
This free, outdoor festival will feature musical performances, polka dancing, baking demonstrations, a farm life exhibition, and activities for children. The area's historically Czech and Slovak churches will sell food based on traditional recipes. Baked goods such as "kolache" and Czech and Slovak beer will also be available for purchase.
The festival is co-sponsored by the Virginia Czech/Slovak Heritage Society and was made possible by a grant from the Virginia Foundation for the Humanities. The Prince George County Regional Heritage Center is located at 6406 Courthouse Road, Prince George, VA 23875. For more information, please call 804-863-0212 or e-mail vaczechslovak@gmail.com.
<< back to e-newsletter

Nominate Your Library for the National Medal for Museum and Library Service!
The Institute of Museum and Library Services is seeking nominations for the National Medal for Museum and Library Service, the nation's highest honor for exemplary museum and library community service. Medal winners will be the institutions that make the most extraordinary civic, educational, economic, environmental, and social contributions. Nominations are due October 15, 2013.
Any individual may nominate a library in the United States and its territories for the National Medal and all types of libraries, including public, school, academic, research, and archival, are eligible to receive this honor. Recipient institutions receive the National Medal at a ceremony held in Washington, D.C., along with a $5,000 award in recognition of their extraordinary civic, educational, economic, environmental, or social contributions. After the ceremony, StoryCorps—a national nonprofit organization dedicated to recording, preserving, and sharing the stories of Americans—will visit each institution to provide an opportunity for community members to share the stories of their lives. These stories are preserved at the American Folklife Center at the Library of Congress.
For more information and to access the nomination form, please go to www.imls.gov/medals or contact Michele Farrell, senior library program officer, at 202-653-4656 or mfarrell@imls.gov.
–submitted by Michele Farrell, Institute of Museum and Library Services
<< back to e-newsletter

Fry-Jefferson Map Society to Celebrate Acquisition of the Confederate Pattern Map
A private reception from 4:00–7:00 pm on November 20 will recognize Fry-Jefferson Map Society members and celebrate the successful acquisition of the Confederate Pattern Map of the (Lower) Shenandoah Valley. The map will be on display from 4:00 to 7:00 PM along with a wine-and-cheese reception to honor the members of the Fry-Jefferson Map Society.
The mission of the Fry-Jefferson Map Society is to develop, enhance, and promote the cartographic collections of the Library of Virginia. All funds raised by the society go directly to support this mission. The $50 membership fee entitles you to special benefits, including free admission to the annual Voorhees Lecture, advance notice of lectures and other Library programs, and recognition in the Library of Virginia Foundation's annual report.
To learn more about the Fry-Jefferson Map Society or to become a member please go to the Library of Virginia web site at http://www.lva.virginia.gov/involved or call 804-692-3561.
<< back to e-newsletter