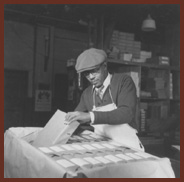 Bolling as a porter at Everett Waddey Company, a printing firm, in Richmond, ca. 1935-1937. Harmon Foundation, Collection H, 1922–1967. National Archives and Records Administration, Special Media Archives Services Division, College Park, Maryland.
Born in Dendron, Surry County, Virginia, on 16 September 1898, Leslie Garland Bolling was the son of Clinton C. Bolling and his first wife Mary Brown Bolling. His father worked as a blacksmith for the Surry Lumber Company. Bolling attended county schools before enrolling in the preparatory department at Hampton Institute (now Hampton University) in 1916. He took classes in the higher grammar school and the preparatory department at Virginia Union University, in Richmond, beginning in 1918, and graduated in 1924.
Bolling remained in Richmond for the rest of his life. He taught briefly in the city schools and by 1930 was a porter at Everett Waddey Company, a printing and stationery company. He married twice. His first wife was Julia V. Lightner, a seamstress and a widow five years his senior, whom he married on 27 May 1928 at Manakin, Virginia. She died in 1943 and on 16 October 1948, Bolling married Ethelyn M. Bailey, a woman about ten years his junior who worked as a maid. Neither marriage produced children. Bolling died on 27 September 1955 in New York City, probably while visiting his brother who lived in Harlem. He was buried at Woodland Cemetery in Richmond.