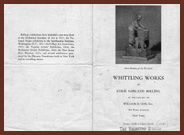 Cover "Whittling Works" [1937]. Courtesy of the Valentine Richmond History Center.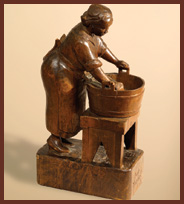 Aunt Monday
[1932]. Courtesy of Joseph L. Antrim, photography by Pierre Courtois, LVA.
In January 1935 Bolling received the distinction of being the first African American in Virginia to have a one-man exhibition. More than 2,500 people visited the Richmond Academy of Arts to see his work, and the director, Thomas C. Parker, extended the exhibition an extra week. Thomas Hart Benton, a nationally renowned artist who was in Richmond to lecture on mural painting, also visited the exhibition. Benton singled out Bolling's work as giving a reason why Richmonders should support their local artists. Bolling's sculptures, Benton stated, "show real merit, and a new kind of form." In June 1937 the William D. Cox Gallery in New York City presented a one-man show of seventeen of Bolling's works, including the completed "Days of the Week" series. Bolling received notice in national publications when his work was exhibited in Oregon, New Jersey, New York, and Texas. Both Alain Locke and James A. Porter included Bolling in their published surveys of African American art. In his 1940 book, Design and Figure Carving, E. J. Tangerman discussed Bolling at length and included illustrations of ten of his works as examples of American folk carving. Despite his critical success in national exhibitions and his successful sale of sculptures to patrons in New York and Richmond, Bolling never realized much economic gain through his art and was forced to carve in his spare time.