Introduction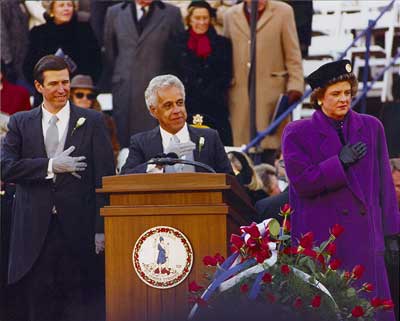 Inauguration Day, 13 January 1990. Photograph


Between 1924 and 1933, six women ran successfully for seats in the Virginia House of Delegates, pioneering a wider role for women in Virginia politics. All were Democrats (the majority party in Virginia at the time), and each had a background as a teacher or educator. They were elected not from the heartland of the state but rather from its extremities—the tidewater and the southwest.

Equal Rights Amendment
The Virginia General Assembly repeatedly refused during the 1970s to vote on the proposed Equal Rights Amendment to the United States Constitution.
Article I, section 11 of the Virginia Constitution of 1971 contains an equal rights provision: "The right to be free from any governmental discrimination upon the basis of religious conviction, race, color, sex, or national origin shall not be abridged, except that the mere separation of the sexes shall not be considered discrimination." In 1973 the Virginia Supreme Court stated in Archer and Johnson v. Mayes that the language in the Virginia Constitution "is no broader than the equal protection clause of the fourteenth Amendment to the Constitution of the United States" (Virginia Reports, 213:633, at 638) and that, therefore, the equal rights provision of the Constitution of Virginia is limited to the interpretation that federal courts give to one portion of the Constitution of the United States, which has no equal rights provision.