Introduction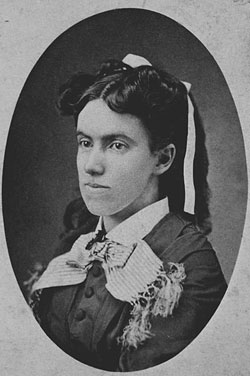 Return to Notable Virginia Women
Born at Viewmont, in Albemarle County, on 12 December 1840, Charlotte Digges Moon (1840–1912) was educated at Virginia Female Seminary (now Hollins University) in Botetourt Springs and at Albemarle Female Institute in Charlottesville. Moon was converted and baptized in 1858 by John A. Broadus, and afterward taught in Danville, Kentucky, and Cartersville, Georgia.
Moon volunteered for missionary service in February 1873, and on 7 July 1873 the Southern Baptist Foreign Mission Board in Richmond appointed her to China. In the autumn of that year, she set sail. Lottie Moon taught at mission schools, ministered to women, and eventually adopted Chinese dress and learned the Chinese language. After seven years of managing a boarding school at Tengchow, she moved to the interior of Shantung Province, where she conducted evangelistic work and started village schools.
Moon stayed in China through political unrest, inadequate support from her sponsoring board, and ultimately starvation. She urged increased American financial support for missionaries abroad but favored a self-support policy for Chinese churches. Moon lived a lifestyle of self-denial—spending fourteen years in the field before taking her first regular furlough—in order to provide a model for newly converted Christians. She took a special interest in Chinese women, established schools for girls, and worked to free them from customs such as foot binding. She likewise protested against the expectation that women missionaries were sent abroad only to help men; instead, she argued that women's work should be appreciated and that female missionaries should make decisions in the field on an equal status with their male counterparts. Moon's reports from China and her pleas for financial support were catalysts in organizing the Woman's Missionary Union of the Southern Baptist Convention in 1888.
When famine struck after the fall of the Manchu Dynasty, Moon assisted with relief in central China and deprived herself of food to distribute to others. With her strength waning, she reluctantly left, only to die on board the ship Manchuria in the harbor at Kobe, Japan, on 24 December 1912.