Introduction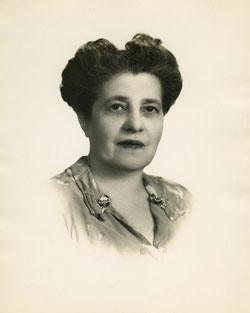 Naomi Cohn
Courtesy of Kitty Cohen

Return to Notable Virginia Women
Naomi Silverman Cohn was born in Pennsylvania, the daughter of Polish immigrants. She married Richmond lawyer Jacob Saul Cohn in 1909. Despite the demands of three young children, Cohn plunged into a whirl of civic activity—joining the Richmond League of Women Voters as a charter member and eventually serving as vice president, secretary, treasurer, and chair of the legislative committee. She also served on the industrial committee of the Young Women's Christian Association and founded the Virginia Women's Council of Legislative Chairmen of State Organizations with fellow suffragist Adèle Clark. When the Virginia Consumers' League was formed in 1936, Cohn became its executive secretary.
The "Virginia Honor Roll of 1938" praised Cohn for her role in the passage of a pioneering law requiring a forty-eight-hour workweek for women. Before the law, women could be required to work ten hours a day and seventy hours a week; the new legislation limited women's work to no more than nine hours a day and forty-eight hours a week in most occupations outside domestic and agricultural work. Cohn spent hours each day in the Capitol as an unpaid lobbyist, interviewing delegates and senators, depositing reading material on their desks, conducting committee meetings, and arranging public hearings.

Cohn's volunteer work on the behalf of working women and children became a paying job in 1940, when she joined the Virginia Department of Labor and Industry, first as an inspector and later as director of the Division of Women and Children. Cohn also served as a member of the State Labor Commission and during World War II worked for the Office of Price Administration in Richmond.
Cohn broke new ground in 1950 when she ran for Richmond City Council, the only woman among twenty-three candidates. Citing her longstanding involvement in the Richmond Citizens Association and her interest in civic affairs, Cohn ran as an independent and advocated a new juvenile detention home, more schools, a study of local crime, and a slum clearance program. Cohn finished eighteenth.
In 1993, eleven years after her death, the Virginia Business and Professional Women's Foundation named Cohn one of the first thirty honorees for the Women of Virginia Historic Trail.