Introduction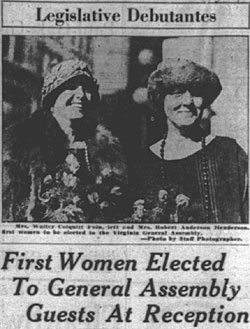 Sarah Lee Fain and Helen Timmons Henderson. From Norfolk Virginian–Pilot, 9 January 1924. Photograph.

Return to Notable Virginia Women
Between 1924 and 1933, six women ran successfully for seats in the Virginia House of Delegates, pioneering a wider role for women in Virginia politics. All were Democrats (the majority party in Virginia at the time), and each had a background as a teacher or educator. They were elected not from the heartland of the state but rather from its extremities—the tidewater and the southwest.
Helen Timmons Henderson (1877–1925), from the town of Council in Buchanan County, was in 1923 one of the first two women elected to the House of Delegates (the other, Norfolk's Sarah Lee Fain). A native of Cass County, Missouri, Henderson attended Carson-Newman College where she trained to be a teacher. When she moved with her husband to Buchanan County, Virginia, she was dismayed by the limited educational opportunities available in the area and was instrumental in founding the Baptist Mountain School, which opened in 1911. Articulate and respected throughout the county, she was invited in 1923 by a group of local Democratic men to run for the county's assembly seat, and she handily won in what was traditionally a Republican-leaning area. She served in the assembly of 1924, but died in the summer of 1925 before she could stand for reelection.

Several years later, her daughter Helen Ruth Henderson (1898–1982) ran for the seat her mother had held. Born in Tennessee and educated at Virginia Intermont College and Westhampton College, she began her teaching career in a one-room schoolhouse. In time, she earned a Ph.D. degree from Columbia University and became head of the school her mother had founded. The younger Henderson was one of four women to serve in the General Assembly in the 1928 session, marking a high point for assemblywomen in Virginia. Women's presence in the assembly began to fade in the 1930s, and it was another forty years (1968) before four women again served together in Virginia's legislature.