CREATING TRADITIONAL CULTURE:
THE WHITE TOP FOLK FESTIVAL, 1931-1939

White Top Folk Festival was one of four major folk festivals founded within a decade in the Southeast after 1928. On August 15, 1931, several thousand people attended the first White Top Folk Festival in Grayson County. Organized by John A. Blakemore, a wealthy businessmen in the Abingdon area, Annabel Morris Buchanan, a folklorist, and John Powell, a world-renowned classical pianist, the festival consisted mainly of instrumental and singing contests with some recreational dancing. The next year, the festival expanded to two days of performances, craft exhibitions, and a conference to celebrate all aspects of Appalachian mountain culture. In 1935 more than 10,000 people attended the festival to watch and hear more than 300 performers. There was no festival in 1937 and the final two years drew small crowds. The festival was held for the last time in 1939.

Powell and Buchanan envisioned the White Top festival as a means to assert the authenticity of British-American culture. Performers were limited to approved music in an attempt to root out any commercial influences. In 1934 one reviewer noted that some 200 bands were eliminated from competition "by reason of their evident leaning toward what radio listeners now know as hill-billy music, in which the folk tradition is caricatured." African American performers were not allowed.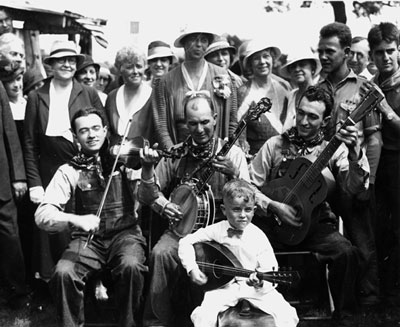 Eleanor Roosevelt posed with White Top Folk Festival contestants Frank Blevins (fiddle), Jack Reedy (banjo), Edd Blevins (guitar), and six-year-old mandolin sensation, Muriel Dockery, in 1933.
Library of Virginia