EARLY FIELD RECORDINGS IN VIRGINIA

Beginning in 1932, Arthur Kyle Davis, of the Virginia Folk-Lore Society, recorded 325 aluminum discs of folksongs and ballads. These recordings, made possible by a $1,000 grant to Davis and the society from the American Council of Learned Societies, are among the earliest field recordings of Anglo-American folksong extant in this country. From 1937 to 1942, Professor Roscoe Lewis, of Hampton Institute, and members of the Negro Studies Project of the Virginia Writers' Project, Work Projects Administration, made approximately 200 recordings in and around Hampton, Newport News, and Petersburg. Although many of the recordings were narratives and stories told by former slaves, Lewis and his group captured quartets, choirs, blues singers, and former slaves singing in groups and individually. In 1936 John Lomax and Harold Spivacke went to the Virginia State Penitentiary and Virginia State Prison Farm to record music. The two men made discs of work songs, spirituals, minstrel tunes, and blues that they thought were uncorrupted by commercial influences. Other Library of Congress researchers, such as Alan Lomax, Herbert Halpert, and a young Pete Seeger, visited southwestern Virginia to record musicians, some of whom had already made records for commercial labels. The majority of musicians, however, stood before a microphone for the first time.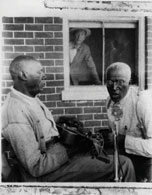 Inmates Jimmie Strother and Joe Lee recorded for the Library of Congress at the Virginia State Prison Farm in 1836.
Prints and Photographs Division, Library of Congress

Jimmie Strother, "We Are Almost Down to the Shore" (AFS 747 A2), recorded at the Virginia State Prison Farm, Goochland County, by John A. Lomax and Harold Spivake, June 1936. Re-issued on Field Recordings Vol. 1: Virginia 1936-1941 (Document records, DOCD-5575), and on Deep River of Song: Virginia and the Piedmont, Minstrelsy, Work Songs, and Blues (Rounder Records).