Click any excerpt below to read the full article.
Huddle, McInnis, and Wojahn Receive Literary Awards

The lobby of the Library of Virginia shimmered with columns of light and beautifully decorated tables as the Library celebrated its 15th year of honoring Virginia writers and books about Virginia topics. Guests were treated to an elegant seated dinner. The 15th Annual Library of Virginia Literary Awards were sponsored by Dominion. The October 20 awards celebration was hosted by award-winning Virginia author Adriana Trigiani. Awards categories were fiction, nonfiction, poetry, and literary lifetime achievement. Winners of the Library of Virginia's Annual Literary Awards receive a cash prize and a handsome engraved crystal book.

David Huddle is the recipient of the 2012 Emyl Jenkins Sexton Literary Award for Fiction for Nothing Can Make Me Do This, which the judges felt was written with compelling honesty, humor, and...
Join the Library for a Behind-the-Collections Tour of the Smithsonian Libraries on November 29

Librarian of Virginia Sandra G. Treadway is leading a day trip to Washington, D.C., to explore the private research collections of the Dibner Library of History of Science and Technology (American History Museum) and the Cullman Library (Natural History Museum) at the Smithsonian Institute. Guests will get an exclusive look at two distinct collections, learn about conservation and preservation methods, and enjoy holiday shopping in the Smithsonian museum...
Library of Virginia Makes a Downton Abbey Connection
Fans of the popular PBS program Downton Abbey will be pleased to know that Lord and Lady Carnarvon, who currently preside over Highclere Castle, the country estate on which the popular series Downton Abbey is filmed, recently visited the Library of Virginia to do genealogical research. The countess discovered that her husband's family had American roots, through his grandfather's wife, and while she was in the United States on a speaking tour, she did some research for her next book. Although many of the family got to England via Maryland and New York, they do have important Virginia ancestors in the Lee and Fendall families. The person probably best known and documented is...
Lynn Dodge Receives Lewis Award

Virginia's public library directors have awarded Lynn Dodge, director of the Lynchburg Public Library, the 2012 Elizabeth M. "Libby" Lewis Award, named for the former director of public library development at the Library of Virginia. Also nominated for the award were Peggy Bias, director of the Bedford Regional Library; Sam Clay, director of the Fairfax County Public Library; and Wayne Crocker, director of the Petersburg Public Library.

The annual award is given to the Virginia library director who most embodies the qualities of enthusiasm, nurturing spirit, and love of libraries. The award was presented at the recent annual meeting of the Virginia Library Association in Williamsburg.

Dodge was recognized for her steady and effective leadership, her willingness...
Mary Lynn Kotz Award for Writing about Art Created

The Library of Virginia is pleased to announce an exciting new literary award: The Mary Lynn Kotz Award for Writing about Art. This award is unique in many ways. It is a joint collaboration between two of America's most prestigious institutions: the Library of Virginia and the Virginia Museum of Fine Arts. The award, which will be presented to its first recipient in October 2013, will encompass many forms of writing, including poetry, history, journalism, fiction, biography, and museum exhibition catalogs.

The award is named in honor of Mary Lynn Kotz, an award-winning journalist and New York Times best-selling author...
Database Spotlight: ReferenceUSA

The ReferenceUSA database includes entries for 14 million businesses and 89 million residents. While often used simply as a telephone directory, it's actually much more than that. Not only is it a useful tool for locating an individual or business, but it can be particularly helpful to entrepreneurs, individuals who are relocating to a new area, and job seekers wanting to learn more about a prospective employer.

For those wanting data on business competitors, ReferenceUSA provides information such as the year a business was established, number of employees, sales volume, locations, and financial data, as well as a corporate tree showing parent companies, subsidiaries and branches. Additionally, users can find all businesses of a similar type that are located within a specific geographic area and can generate lists of...
Lee Woodruff to Speak at Library on Evening of December 6

Lee Woodruff, who co-authored with her husband In An Instant told the story of his wounding and recovery from traumatic brain injuries while he was covering the war in Iraq, will read from Those We Love, her first work of fiction, at a Books on Broad gathering on December 6. Those We Love Most draws on Woodruff's own experiences with family tragedy and healing to create unforgettable characters confronting choices, examining mistakes, fighting for relationships, and ultimately finding their way back to each other. Critics are praising Those We Love as an engrossing and poignant family drama.
2012 Jefferson Cup Winners

Okay for Now by Gary D. Schmidt and Balloons Over Broadway by Melissa Sweet are the winners of the 2012 Jefferson Cup. Okay for Now took the honors in the young adult category and Balloons Over Broadway was the juvenile winner.

Newbery honoree Schmidt's book is a sensitive coming-of-age story filled with loss and recovery set during the late 1960s. Doug Swieteck's life takes a turn for the better when he makes friends with Lil, who helps him find the courage to endure his father's abuse and deal with the return of his older brother from the Vietnam War.


Melinda Sweet's award-winning Balloons Over Broadway is whimsical look at the puppeteer whose creations made the beloved Macy's Thanksgiving Day Parade possible. This beautifully illustrated picture book is an inside look at master puppeteer Tony Sarg and how the giant, magical, colorful Macy's parade balloons came to be.

All events are free and take place from noon until 1 PM in the conference rooms at the Library of Virginia unless otherwise noted.
Wednesday, November 7, 2012
"Books on Broad" Featuring Gigi Amateau
Join us as local author Gigi Amateau discusses and reads from her new young adult novel, Come August, Come Freedom: The Bellows, the Gallows and the Black General Gabriel. Based on the true events of Gabriel's Rebellion, this powerful novel illuminates a little-known corner of American history as it honors the extraordinary will of one Virginia man. Reception (wine and cheese) 5:30–6:00 PM, book talk 6:00–7:00 PM, and book signing 7:00–7:30 PM.

Saturday, November 10, 2012
Closed
The Library of Virginia will be closed because of traffic congestion and street closings related to the Anthem Richmond Marathon.

Monday, November 12, 2012
Closed
The Library of Virginia will be closed in honor of Veterans Day.
Tuesday, November 13, 2012

12th Annual Governor Henry Lecture: "We Must Fight!" Patrick Henry and Lord Dunmore
Time: 5:30–7:00 PM
Virginia's Revolution was less the result of events than of personalities; less the product of a misunderstanding than of a mutual conviction that "After all, we must fight." Those were Patrick Henry's words, and when they are compared to Lord Dunmore's December 24 reply to the king's rebuke, "these Virginians should be made to suffer the misery of which they themselves are the author," it is clear that Henry and Dunmore were of one mind about the inevitability of war. Had it not taken weeks for the governor's letters to reach London, he might have been stopped. Had Henry not been an oratorical force of nature, Virginians might have given peace a chance. But both men were effectively beyond recall, and what they achieved together, revolution and war–though it would later be ascribed to political differences–was actually the result of irreconcilable similarities in character aggravated by contempt on one side and a bottomless need for revenge on the other. George Morrow II will deliver the 12th Annual Governor Henry Lecture, sponsored by the Patrick Henry Memorial Foundation, Hampden-Sydney College, and the Library of Virginia.

Wednesday, November 21, 2012
Close at noon
The Library will close at noon for the Thanksgiving Holiday. Please note that the State Records Center Archives Annex reading room will be closed on Wednesday and Thursday.

Thursday, November 22–24, 2012
Closed
Closed for Thanksgiving Holiday weekend
Wednesday, November 28, 2012

"Books on Broad" Featuring Bill Wooldridge
With Mapping Virginia: From the Age of Exploration to the Civil War, Wooldridge has written a fascinating book for the general reader as well as the map connoisseur. Mapping Virginia demonstrates the remarkable process by which Virginia gradually, magically revealed its form to the collective mind. Reception with wine and cheese (5:30–6:30 PM), book talk (6:00–7:00 PM), and book signing (7:00–7:30 PM).
Thursday, December 6, 2012

War on the Waters: The Union and Confederate Navies, 1861-1865
Eminent Civil War historian Jim McPherson chronicles the impact naval forces had on the progression of the war and its eventual outcome. A book signing will follow the program. This program is cosponsored by the Museum of the Confederacy and the American Civil War Center.
Thursday, December 6, 2012

"Books on Broad" Featuring Lee Woodruff
Lee Woodruff of CBS This Morning will read from and discuss her first novel, Those We Love Most, which draws on the author's own experiences of family tragedy and healing. Light refreshments (wine and cheese) will be served (5:30–6:00 PM), followed by author talk (6:00–6:45 PM), and book signing (6:45–7:30 PM).

Saturday, December 22-25, 2012
Closed
Closed for the Christmas holiday
Through Saturday, May 18, 2013
You Have No Right: Law and Justice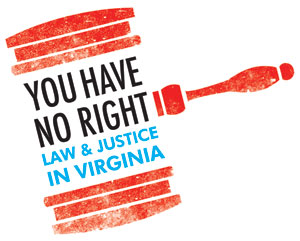 Place: Lobby and Exhibition Gallery
Using Virginia cases–and the stories of the people behind them–You Have No Right: Law and Justice will demonstrate how the law affects individuals directly and how people have used the law to achieve political and social goals. Using original records and electronic resources to convey the themes of human rights, citizenship, and the rule of law in a lively and engaging presentation, visitors will explore questions about citizenship, marriage rights, eminent domain, and why prosecutors have to prove guilt and defense lawyers don't have to prove innocence.

Saturday, December 29, 2012–January 1, 2013
Closed
Closed for the New Year's holiday